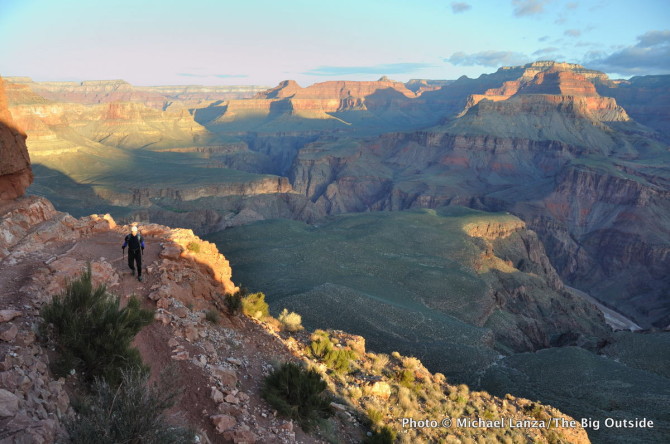 Ask Me: Can You Recommend a Big Dayhike in the Grand Canyon?
Hi Michael!
Jerry and I and the boys are meeting my parents in the Grand Canyon for the first couple days of our spring break. Jerry and I want to do a big dayhike. We have already done rim-to-rim-to-rim and all varieties associated with those three trails.
So, we're considering doing the South Kaibab to Grandview Trail (via the Tonto Trail) or vice versa. Thoughts? It would be a long day trip. Curious which direction we should do it and what else must we know?
What is total distance from South Kaibab to Grandview Point? And is there any water, at all, along the entire route?
THANKS MUCH.
Shelli
Lander, WY
Hey Shelli,
That'll be an awesome hike. I would go South Kaibab to Grandview: Get on the South Kaibab really early, before the crowds, and watch sunrise as you're walking down. You'll cruise much of the Tonto walking east, though there are some slower sections. The hardest leg is going from Cottonwood Creek up to Horseshoe Mesa: It's pretty steep and the trail consists of mostly broken rocks, which is a good reason for going up it instead of down (in the other direction). Going up the Grandview has much better footing and, while steep, isn't as hard. Plus, if you went up the South Kaibab, the best views are usually behind you, but going up the Grandview zigzags enough that you have killer views going uphill.
It's 29.2 miles from South Kaibab Trailhead to Grandview Trailhead, and you're probably doing about a cumulative 4,000 feet of elevation gain and loss (or loss and gain, as it were). There are four water sources along the route, only one of them a reliably year-round source; but in spring, it's likely all will be flowing. Ask the backcountry desk if they have recent reports. You'll see more photos and planning info at thebigoutside.com/dropping-into-the-grand-canyon-a-four-day-hike-from-grandview-point-to-the-south-kaibab-trail.
If you guys happen to be really killing the pace and have time and energy, walk around Horseshoe Mesa on the Tonto and climb up to the mesa from the other side (east side, instead of the more direct route up from Cottonwood Creek). You ascend a really cool side canyon in a spectacular sandstone amphitheater, passing by an old mine. If you don't have time—it is a long way around—then at least take about a 15-minute detour from Horseshoe Mesa out to the top of the trail that descends off the east side of the mesa; the view from there is awesome (see the photo gallery above).
Also, another great view on this hike, from Horseshoe Mesa (see photo below)—and incidentally, although you're not camping, it's the best campsite at Horseshoe Mesa (and requires just another 15-minute detour): Once you're up on the mesa's flat top, near the start of the ascent of the Grandview Trail, walk down the campground trail toward the pit toilets. Where the trail forks, with the right fork leading to the toilets, bear left and you'll walk to an awesome site for two tents at the end of that side trail. Walk a minute or two beyond that campsite and you reach an overlook of the side canyon on the east side of Horseshoe Mesa.
Have fun!
Best,
Michael
THANK YOU!
Shelli
Note: The hikes described above demand a very high level of fitness and experience in desert hiking; they're not recommended for novices or first-time Grand Canyon hikers. For more information and tips, see my story about dayhiking the Grand Canyon rim-to-rim-to-rim and this Ask Me post about hiking rim-to-river-to-rim, plus this advice from Grand Canyon National Park about dayhiking in the canyon.
[In Ask Me, I share and respond to a reader question. Got a question about hiking, backpacking, gear, or any topic or trip I write about at The Big Outside? Send it to me at mlanza@thebigoutside.com or tweet it to @MichaelALanza. I will answer the ones I can in a post, using only your first name and city, with your permission.]
—Michael Lanza