Category Archives: Ask Me
I answer reader questions about hiking, backpacking, gear, or any topic or trip I write about at The Big Outside. Send me your questions to mlanza@thebigoutside.com.
February 14, 2014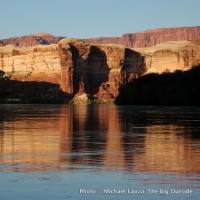 Michael,
I was reading through your paddling adventure in Stillwater Canyon on the Green River. I first heard of it about a year ago and fell in love with the idea. My family (adult siblings and my mom) is committed to experiencing all of our national parks. In preparation for our trip planned for early July 2014 I've read that the fine silt of the desert rivers can be very hard on water filters.
Most of our trips to date have been eastern parks with fresh mountain streams or clear lakes. We've used an MSR Hyperflow with great results. However, I'm sure a hollow-fiber filter is awful for the Green River. I've had it partially clog once and it requires a lot of work. I'm considering a ceramic filter such as the Katadyn Pocket, but I'm unsure if it is up to the task, either. Can you comment on any experience you've had? Have you tried using any flocculants and/or know of a good source for them? Continue reading →
← Older posts