Category Archives: Ask Me
I answer reader questions about hiking, backpacking, gear, or any topic or trip I write about at The Big Outside. Send me your questions to mlanza@thebigoutside.com. I receive many; it can take a few weeks to respond.
December 9, 2014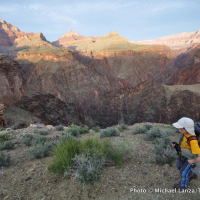 Dear Michael,
My wife and I take our kids to Ketchum every summer and became fans of your site by finding your great recommendations and tips for the White Cloud Mountains. We are now planning a trip for our kids' spring break beginning of April 2015 to the Grand Canyon. Our kids are 13 and 14 and are accustomed to multi-day backcountry hikes in the White Clouds and Sawtooths, with 2000+-foot elevation gains. We were seriously considering your suggested four-day trip east to west from Grandview Point to the South Kaibab Trail, but I just noticed that you have also recommended that to someone else on your Ask Me section in response to a request for a "big dayhike." We don't want to kill ourselves with an unreasonable pace, but I don't want to allocate four days for a trip that my kids could reasonably do in two or three. Do you have any advice for what might be the best way to do this, or whether there is an alternate route you would suggest?
← Older posts