Category Archives: Ask Me
I answer reader questions about hiking, backpacking, gear, or any topic or trip I write about at The Big Outside. Send me your questions to mlanza@thebigoutside.com. I receive many; it can take a few weeks to respond.
September 17, 2014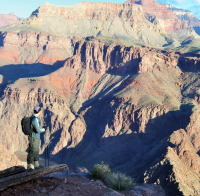 [Note: Both reader questions below are similar, so I combined them into one post.]
Michael,
I recently came across your website. It's a fantastic resource—thank you!
I am looking for a breathable (i.e., not waterproof) shoe for long, fast dayhikes (with occasional downhill running) on rough, rocky terrain (on and off-trail). Reasonable performance on third-, fourth-, and low fifth-class terrain is a bonus, but 95 percent of the shoe's use will be on rough, non-technical terrain. The two main shoes I was considering were the Salewa Firetail EVO and the La Sportiva Ultra Raptor. You give both of these shoes high praise, for similar applications (e.g. 22-mile, 5,000-foot vertical hike with the Firetails; 28-mile, 8,000-foot vertical hike with the Raptors). Which do you prefer? Which do you think would be best for my intended applications? Are there other shoes you think I should consider? Continue reading →
← Older posts