Category Archives: Ask Me
I answer reader questions about hiking, backpacking, gear, or any topic or trip I write about at The Big Outside. Send me your questions to mlanza@thebigoutside.com. I receive many; it can take a few weeks to respond.
October 30, 2014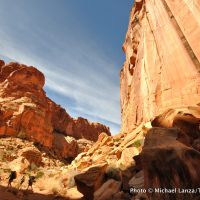 Hey Michael,
I was wondering if you have any hints or tips for planning out your food for bigger backcountry trips. Food planning is always something I have neglected and I think I could save myself some pack weight and have better meals with a little extra planning and direction (in true Bill Bryson style, I usually stick to noodles when in the bush).
Thanks as always, Michael. I hope you are your family are finding some fun adventures as the weather starts to turn!
Best,
Grant
St. Louis, MO Continue reading →
← Older posts