Category Archives: Ask Me
I answer reader questions about hiking, backpacking, gear, or any topic or trip I write about at The Big Outside. Send me your questions to mlanza@thebigoutside.com. I receive many; it can take a few weeks to respond.
June 14, 2015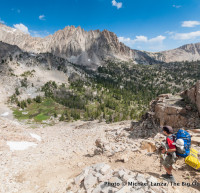 [Note: This is a combined response to two similar questions from readers.]
Michael,
Your spectacular photos of Castle Peak and the White Cloud Mountains have inspired us to take a backpacking trip there this August or September. Do you have any suggestions for a loop hike? We have backpacked out West—Maroon Bells, Teton Crest Trail, all over the canyons of Utah. We can easily do 8 to 10 miles a day, as we like to go slow and admire the beautiful Western scenery, and probably 5 to 6 days on trail. Thank you for any advice, I love looking at your pictures. Your Mount St. Helens pictures brought back many wonderful memories of our Pacific Northwest trip.
Helen
West Chester, PA Continue reading →
← Older posts