Category Archives: Hiking
Stories and pictures from my many dayhiking adventures, from family- and beginner-friendly trails to serious ultra-hiking.
July 30, 2015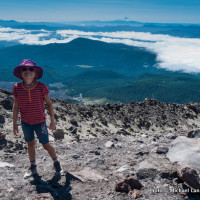 By Michael Lanza
After hiking 1,000 vertical feet uphill on the dusty Upper Yosemite Falls Trail in Yosemite Valley, baking under a thermonuclear Sierra sun, we sat on rocks for a snack and a much-needed break. My seven-year-old daughter, unprompted, blurted out, "I'm tired and hungry!" My nine-year-old son was still fuming over having been woken up earlier than he prefers (which is 11 a.m.) for this hike—although we were broiling in the sun precisely because we didn't start even earlier, when it was cooler. He groused, "If you're going to wake me up that early, it's your fault if I complain."
It was looking like my plan to hike my kids and my 12-year-old nephew 3,000 feet and nearly four miles uphill to the brink of Upper Yosemite Falls—and then, of course, back down—was on the express bus to the graveyard for dumb ideas from overzealous hiker-dads.
← Older posts