Category Archives: Hiking
Stories and pictures from my many dayhiking adventures, from family- and beginner-friendly trails to serious ultra-hiking.
October 29, 2014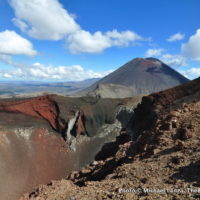 By Michael Lanza
Have you adventured in New Zealand yet? If not, then why not? Some of my all-time favorite assignments for Backpacker magazine have involved trekking and paddling on this island nation with an amazing bounty of natural beauty and a outdoors-loving culture to match it.
This is the time of year to start planning a visit during the upcoming austral summer; for many trips, you need to make travel arrangements and hut reservations months in advance. I've listed below a series of five-star, multi-sport adventures that could fill a two-week (or longer) visit to New Zealand. This itinerary includes dayhiking volcanoes, canoeing a wild river, a hut trek in the Southern Alps, and sea kayaking a remote fjord in the country's largest national park. Click on the links (or any photo) to read the complete story about each trip. Continue reading →
← Older posts