Category Archives: Hiking
Stories and pictures from my many dayhiking adventures, from family- and beginner-friendly trails to serious ultra-hiking.
June 29, 2014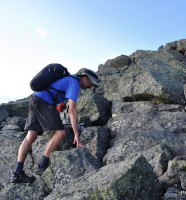 By Michael Lanza
We scramble up the blocky talus of 5,799-foot Mt. Adams, reaching the second-highest point in New Hampshire's White Mountains at 6:45 a.m. Pausing just long enough for a few quick photos, we drop a knee-crunching, ankle-wrenching 700 vertical feet in a mile to Edmands Col, then regain that elevation in a half-mile climb to the top of Jefferson, at 5,716 feet.
My friend Mark Fenton and I are attempting what is arguably the archetypal huge dayhike, the "Death March" of New Hampshire's Presidential Range. Walking north to south, we'll cover 20 miles and about 8,500 feet of uphill, tagging all nine summits along the way, from Mt. Madison to Mt. Pierce, including the Northeast's highest, 6,288-foot Mt. Washington. Continue reading →
← Older posts