Category Archives: Hiking
Stories and pictures from my many dayhiking adventures, from family- and beginner-friendly trails to serious ultra-hiking.
November 12, 2014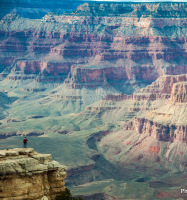 Hi Michael:
During the second week of November, a buddy and I are considering a rim or river to rim hike in the Grand Canyon. We are planning to descend South Kaibab Trail, walk along River Trail, and ascend via Bright Angel Trail. Plan would be to start early and complete the hike in the same day. We will carry survival gear. Neither of us has been to the GC. One of us is very experienced (and in excellent physical condition), and one of us has moderate experience (in very good physical condition).
We would appreciate your comments on hiking in November—weather, trail conditions, and anything else that may assist us. We both prefer not to hike in the wet, and neither of us wants anything to do with snow! Also, if November is the wrong month to do this, we would delay until next year. Continue reading →
← Older posts