Category Archives: Hut Treks
Stories and images from the best hut treks and yurt trips in the U.S. and around the world.
October 22, 2014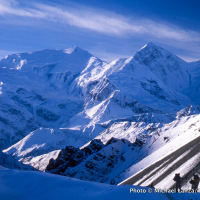 [Author's note: The recent tragedy involving dozens of trekkers dying in a snowstorm on the Annapurna Circuit prompted me to post this story, which I originally wrote for several newspapers, recounting my 17-day trek with my wife (then my fiancée) on one of the world's classic treks, Nepal's Annapurna Circuit, in October and November of 1997.]
By Michael Lanza
The old school bus rumbles to life with a painful metallic grinding and we roll forward, our chariot rocking side to side down a rutted, muddy street of a small crossroads town called Dumre in central Nepal. Angling down a hillside, the bus lists heavily to starboard and moves too slowly to escape its own cloud of choking exhaust, which drifts in through the open windows.
As we round a bend, an excited murmur rises among the Western trekkers on board. The bus, still inching forward and lurching violently, is heading straight for a swiftly running, rock-strewn creek. I glance at the Nepalis on the bus, searching for concern in the faces of those who have taken this ride before. They look bored. Continue reading →
← Older posts