Category Archives: Skills
My professional tips on hiking, backpacking, gear, and outdoors skills, and taking children on wilderness adventures.
April 14, 2014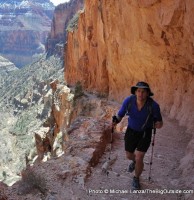 By Michael Lanza
I don't remember the first time I hiked more than 20 miles in a day. But living and hiking in New England at the time, where one mile of rocky, up-and-down trail feels as physically punishing as two miles in other parts of the country, I undoubtedly got to that distance through incrementally longer dayhikes. I only wish I could remember the sense of pleasure with myself that I must have felt that first time.
But I can list precisely the number of times I've hiked more than 30 miles in a day. Continue reading →
← Older posts