Category Archives: Skills
My professional tips on hiking, backpacking, gear, and outdoors skills, and taking children on wilderness adventures.
May 20, 2015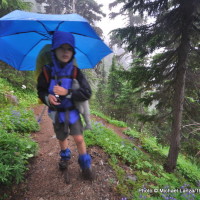 By Michael Lanza
There are only three guarantees in life: death, taxes, and getting rained on when dayhiking or backpacking. As we all know, wet clothing conducts heat away from your body, making you colder. And simply donning rain shells may make you so warm that you sweat a lot, thus getting wet from the inside rather than the outside. Staying as dry as possible while on the trail or in camp is key to staying warm in the backcountry when the weather turns wet—especially in temperatures below around 60° F and in wind, which swiftly chills your body. Follow these tips for a much more comfortable and pleasant backcountry adventure—even when the weather doesn't cooperate.
← Older posts