Tag Archives: Mt. Ngauruhoe
Tongariro National Park, on New Zealand's North Island, was the world's fourth national park, established just five years after Yellowstone. Hiking its active volcanoes is a wild journey across a stark and brilliantly colorful landscape. Watch the video below about 12.1-mile loop over three of the main volcanoes and craters of Tongariro, read the story and view a gallery of photos.
February 28, 2012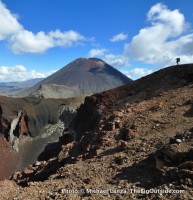 By Michael Lanza
We have just begun our all-day hike over some of the volcanoes of New Zealand's Tongariro National Park when a trailside sign conveniently itemizes the life-threatening hazards awaiting us.
For starters, an eruption could eject large rocks into the air to rain onto us from the sky or release lava flows. Pyroclastic flows, which are clouds of ash, rock, and gas that can cook flesh, could come upon us at 60 mph. Continue reading →