Tag Archives: Southern Olympic Coast
Washington's Olympic National Park protects the longest wilderness coastline remaining in the continental United States, and the season for hiking it is fast approaching. Watch this short video of a classic, three-day, 17.5-mile backpacking trip along the southern section of the coast, where you'll see sea stacks rising out of the ocean, seals, sea otters, and tide pools filled with sea life. Read the story and check out a gallery of photos from the adventure.
April 16, 2012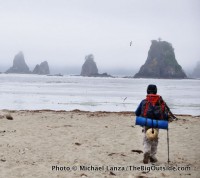 By Michael Lanza
On a remote, sandy beach on Washington's Olympic coast, we stop in our tracks and gaze up. A wall of muddy earth rises some 300 feet into jungle-like rainforest. A thick strand of hemp rope dangles down this steep, eroding embankment. A ladder of wooden steps built into the muddy ground rises in tandem with the rope.
We're going up it. Continue reading →