By Michael Lanza
Thrilling, scenic, and popular, an impressive feat of trail building, an intimidating and exposed scramble—these are some of the descriptions commonly given to Angels Landing in Zion National Park, all of them accurate. Constructed nearly a century ago, with steps carved out of rock and chain handrails in places to make it safer, it's a tribute to a time when park managers were more comfortable with engineering nature for human recreation. The result is one of the classic dayhikes in the National Park System, listed on the National Register of Historic Places, and one that should be in the sights of every avid hiker.
Nearly five miles and 1,500 vertical feet round-trip, the route is paved for roughly its first two miles on the West Rim Trail, including the cool slot of Refrigerator Canyon and the 21 steep switchbacks known as Walter's Wiggles. Then you reach Scout Lookout, at the beginning of the spur trail ascending the narrow, sandstone fin of Angels Landing, where hikers encounter steep scrambling, chains anchored into the rock in the most intimidating spots, and drop-offs of 1,000 feet or more to each side.
For those willing to brave the exposure—often hundreds of people a day during the hiking season—the 5,790-foot summit offers arguably the best view of Zion Canyon. That's why I consider it one of "The 25 Best National Park Dayhikes."
---
---
The out-and-back hike starts from the Grotto Trailhead in Zion Canyon, one of the stops on the free and frequent park shuttle bus that operates generally from mid-March through October.
If the forecast calls for hot temperatures (and to avoid the crowds), either start early in the morning, or if your party consists of strong hikers, wait until afternoon, when you'll get more shade for the ascent and have beautiful, late-day sunlight slanting across the canyon for your summit view. Bring a headlamp for the descent. Avoid the hike in high winds, icy or wet conditions, or if lightning threatens. Angels Landing has been the scene of several fatalities from falls, but if done with caution in dry weather, it's safe for adults and school-age kids.
I can help you plan any trip you read about at my blog. Find out more here.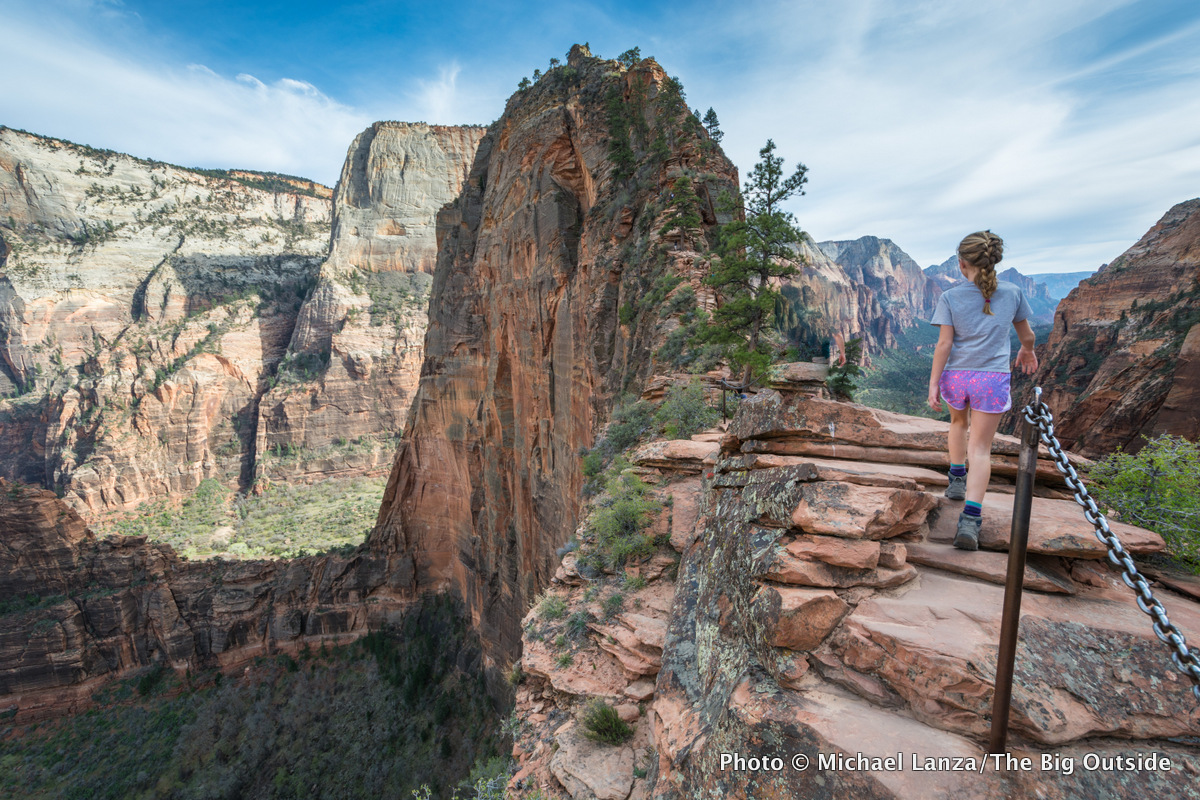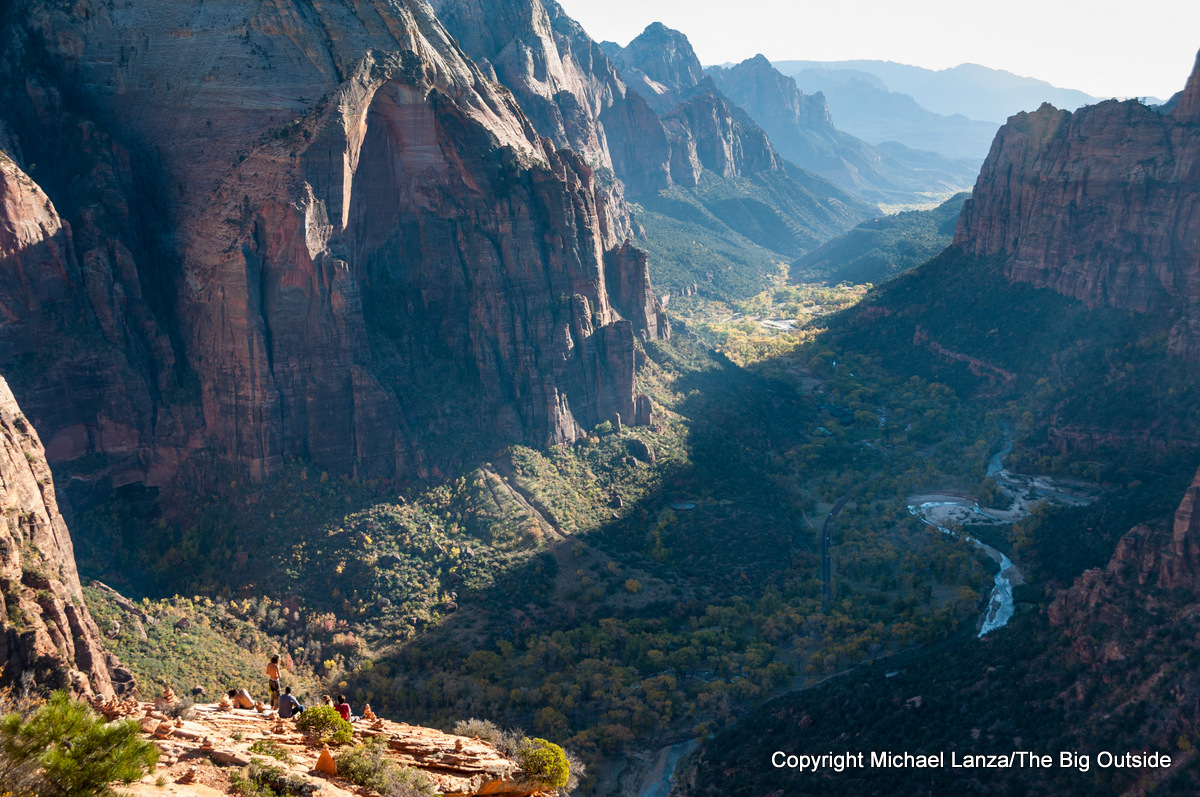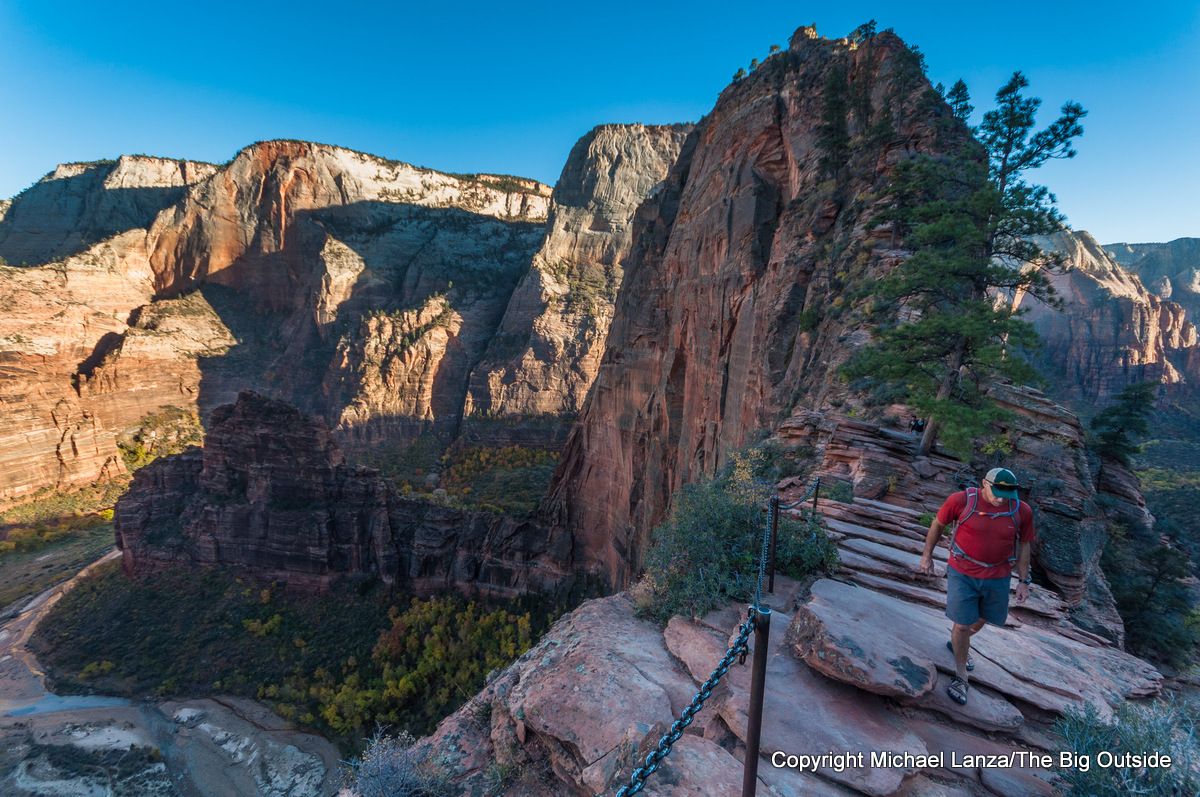 See a menu of all of my stories about Zion National Park, including my photo gallery "Insider Tips: The 10 Best Hikes in Zion National Park," and my feature stories about a family backpacking trip, a 50-mile dayhike across the park, hiking Zion's Subway, and backpacking Zion's Narrows.
See also all of my stories about national park adventures, hiking and backpacking in southern Utah, and family adventures at The Big Outside.
Tell me what you think.
I spent a lot of time writing this story, so if you enjoyed it, please consider giving it a share using one of the buttons at right, and leave a comment or question at the bottom of this story. I'd really appreciate it.
Feeling inspired by this story? Join now for full access to ALL stories and get a free e-guide!