Category Archives: National Park Adventures
Stories and images from my many hiking, backpacking, kayaking, canoeing, skiing, and family adventures in national parks in the U.S. and around the world.
October 29, 2014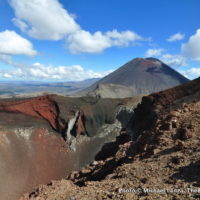 By Michael Lanza
Have you adventured in New Zealand yet? If not, then why not? Some of my all-time favorite assignments for Backpacker magazine have involved trekking and paddling on this island nation with an amazing bounty of natural beauty and a outdoors-loving culture to match it.
This is the time of year to start planning a visit during the upcoming austral summer; for many trips, you need to make travel arrangements and hut reservations months in advance. I've listed below a series of five-star, multi-sport adventures that could fill a two-week (or longer) visit to New Zealand. This itinerary includes dayhiking volcanoes, canoeing a wild river, a hut trek in the Southern Alps, and sea kayaking a remote fjord in the country's largest national park. Click on the links (or any photo) to read the complete story about each trip. Continue reading →
← Older posts