Category Archives: National Park Adventures
Stories and images from my many hiking, backpacking, kayaking, canoeing, skiing, and family adventures in national parks in the U.S. and around the world.
March 30, 2015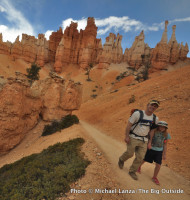 By Michael Lanza
Bryce Canyon's Navajo Loop/Queens Garden Loop is a popular trail for good reason, with constant views of hoodoos—the multi-colored, limestone, sandstone, and mudstone spires that look like giant, melting candles, including the famous formation called Thor's Hammer. But once turning onto the Peek-a-Boo Loop, you lose the crowds—and discover the scenic heart of Bryce Canyon while hiking below the Wall of Windows and row after row of towers in flourescent shades of red and orange.
Special offer! Hey dog owners, want to win $5,000 to take a dream trip? @Kurgo is giving out $5,000 sponsorships to take your dream #adventure in 2015. Apply now! http://www.kurgo.com/adventure. Continue reading →
← Older posts