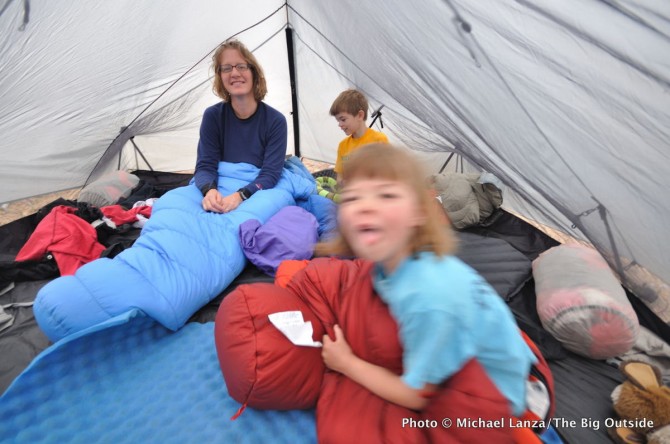 Pro Tips: How to Choose a Sleeping Bag
What should you look for in a sleeping bag? For me, it varies depending on the expected range of temperatures—and I'm not just talking about the bag's temperature rating, as I detail in the tips below. But I'll also offer my general tips for selecting a bag no matter the temperature rating. (All temperature ratings refer to the Fahrenheit scale.)
In Any Season
•    Know your own body. Do you get cold easily or are you a furnace? Women tend to get cold more easily, and this is a simple function of physics: Women often have a higher ratio of body surface area to mass relative to men, so their bodies lose heat more readily. Those women are more comfortable in a bag made for women, which is shaped differently than a men's bag and typically has extra insulation in areas like the feet.
•    If you get cold easily, get a bag rated 20 to 25 degrees colder than the coldest temperatures you plan to sleep outside in.
•    People who don't get cold easily will be more comfortable in a bag rated to within 10 to 15 degrees of the coldest temperatures you plan to sleep outside in. Being too hot is no more comfortable than being too cold, and having a bag much warmer than needed means you're carrying superfluous weight and bulk. (See my tips on lightening your pack weight.)
Down Vs. Synthetic Bags
It's still true that traditional down is lighter, more packable, and warmer than many synthetic insulation; but once wet, synthetics keep you warm while down feathers become all but useless at retaining heat. But those truisms have been rewritten with the development of high-quality, lightweight and compact synthetic insulations like Primaloft; and water-resistant down, which retains its ability to trap heat even when wet.
However, insulation type still matters. Manufacturers use lower-grade synthetic insulation in bags priced cheaply, making them much heavier and bulkier than better synthetic and down bags. And high-quality down (generally rated from 700- to 850-fill) is the warmest, lightest, most packable insulation out there, but expensive; while lower-quality down (usually 600-fill) still has the advantages of down, and makes a bag less expensive but also heavier and bulkier.
So the down vs. synthetic choice comes down to the likelihood of your bag actually getting wet and pocketbook issues.
Summer Bags
•    By "summer" sleeping bag, I mean a bag for camping in temperatures that you don't expect to drop below freezing—in other words, as low as the 30s, but more likely not lower than the 40s or 50s Fahrenheit. I don't get cold easily, so I virtually always use a bag rated around 30° F for summer trips when I expect nights in the 30s to around 50° F. People who get cold easily may not want a 30° F bag except for nights above 50° F.
•    Summer bags are designed for low weight and bulk, so they lack many of the features of warmer bags, like a thick draft tube or collar, a full-length zipper, sometimes even a hood. You often don't need those features in a summer bag—you can wear a hat or base layers when needed.
Three-Season Bags
•    By "three-season" sleeping bag, I mean a bag rated 10° to 25° F for camping in temperatures that may range from the 20s to around 40° F.
•    These bags should have an adjustable hood and features like a draft tube, though they may still have a partial instead of a full-length zipper, to shave a few ounces.
•    Many consumers consider bags in this category the one all-purpose bag they need, versatile enough for spring, summer, or fall. My advice: Choose a bag rating that's suited to your body (how easily you get cold) and the typical lowest temps you will camp in, not according to a more vague definition of seasons.
Winter Bags
By "winter" bag, I mean a bag you'll use sleeping in temperatures below freezing—which could mean the teens or 20s or could be below zero Fahrenheit. But someone who gets cold easily may want a bag rated for winter temperatures even when camping in temperatures that range from the 20s to around 40° F.
Plus, while expected low temperatures and your own needs should dictate what temperature rating to look for, there are factors I consider specific to a winter bag that differ from the other three seasons.
In a way, you have to be more exacting in choosing a winter bag than a three-season bag. Here's what I look for.
•    I like to have a little extra rolling-around space for a few reasons:
1.    In case I'm wearing extra layers or packing extra clothing around my body for added insulation if temperatures drop lower than expected;
2.    For stuffing damp layers inside my bag to dry them overnight;
3.    To have room to get dressed and undressed inside the bag, where it's much warmer than inside (my test: I like to be able to easily lift my knees to my chest while lying inside the bag).
4.    Simply because I'm often going to close a winter bag up tight, to keep out cold air, and a too-snug bag can feel claustrophobic.
•    In temperatures below freezing, condensation from your breath will make a bag wet, so it ideally remains unaffected by moisture through the use of either water-resistant down or a shell fabric that's water-resistant or waterproof and breathable.
•    Lastly, I prefer a winter bag that's not too heavy or bulky, but you pay extra for that.
See my article "Pro Tips: Staying Warm in a Sleeping Bag." For reviews of my favorite sleeping bags, type the words "sleeping bags" into the Search box at left.
—Michael Lanza