Tag Archives: Idaho City yurts
February 5, 2013
By Michael Lanza
The sun beats down warmly on us from a sky as fiercely and as flawlessly blue as a deep mountain lake. While we four adults ready our backpacks, the four kids already have their packs loaded and cross-country skis on and are dashing back and forth across the snow-covered parking lot—sled dogs straining at their harnesses to go. It's the body language of enthusiasm and high expectations, and it infects us all like an aggressive virus. Continue reading →
December 19, 2012
By Michael Lanza
At this time of year, I start pulling out maps and guidebooks and poring over my lengthy—and always growing—list of outdoor trips I want to take. (My document slugged "Trip Ideas" is now 11,855 words long.) There are two reasons: First, to make those big dream trips happen, you have to think, plan, and dream months in advance. Plus, the planning is almost as much fun as taking the trip.
Here are my 10 favorite family adventures at The Big Outside (another list that will keep growing and evolving), to help give you some ideas and inspiration for 2013. Continue reading →
January 12, 2011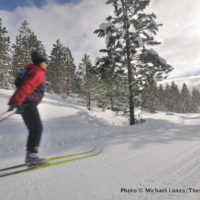 By Michael Lanza
Fat, perfect snowflakes pour down in a silent, frozen torrent from a blank white page of sky, as if the mountains are inside a Christmas snow globe that someone just shook vigorously. Powder lays several feet deep on the ground and smothers the tall ponderosa pines, looking like dozens of clean, white mittens on their boughs. No wind stirs the still air, and it's not too cold. The quiet could drown out any negative thoughts.
It's the kind of day that can make you wish winter lasted all year. Continue reading →