By Michael Lanza
The forecast for New Zealand's Fiordland National Park looks particularly grim, even for this chronically wet region that receives more than 30 feet of rainfall annually—or about 10 times as much rain as Seattle. A "Southwesterly," a fierce and not uncommon type of storm that blows in from the Southern Ocean off Antarctica and can offload several inches of rain, will slam into Fiordland's mountains and fjords over the next couple of days. With that kind of forecast, locals just hunker down indoors and wait it out what they refer to as a "weetha bum" (Kiwi for "weather bomb"). My friend, Jeff, and I, however, are going hiking.
But it's okay, the local experts assure us, because we're heading out on the Kepler Track. One of New Zealand's Great Walks, the Kepler ranks among the most scenic and varied hut treks in a country blessed with a crazy wealth of gorgeous trails. More than that, though, the Kepler presents a relatively mud-, flood-, and hassle-free, hut-to-hut hiking experience. Its hiker-friendly construction, and the relative ease of securing hut reservations compared with world-famous tracks like the Milford and Routeburn, make it one of the most accessible hut treks in a land where everything from weather to logistics can mess with your adventure plans.
Opened in 1988—making it much newer than many tracks that were historically rougher routes created by native Maori people and Western settlers—the Kepler was laid out to lead hikers on a grand tour of Fiordland's diverse landscapes, from moss-blanketed beech forest to the tussock-carpeted high country. But in many ways, it's simply more civilized than other hut-to-hut treks.
---
---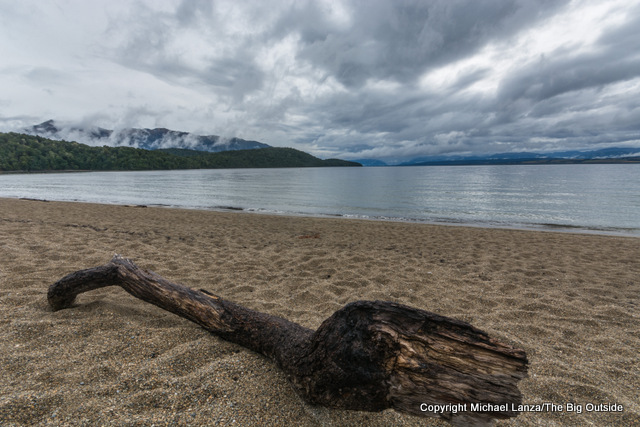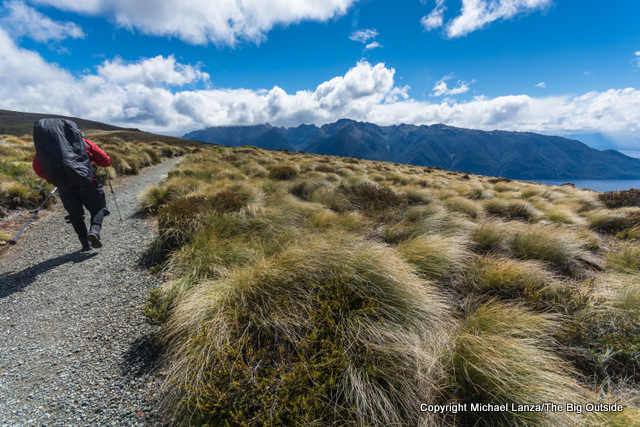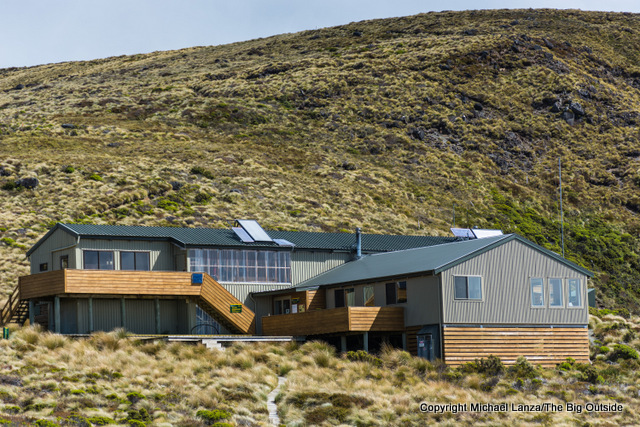 Beginning just minutes from the lovely little town of Te Anau (warning: You may decide to uproot your life and move here), and two hours from Queenstown's airport (or here), the three- to four-day, approximately 37-mile (60k) loop hike delivers sweeping vistas of Fiordland's vast mountains that rival any other track, and lush forest that looks like it sprang from the imagination of Dr. Seuss.
A gravel or packed-dirt path for much of its length, the Kepler features bridges over most streams, boardwalks spanning boggy areas, and wooden stairways on the steepest sections (although long stretches of stairway can possess their own kind of arduousness).
Plus, the huts offer comfortable, spacious shelter and a classic, social hut experience—we met Kiwis, of course, but also Australians, Israelis, Brits, Germans, a woman from Holland, and a couple from Alaska. Not all were highly fit, avid hikers, but all of the people we met finished the Kepler despite some stormy weather and fairly strenuous days.
The path is so well-signed and easy to follow, in fact, that even the employees in the Te Anau office of the Department of Conservation—which manages the Great Walks and other tracks—will tell you that a map isn't necessary; DOC's simple brochure-guide will suffice.
Hearing all that, Jeff and I set off into the oncoming "weetha bum" without a care.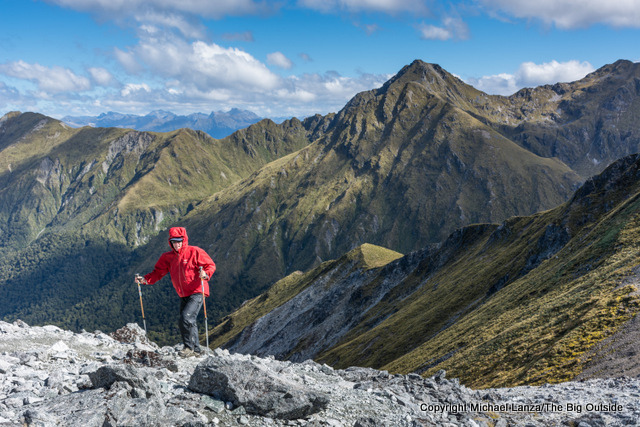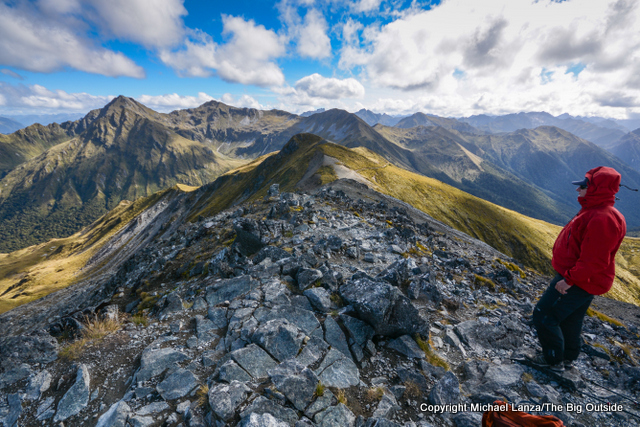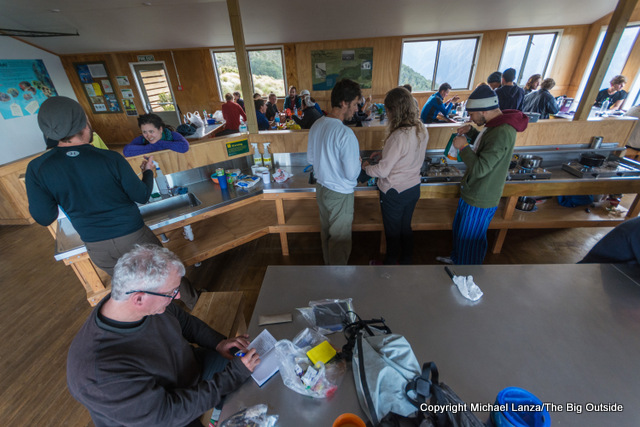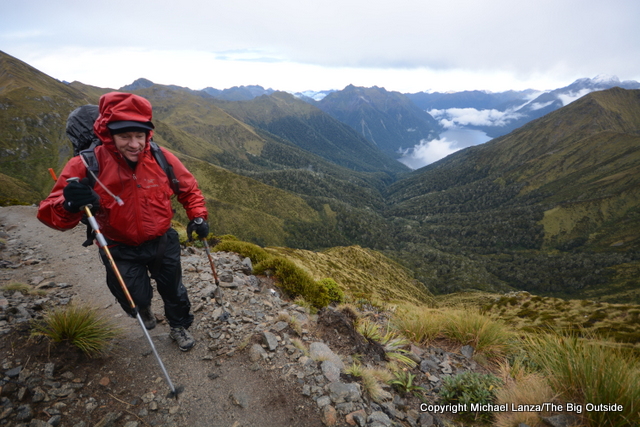 Mount Luxmore
With partly cloudy skies and glorious, long views on our first afternoon, Jeff and I decide after reaching Luxmore Hut, where we'll spend the night, that we should take advantage of the good weather to hike Mount Luxmore immediately. Luxmore's summit is usually tagged on the second day of the Kepler—when hikers make the trail's high, exposed alpine traverse. But with a forecast for rain and low visibility tomorrow, we're not taking any chances on missing the view from the top of Luxmore.
Less than 90 minutes later, layered and zipped up against strong gusts, we're standing on Luxmore's 4,829-foot (1472m) summit, highest point on the Kepler Track. But the classic Fiordland panorama before us makes it easy to ignore the cold wind: row upon row of jagged mountains sprawl out before us, with Lake Te Anau shimmering in the sunshine far below.
Want my help planning any trip you read about at my blog? Click here for expert advice you won't get anywhere else.
That evening, the hut ranger, Pat, gathers the roughly 50 "trampers" staying at Luxmore Hut in the dining room to warn us that tomorrow's forecast calls for 80 kph (50mph) winds and heavy rain. As he's talking, there's a sudden commotion, and then everyone is standing and clamoring to watch two keas, large alpine parrots native to New Zealand's South Island, that have landed on a picnic table on the deck just outside the common room windows.
Sure enough, when Jeff and I depart the Luxmore Hut just after 8 a.m. on our second day, outfitted in rain jackets and pants, gaiters, hats and gloves, we step into a bone-rattling wind and pounding rain that soon changes to wet snow.
Tell me what you think.
I spent a lot of time writing this story, so if you enjoyed it, please consider giving it a share using one of the buttons at right, and leave a comment or question at the bottom of this story. I'd really appreciate it.
Contact New Zealand Department of Conservation, doc.govt.nz.
See all of my stories about New Zealand and all my stories about international adventures at The Big Outside.
Read all of this story, including my tips on planning this trip, and ALL stories at The Big Outside, plus get a FREE e-guide. Join now!