By Michael Lanza
We follow the zigzagging trail upward until it becomes lost beneath an unbroken snow cover. Then we follow the boot prints of the few trekkers who've ventured up here before us recently, a navigational strategy based on hope—the hope that unseen strangers knew where the path goes. A bit farther than I could hurl a stone to either side of us loom sheer walls of dark rock, rendered fuzzy by the fog, as if Vaseline coats our eyeballs. The cliffs rise hundreds of feet into the oblivion of a soupy, gray ceiling, the sky a dark bruise that looks almost close enough to touch. A drizzly rain seeps from the clouds, but the air is calm and there is no sound but our footsteps and breaths—and a faint rumbling of uncertainty in my gut.
Reaching the base of one cliff, we enter a narrow moat between the wall of rock and a five-foot wall of densely compacted snow, grasping a steel cable bolted into the rock while scrambling over loose, shifting stones. Where the cable ends and boot prints lead out of the moat and up a steepening mountainside buried beneath snow—in the second week of July—we stop. I look up at that snowfield pouring downhill like a luge run the size of a football field, sporadically littered with rocks—firm snow, only its surface softened and slick. Somewhere up in that thick, atmospheric chowder, a few hours ahead of us, sits the mountain hut where we have a reservation for tonight. Then I look at my wife, Penny, our 13-year-old son, Nate, and 11-year-old daughter, Alex, and I exhale loudly.
It's the second afternoon of our weeklong, hut-to-hut trek through one of the world's most spectacular and storied mountain ranges, Italy's Dolomites. We are hiking a 39-mile (62k) section of the Alta Via 2 (AV 2), or "The Way of the Legends," a roughly 112-mile (180k) alpine footpath famous for attributes that had even more allure for me than a steaming plate of gnocchi: scenery that puts it in legitimate contention for the title of the most beautiful trail in the world, comfortable mountain huts with excellent food—and a reputation for being the most remote and difficult of the several multi-day alte vie (plural for alta via), or "high paths," that crisscross the Dolomites.
When I started planning this hut trek for my family, I realized I had set the bar high two years earlier, with my kids' first European trek, in Norway's Jotunheimen National Park. So I wondered: How do you find a vacation for a family whose interests include hiking, climbing, mountains, comfortable huts, and good pasta and vino?
Easy. You set off on the world's most beautiful trail.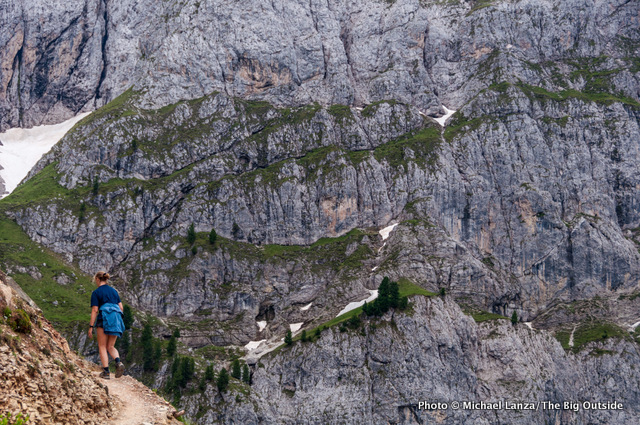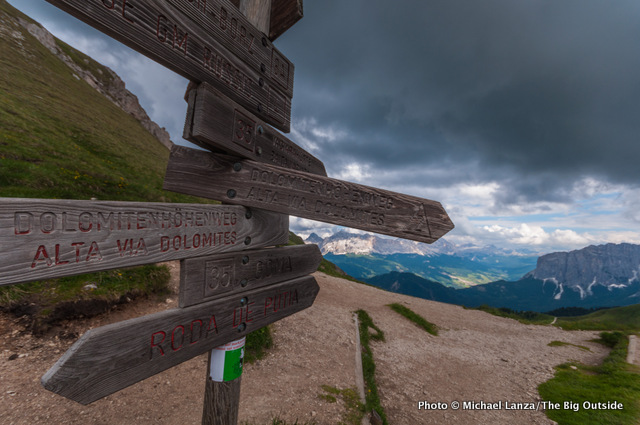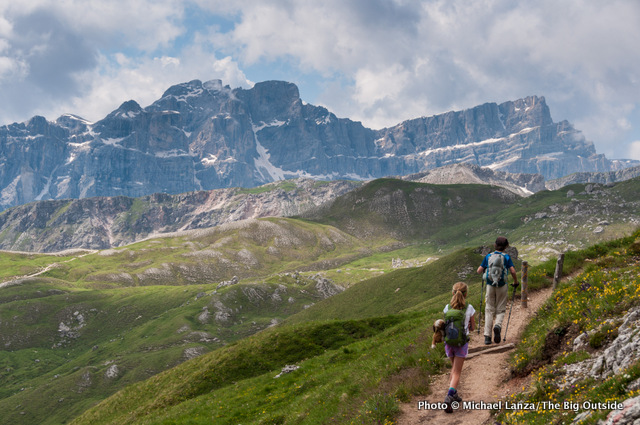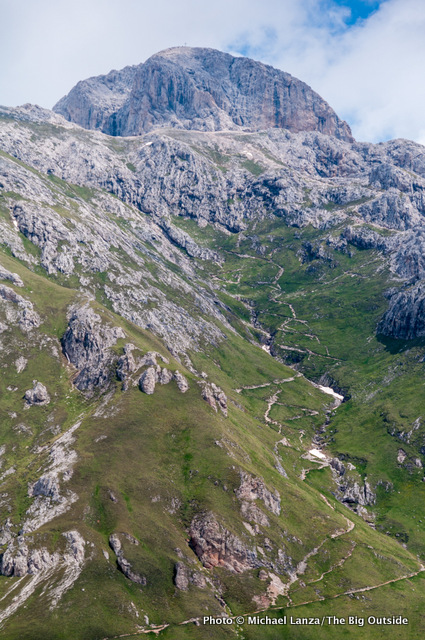 The 'Pale Mounts'
Located in the northeastern Italian Alps, with one national park, several regional parks, and a UNESCO World Heritage Site designation (as of 2009), the Dolomites thrust a dizzying array of spires and serrated peaks into the sky, 18 of them above 10,000 feet. The soaring dolomite or limestone cliffs—originally called the Monti Pallidi, or "Pale Mounts"—gleam like polished jewels in bright sunshine and virtually pulse with the salmon hue of evening alpenglow. They strike a sharp contrast with the deep, steep-sided, verdantly green valleys and meadows seen throughout the Alps.
I believed my kids had the physical stamina and mental fortitude to take on the AV 2. They've done a lot of wilderness backpacking since each was six years old, not to mention the rock climbing, ski touring, and various types of paddling adventures we've done as a family, which have taught them to remain calm and follow instructions when circumstances call for it. Plus, when I broached the idea, they eagerly jumped on board.
I planned the trek for the second week of July, hoping to arrive after much of the snow of winter and spring had melted away, but before the crush of trekkers and tourists in August, a national holiday in Italy and much of Western Europe. What I did not anticipate was that the Dolomites would see their largest snowfall in decades, and the white stuff would still thickly blanket the mountains in the middle of July.
---
---
Now, looking up at that snow slope disappearing into the fog, I'm contemplating the risks of trying to lead my family up it and through whatever awaits us en route to the hut—wherever it is up in that pea soup. I begin a mental process of elimination that I use in backcountry situations that pose some potential hazard: considering every possible option and crossing off each one that doesn't seem feasible or safe:
1. There's no possibility of leading the kids one at a time across high-risk terrain to islands of safety because there are no islands, just a dangerous sea of sharply angled snow ascending into the clouds. Check.
2. We can't all hike up close together because I can't really spot both kids simultaneously. Check.
3. The snow is too firm for me to kick steps for them to follow that are deep enough to ensure they wouldn't slip and fall. Check.
Every option is a bad one. It's like I'm sitting in a poker game, deciding whether to bet or fold, looking at a hand with a ten high—not even a respectable pair to gamble on.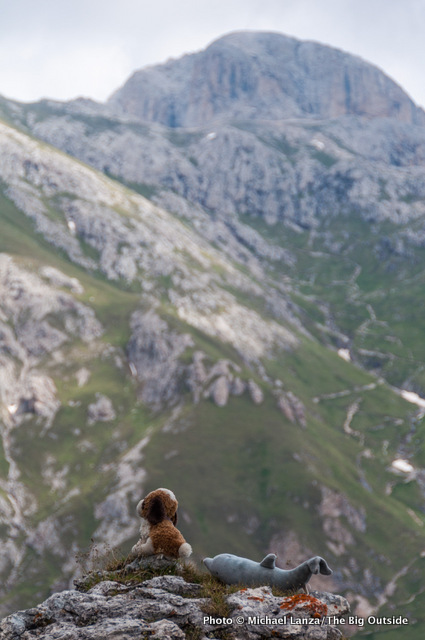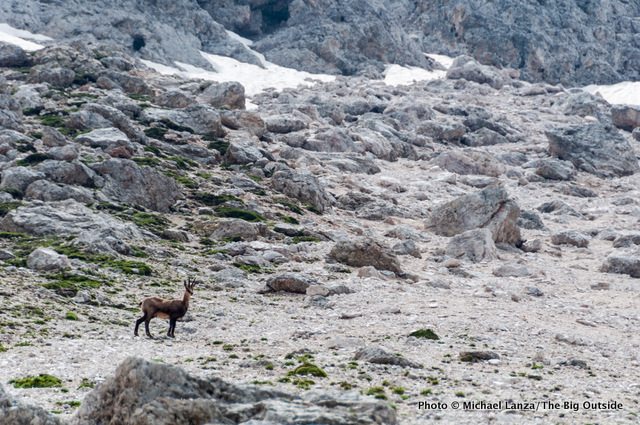 "I'm up for going for it," Nate says—a comment that either reflects his comfort level on snow or his age and gender. Alex, more flexibly, offers, "I can go either way, but I'm kind of leaning toward turning back." But when Penny says, "This is at the limits of my comfort," she gives voice to what I'm feeling. Then she adds, "I really don't like the idea of going up there. I'd rather go back down to the pass and get a hotel room."
I've also long believed that if you must deliberate at length about whether to push on or turn around, that usually means it's time to turn around.
But such is the glorious dichotomy of a hut trek in the Dolomites, as in much of the Alps, that from this scary situation in wet, gloomy weather, we only have to backtrack downhill for little more than an hour before we step through a metaphorical doorway from mountain wilderness to civilized luxury. We carefully descend the moat and the snow and hike the trail back to the road at Gardena Pass as the rain intensifies. At the Hotel Cir, we step in out of the rain, get a two-room suite, luxuriate in hot showers, then gorge on traditional, regional dinners of pork ribs and ham and brie—all of which quickly erase any regrets my family feels about turning back.
Still, in the back of my mind I wrestle with the question: What now? After traveling all the way from our home in Idaho to the Dolomites, will our trek get derailed on day two?
Puez-Odle Nature Park
Two days earlier, at the start of our adventure, when our shuttle driver pulled up in front of the hotel Utia de Borz at Passo delle Erbe, or Erbe Pass, at 6,581 feet (2,006m) above sea level, we stepped out of the van to the sight of the castle-like walls and spires of 9,429-foot (2,874m) Sass Putia towering almost 3,000 feet above us. After an overnight flight from Boston to Venice via Zurich that left us wrecked, the view hit each of us like a double espresso: We all snapped out of our torpor, rejuvenated just to be in the mountains.
At dinner that evening in the restaurant at Utia de Borz, a waitress who spoke English asked us about our plans. (Most of the hotel staff are native German speakers, common in the South Tyrol, which was part of the Austro-Hungarian Empire until the end of World War I.) She said the seven-day hike ahead of us "is very, very beautiful. You will definitely see some snow, but also very few people this early in the season."
Her words would prove prophetic on all three counts.
We set out the next morning—our first day on the trek—hiking from the Utia de Borz around the base of Sass Putia's skyscraping walls, reaching the Forcella di Putia pass at 7,733 feet (2,357m), a trail junction marked by a sign and a crucifix. There, we began a traverse on the AV 2 of a green tableland of grass and wildflower meadows in Puez-Odle Nature Park—"Odle" translating as "needle" in the Ladin dialect still spoken by some residents of the valleys of the Dolomites. The air rang with the clanging neck bells of grazing cattle. In every direction, clouds swirled around the jagged crowns of stone monoliths, their ancient faces veined with snow.
I can help you plan the best backpacking, hiking, or family adventure of your life. Find out more here.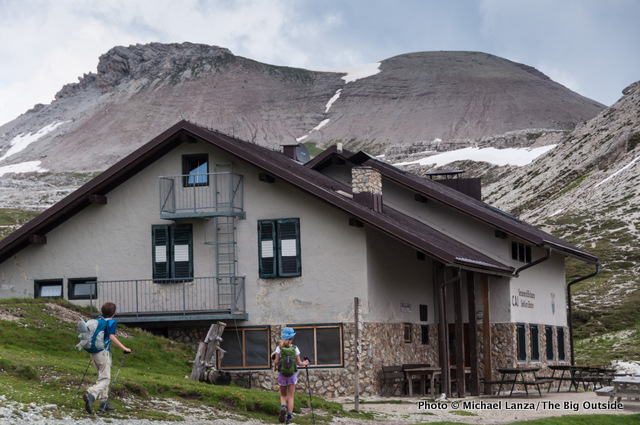 Not far beyond the Rifugio Genova-Schluterhutte, we reached a saddle overlooking a deep valley. Across the valley rose what appeared to be an impassable wall of vertical rock hundreds of feet tall, capped by bayonets pointed at the sky. I scanned the map, looked up again, and said—not masking my disbelief: "We're going over that ridge."
"We can't be going over that," Penny said. "No," I insisted, "we are." Then I saw the thin line of the AV 2 crossing the head of the valley and zigzagging up a mountainside of scree and snow to the lowest notch in the ridge—a gunsight pass called the Forcella della Roa. I pointed to it: "That's where we're going."
Read all of this story, including my tips on planning this trip, and ALL stories at The Big Outside, plus a FREE e-guide. Join now!
We dipped down to cross the head of the valley, then made a long climb through an amphitheater of cliffs. On a scree slope, a chamois, a wild cousin of goats and antelopes, peered at us curiously. We hiked over some snow to the Forcella della Roa at 8,586 feet (2,617m), stepping into a biting wind.
There, facing steep, firm snow burying the AV 2, we chose to detour off-trail below the snow line, over shifting talus. I left Penny and the kids to rest while I scouted around for a route through cliff bands above us. It took us well over an hour to finally get back to the dry, good path of the AV 2—but the kids were invigorated by the excitement of scrambling off-trail through the cliffs. Nate told me, "I loved that little adventure. I'm going to rename that valley we just left Adventure Valley. I'll always remember that."
See all of my stories about international adventures and all of my stories about family adventures at The Big Outside.
Tell me what you think.
I spent a lot of time writing this story, so if you enjoyed it, please consider giving it a share using one of the buttons at right, and leave a comment or question at the bottom of this story. I'd really appreciate it.