Category Archives: Family Adventures
Stories, photos, and videos from our family's many wilderness adventures hiking, backpacking, skiing, kayaking, rafting, and climbing, including in many U.S. national parks.
November 5, 2014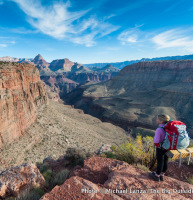 By Michael Lanza
The New Hance Trail starts out hard, and then gets really tough. The rugged footpath drops off the South Rim into the Grand Canyon like a ball rolling off a table—4,422 vertical feet in 6.5 miles from the rim to the Colorado River. Most of that relief comes in the first five miles, as the trail wiggles through more switchbacks than a squirrel racks up in a year of crossing streets. Geology magnifies the unmaintained path's grueling character: It drops over hundreds of knee-jarring, quad-jellying ledges two to three feet high, which can seem endless to someone carrying a backpack.
I imagine it seems especially endless to someone who stands barely more than four-and-a-half feet tall. Continue reading →
← Older posts