Tag Archives: Stillwater Canyon
From Mineral Bottom to its confluence with the Colorado River in Canyonlands National Park, the Green River meanders through 52 miles of Stillwater Canyon, slowly unfurling beneath a constant backdrop of giant redrock cliffs and spires. Off the water, you can take side hikes to centuries-old Puebloan rock art and cliff dwellings, camp on sandy beaches and slickrock benches, and maybe even spot bighorn sheep scrambling around on precipitous rock faces. View this gallery of photos from that trip for inspiration, and then read my story (with a video) to learn more about pulling it off.
December 19, 2012
By Michael Lanza
At this time of year, I start pulling out maps and guidebooks and poring over my lengthy—and always growing—list of outdoor trips I want to take. (My document slugged "Trip Ideas" is now 11,855 words long.) There are two reasons: First, to make those big dream trips happen, you have to think, plan, and dream months in advance. Plus, the planning is almost as much fun as taking the trip.
Here are my 10 favorite family adventures at The Big Outside (another list that will keep growing and evolving), to help give you some ideas and inspiration for 2013. Continue reading →
June 7, 2010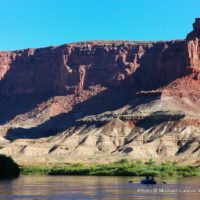 By Michael Lanza
"Oh, no, I wouldn't take young kids down that river in May. It's much too dangerous. I tell families to go in June or later, when the river's lower."
That was the dire warning issued to me over the phone by an employee with an outfitter based in Moab, Utah, that offers multi-day float trips down the Green River in Canyonlands National Park. His tone completely derailed me: Based on everything I'd read and heard, May was an ideal time for a family trip on the Green—which may well be America's best easy float trip. Continue reading →