By Michael Lanza
Minutes after we walk past the sign warning that this section of the Timberline Trail is closed due to "a deep chasm," with 100-foot drop-offs, created by flooding from a storm—rendering the creek crossing ahead of us "very unstable and unsafe"—Jeff and I reach the top of the ridge high above the east bank of Eliot Creek. If you've ever wondered about the destructive power of water, take a look at Eliot Creek. A few steps ahead of us, the trail disappears as if bitten off by a set of jaws about 300 feet wide. The slope below is a torn-up debris field of rocks and crumbling earth. At its bottom, Eliot Creek, the foaming, white-and-gray spawn of Mount Hood's Eliot Glacier, spits and rages loudly as it courses downhill, like an angry young man spoiling for a fight.
It looks like a fight that I don't want.
My friend Jeff Wilhelm and I have come to backpack the 41-mile Timberline Trail around Oregon's Mount Hood, a classic circumambulation of this 11,239-foot volcano in the heart of the Mount Hood Wilderness. It's the second morning of our mid-August hike, and so far we've enjoyed glorious Pacific Northwest summer weather of sunny skies and mild temperatures. Jeff and I were both itching for one last trip before he returns to his university teaching job and my kids return to school and begin their soccer season, making my schedule less flexible. Still, we both have a tight window, so we're hiking the Timberline loop in three days instead of the typical four to five days that many backpackers take.
[Author's note: The washed-out section of the Timberline Trail, described above, was repaired and fully open as of September 2016. See the Make It Happen section at the bottom of this story for more information.]
---
---
The Timberline Trail has long lived in the shadow of a certain, longer trail around Hood's taller and more-famous stratovolcano sibling, Mount Rainier: the 93-mile Wonderland Trail. That's partly because the Timberline resides in a national forest rather than a national park—not to mention that the Wonderland is one of the great backpacking trips in the country. But as Oregon backpackers know and Jeff and I have begun to discover, the Timberline can go toe-to-toe with the Wonderland for scenery and probably has an edge in adventure quotient—mainly because, being in a national forest, it does not see the same degree of active management seen on the Wonderland, where many creeks have log bridges. On the Timberline, you will get wet in frigid water numerous times—and you will look at some creeks and sensibly wonder whether you even want to try to ford them.
Which is what we're thinking as we descend a rough, unmaintained footpath that previous backpackers have tromped out down to Eliot Creek. While definitely loose and demanding care, the descent is not bad for anyone who's hiked off-trail in loose terrain; we negotiate it without a problem. Thus we encounter one surprise of the Timberline Trail: The closed stretch of it, which I'd heard was sketchy, doesn't seem bad at all.
Far riskier, in my eyes, is getting across Eliot Creek.
Jeff and I walk upstream beside Eliot, looking for a spot where we might ford it safely. Gray with glacial silt in the few pools where it's not a white torrent, Eliot looks entirely capable of sweeping an adult off his feet and hurling him downstream to get strained through a watery minefield of boulders and short waterfalls.
We keep walking along Eliot's bank, but nowhere does the creek offer an obvious invitation to cross.
Mount Hood
We had set out 24 hours earlier from the historic Timberline Lodge on Hood's south side, hiking the Timberline Trail counter-clockwise under a cloudless sky, with the temperature in the 60s and a gentle, cooling breeze. After walking along the glacial moraine high above the White River, we dropped 500 feet to easily hop on rocks across that gray stream, and then ascended a thousand feet onto one of several broad ridges that extend off Mount Hood like the limbs of a many-armed sea star. On the Timberline, as on Rainier's Wonderland Trail, backpackers repeatedly yo-yo between glaciated creek and river valleys and the ridges that divide them.
Overall, the Timberline's not a terribly strenuous trail: Our first day's two longer ascents were just 1,000 and 1,600 feet, and the entire Timberline Trail has a cumulative vertical gain of 8,600 feet in 41 miles—or only about 200 vertical feet per mile. By comparison, in New Hampshire's White Mountains, where I first fell in love with hiking, trails commonly go up or down 1,000 or more feet per mile, and are much rockier than many Western trails like the Timberline. In Washington's North Cascades, I've hiked off-trail routes that gained 2,000 feet in less than a mile. On that scale, the Timberline isn't terribly vertiginous at all.
Still, it presents its own brand of challenges (beyond the creek crossings). Just before reaching Newton Creek on day one, we lowered ourselves hand over hand down a fixed rope where erosion has carved out a short, vertical wall of earth. While the north side of ridges on Hood's drier, eastern flanks sprout thick forests that deliver shaded relief from the hot sun, the solar-baked southern faces of those ridges are often a barren slope of volcanic rocks and pumice, where we clawed our way upward, sliding down one step for every two upward.
I can help you plan this or any other trip you read about at my blog. Find out more here.
We also frequently crossed meadows, wading through oceans of lupine, fireweed, and other wildflowers in mid-August; spring arrived just a few weeks ago, when last winter's snow finally melted away. And around every bend in the trail, in every open meadow, we look up to the visual shock of seeing the looming bulk of Hood's craggy, icy face.
On our first afternoon, Jeff and I climbed up onto Gnarl Ridge, popping out of the forest to a moonscape of rocks and dirt and busted pinnacles high above Newton Creek. Hood towered nearly 4,000 feet above us even as we reached the highest point on the Timberline, at about 7,300 feet. We traversed a vast, stark plateau of rocks and dust until evening, when we dropped our packs at tiny tent sites near the stone shelter where the Timberline intersects the Cooper Spur Route.
The next morning, our second, I stepped out of my tent moments before dawn and watched a celestial wildfire ignite. The sun slowly peeked over the eastern horizon, setting ablaze the broken clouds dappling the sky, turning them fire red, orange, and neon yellow. In the other direction, Mount Hood's snowfields and rock beamed with a salmon hue. To the north, Mounts Adams, St. Helens, and Rainier, barely visible through cloudy haze, glowed like far-off lanterns floating in the sky.
"You're missing an amazing sunrise," I called to Jeff, still inside his tent and rumbling like colliding tectonic plates. Moments later, he poked his head out and muttered, "Wow."
A few hours later, on the closed section of the Timberline Trail, we looked down at Eliot Creek wondering how the heck we'd cross it.
Plan your next great backpacking trip in Yosemite, Grand Teton, and other parks using my expert e-guides.
Eliot Creek and Coe Creek
Jeff and I find a line of boulders, wet but sitting above the water's surface, forming an unbroken line of steppingstones across Eliot Creek; we could actually keep our feet dry. I attempt it first—stepping carefully from rock to rock, leaning on my trekking poles for balance—and make the crossing without tumbling into the washing machine of Eliot Creek. Jeff follows, also without a problem.
With every rock seemingly poised to tumble all the way down to the whitewater below us, we pick each step carefully, using our hands for balance, doing our best impression of mountain goats.
Then we take a direct line up the steep, entirely unstable slope forming the west bank of Eliot—which proves more difficult than the east side. With every rock seemingly poised to tumble all the way down to the whitewater below us, we pick each step carefully, using our hands for balance, doing our best impression of mountain goats.
Beyond Eliot, we walk through quiet forest, crossing several creeks with waterfalls as much as about 70 feet tall, and passing cascades plunging hundreds of feet down the steep mountainside. That's another surprise about the Timberline: more waterfalls than I expected. Especially on Hood's northerly aspects, which of course have bigger glaciers and hold snow later into summer, water pours off this mountain like sweat streaming from the head of a big man in the hot sun.
We pass four backpackers hiking in the opposite direction who tell us the crossing of Coe Creek "is difficult." A little while later, we see what they mean. The creek, which drains the Coe Glacier on Hood's ominous north face, carves a steep-walled gorge into the side of the mountain. Its waters funnel through the narrow bottom of the gorge, another roaring whitewater beast cluttered with boulders. Numerous, abrupt drop-offs, short waterfalls, and holes in the steep creek provide a powerful visual warning of the peril of losing your footing when fording it.
We stop at a narrow, wet, very slick-looking log bridging the widest part of the creek. Jeff shakes his head, saying, "I'm not doing that." I agree with him—and I'm rarely dissuaded by a log crossing. A bit farther upstream, we find a safer ford of the creek that's actually marked by a cairn, where the icy water is knee-deep and moving fast, but manageable. Jeff and I both ford it within a few minutes.
We've made it past Eliot and Coe creeks—without disaster.
Read all of this story and ALL stories at The Big Outside. Join now!
Ramona Falls
There's another aspect of the Timberline Trail that distinguishes it from Rainier's Wonderland: the degree of solitude. It's not that you can't find it on the Wonderland—especially on Rainier's west side, which has the most remote, longest stretch of the Wonderland Trail between road crossings or major trailheads. But while Jeff and I, coming here midweek, see very few other backpackers on the Timberline—and didn't even need to reserve a backcountry permit—the Wonderland's available backcountry permits usually get booked up months in advance. Plus, it takes most backpackers more than a week to hike the Wonderland, so you'll see basically the same number of backpackers out there on any day of the week (although more dayhikers on weekends in popular areas like Paradise and Sunrise. See my story "10 Tips For Getting a Hard-to-Get National Park Backcountry Permit.")
Beyond Cairn Basin, I hike ahead of Jeff, thinking I may make the side trip up Yokum Ridge while he intends to hike directly to our next campsite, at Ramona Falls. Yokum, on the mountain's west side, is one of the side hikes off the Timberline Trail that lead to some of the highest points you can reach on Mount Hood without a rope and ice axe; its counterpart on Hood's east side is the Cooper Spur Trail. Both deliver in-your-face views of glaciers and a perspective of Hood's awesome scale. Shorter trails like McNeil Point offer a similar experience for less effort.
But as I get closer to Yokum, I decide it's too late in the day to add 9.4 miles out-and-back and some 1,700 feet of climbing and descending to this already long day. But I follow the Timberline up the valley of the Muddy Fork. Near its head, in open terrain where I crane my neck to look around the rocky cirque chiseled from the mountain by the Sandy Glacier—now retreated high above me—I take my boots off yet again for two numbing fords of the Muddy Fork.
Quite alone out here as afternoon slowly surrenders to evening, I come upon a spot where a landslide has ripped a gash across the Timberline Trail. The boot prints of previous backpackers form a narrow goat path across the slide; its path continues far down this steep mountainside—steep enough to take a seriously long tumble with a misstep crossing the slide path. I cross it—then come upon several more.
The Timberline hasn't finished with its surprises yet.
Finally, the trail mellows out, leading me through open, shaded forest of big trees with a dense understory of ferns crowding the ground. Shafts of sunlight pierce through the canopy overhead. Deep quiet accompanies me all the way to Ramona Falls, a startlingly lovely, 120-foot, lacy curtain of water pouring over scores of small ledges in a cliff of columnar basalt. A short walk beyond Ramona, Jeff and I make camp for our last night.
Paradise Park
As they say, timing is everything. And sometimes, nature's timing is just spot-on perfect.
I'm chugging uphill toward Paradise Park on our third morning. Jeff's somewhere ahead of he; we departed our campsite at Ramona Falls at different times—I lingered to shoot photos of Ramona—and I haven't caught up to him yet. Since before we awoke this morning, an impenetrable fog has blanketed the west side of Hood. But now, as I'm approaching Paradise Park, the fog shatters like glass. Within minutes, my world transforms from cool, gloomy overcast and visibility not even reaching the treetops to warm, brilliant sunshine. I hike across Paradise Park, a sprawling meadow of grasses and fields of wildflowers, with Mount Hood looming enormous, like an icy moon, over gently rolling slopes.
It's the best surprise of the trip.
Sometimes a trail, a park, a mountain throws you a curve, sneaking up on you with the element of surprise. A hike lets you off relatively easy on the obstacle that worried you, but then presents an unexpected twist—a challenge you hadn't thought about because you were focused on the one that proved not such a big deal. I had thought the washout at Eliot Creek could have hazardously steep and loose banks, and that turned out to be not that bad. But the fords of Eliot and Coe added some surprising spice to the hike; and the numerous waterfalls, the landslides at Muddy Fork, and now the clouds parting just as I arrive in Paradise Park each added their own, unique flavor of surprise to this little, three-day, end-of-summer adventure.
It's nature's version of the old snowball-fight trick: Lob a snowball on a high arc, so that your opponent watches it instead of you, then fire a second snowball right at his head while he's distracted.
That's the Timberline Trail: hitting you with the snowball you never saw coming. And it makes you smile because it's such a beautiful, perfect surprise.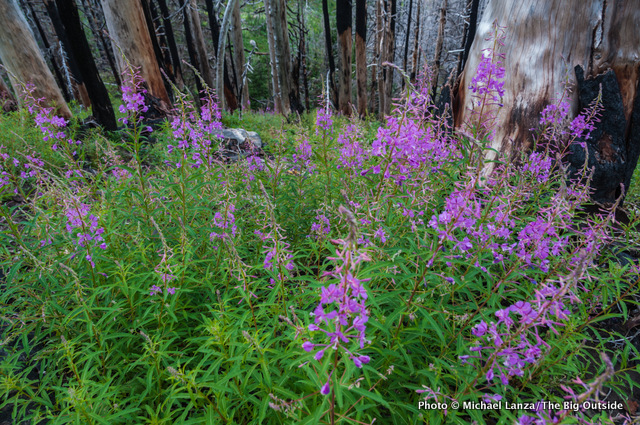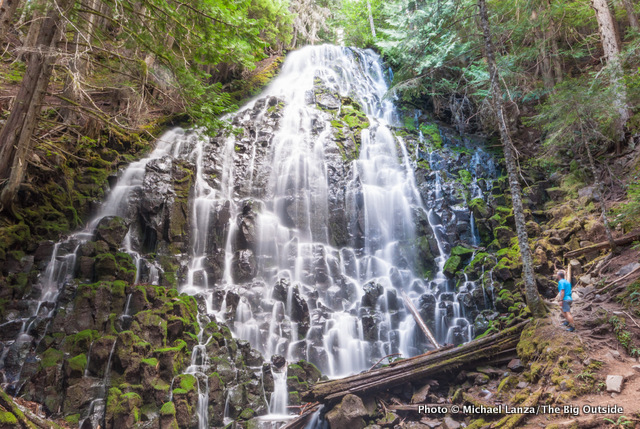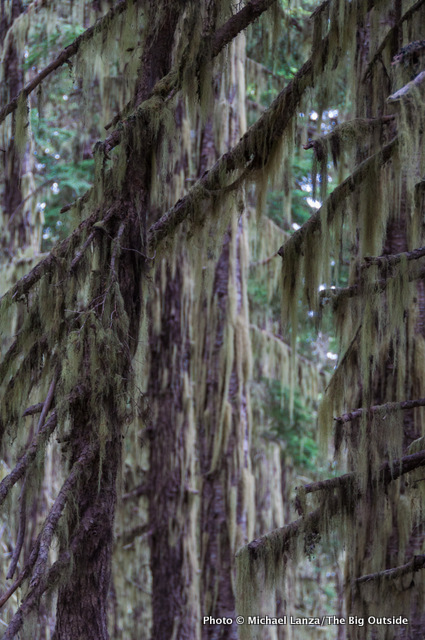 Plan This Trip
THIS TRIP IS GOOD FOR any moderately fit backpackers who can read a map, including families, as long as everyone is comfortable with challenging creek crossings. The trail generally is well-marked and obvious. Along the way, there are numerous side trails that lead to roads within an hour or two, so it's possible to hike sections of the Timberline Trail. The highest elevation on the trail, 7,300 feet, is low enough that most people feel no ill effects from it.
Season Winter and spring snow often covers much of the trail into mid- or late July. Wildflowers bloom in August, while September and October often offer excellent hiking weather.
The Itinerary The Timberline Trail can be hiked in either direction; we hiked it counter-clockwise. We took three days, camping our first night at tent sites near the stone shelter at the junction of the Timberline Trail and Cooper Spur Trail, and our second night at campsites near Ramona Falls. Backpackers often take four to five days to hike the full Timberline Trail. There are plenty of established campsites along the trail.
Getting There From the town of Hood River, drive south on OR 35 for 38 miles and merge onto US 26 /Mount Hood Highway west (toward Portland). Follow it for 2.4 miles and turn right onto Timberline Road. Continue six miles to Timberline Lodge and Ski Area, where there's ample, free parking. Access the Timberline Trail behind the lodge.
Permit Required for backpacking, permits are free and available at trailheads.
Maps Green Trails Government Camp no. 461 and Mt. Hood no. 462, greentrailsmaps.com.
Concerns
• There are several, unbridged creek fords along the Timberline Trail. In early to mid-summer, crossing the major creeks, including Eliot and Coe, can range from difficult to very dangerous. Don't attempt to ford if it looks unsafe. Creek levels typically rise during the daylight hours, when there's more melting of snow and glacial ice, and fall during the night, so morning is the best time to attempt a challenging ford.
• While the creeks originating in Hood's glaciers are heavily silted, we also passed numerous smaller, clear streams ideal for getting drinking water.
• The Timberline Trail section that was damaged by the Eliot Creek washout has been rebuilt. Find more information on that here.
Contact Mount Hood National Forest/Mount Hood Wilderness, (503) 668-1700, fs.usda.gov/mthood.
See all of my stories about backpacking in Oregon, my stories about hiking in Oregon, and all of my stories about backpacking at The Big Outside.
Let The Big Outside help you find the best adventures.
Join now to read ALL stories and
get a free e-guide

!
Tell me what you think.
I spent a lot of time writing this story, so if you enjoyed it, please consider giving it a share using one of the buttons at right, and leave a comment or question at the bottom of this story. I'd really appreciate it.