Backpack
Gregory Baltoro 65 and Deva 60
$300, 65L/3,966 c.i. (men's medium), 4 lbs. 15 oz. (men's small, without the rain cover)
Sizes: men's Baltoro S-L, women's Deva XS-M
backcountry.com
Loaded with up to 40 pounds on a four-day, nearly 30-mile family backpacking trip in Idaho's Sawtooth Mountains, this pack felt almost unnoticeable on my back—even climbing over three 9,000-foot mountain passes (two of them in one day). That may sound hyperbolic, but it's true: I was thinking about the scenery rather than about my pack. That observation speaks volumes about the comfort of the fully featured men's Baltoro and women's Deva, which rank among the two or three best backpacking packs for hauling heavy loads—and may be the very best of them all. Here's why.
Gregory has updated these classic big-load haulers for 2018, cutting a pound from their weight without compromising support, comfort, or their deluxe feature set. The Response A3 Suspension (stands for Auto-Angle-Adjust), with Gregory's PreCurve 3D AIR hipbelt and shoulder harness plus an aluminum wishbone frame and plastic framesheet, seems to take 10 pounds off a heinous load. Gregory rates the pack for 50 pounds, an estimate I consider accurate based on abundant past experience with more than that in the Baltoro (I previously reviewed the Baltoro 75); strong backpackers could easily handle more weight in it. The suspension directs most of the pack weight onto the hips as effectively as the two or three top competitors out there.
The hipbelt acts like a friend offering to take most of your pack weight, thanks to a pre-curved wrap that smoothly embraces your hips, with no pressure points; ample padding with ventilated mesh; and independent rotation on each wing of the hipbelt, which significantly dampens the normal pack bouncing created by hip motion when walking. That translates to a noticeable reduction in back and shoulder fatigue, a benefit that grows as you add weight; but you'll only find that feature in a few high-end, large-capacity backpacking packs.
The plush EVA foam padding in the shoulder straps, hipbelt, and Matrix ventilated back panel absorb a lot of the abuse of a heavy load, and shoulder straps and hipbelt come in multiple sizes for a customized fit. Plus, the heavily padded lumbar area has silicone grip to keep that load-bearing area from sliding around and causing irritation or blisters on your lower back. A removable lumbar insert behind the back panel allows some added customization of the lower back fit and support.
The Baltoro and Deva both come in three sizes with some adjustability in the shoulder straps and multiple sizes in the hipbelt for fine-turning the fit. With an 18-inch torso, I straddle the line between a size medium or small Baltoro, according to Gregory's pack sizing chart; in that situation, I often go with the smaller size, and the Baltoro small fits me well.
At a tick mark under five pounds (for the small Baltoro), it's more than twice the weight of top ultralight packs, of course. But that's comparing apples to oranges. The Baltoro weighs virtually the same as the Arc'teryx Bora AR 63 and just four ounces more than the Osprey Atmos AG 65—two packs that most closely compete with it for comfort, fit, and features. It doesn't feel huge on your back or impede movement much whether packed full or underfilled.
---
---
While I've used the Baltoro 75 (the women's equivalent is the Deva 70) on numerous family backpacking trips when my kids were young and I carried most of our food and gear, the Baltoro 65 has more than enough capacity for a week or more, even for someone carrying an extra share of group gear. The top-loading mouth opens widely enough to slip a Bear Vault BV 500 bear canister horizontally into the main compartment (I had to angle it in, and then it fits horizontally in the middle of the pack bag).
A U-shaped front zipper accesses most of the main compartment—you can yank out another layer or lunch quickly, or completely open up the middle of the pack to pull out a tent in the rain while keeping everything else inside—and there's a sleeping bag compartment zipper and removable divider. (I generally don't user a sleeping bag compartment divider, preferring to fill every nook and cranny inside a pack.)
Few packs sport such a deluxe feature set as the Baltoro. Dual zippered lid pockets provide plenty of space for your headlamp, knife, sunglasses, and other small items; and I like the convenience of two pockets because there's less digging around and fewer objects to fall out accidentally. I fit a gravity filter kit and rain shell in the vertically aligned, twin zippered front pockets and still had space to spare, while the mesh front pocket overlaying them swallows a damp rainfly.
The removable Sidekick hydration sleeve doubles as a sub-5-ounce daypack with shoulder straps, a drawcord top closure, and a small zippered pocket for an ultralight summit hike carrying some water, a jacket, and a little food. The two girth-hitched bottom compression straps on the Baltoro and Deva can be used to attach a foam pad, and either is removable to double as a waist belt for the Sidekick daypack. One of the two hipbelt pockets has PU-coated WeatherShield material and a waterproof zipper.
One side pocket consists of a zip-out bottle holder canted at an angle to easily grab or replace a bottle in it while wearing the pack. I like the elasticized, retractable attachment on the left shoulder strap for briefly stashing sunglasses or poles. The two side compression straps wrap around the entire pack bag to attach large gear like snowshoes or maximize load compression, plus there are two straps and shock cords for ice axes and trekking poles. An included custom rain cover stashes in the zippered pocket under the lid.
Plan your next great backpacking trip in Yosemite, Grand Teton, and other parks using my expert e-guides.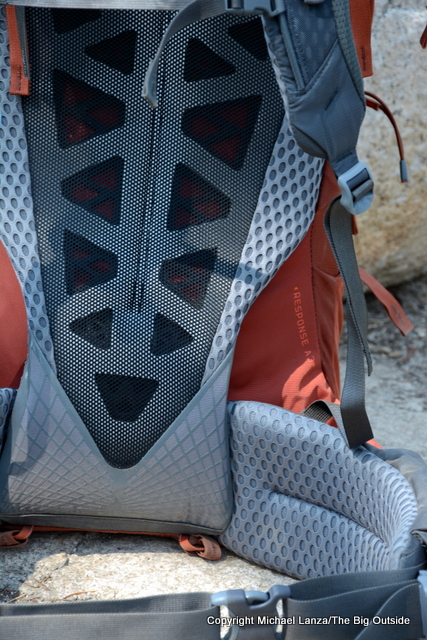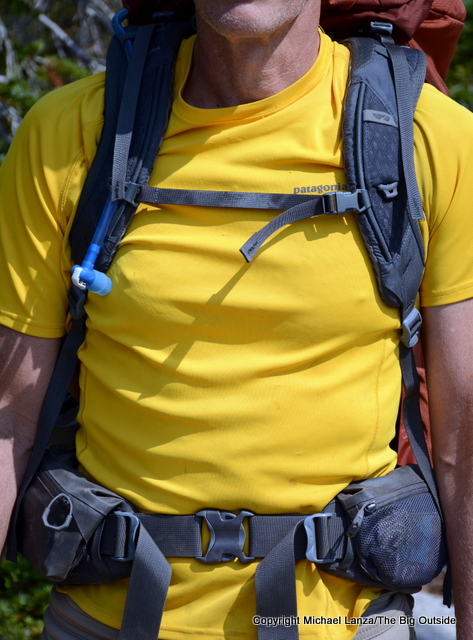 GREGORY Baltoro 65 and Deva 60
The Verdict
This is certainly not a pack for someone who wants to travel light, and the assortment of pockets will seem like overkill to a committed ultralighter. Plus, the industry's full shift to lightweight and ultralight gear has transformed packs built for big loads into a niche market. But if your destiny routinely involves loads of 40 pounds or more, and you need a high level of organization and features, this is arguably the best pack on the market for that job.
You can support my work on this blog, at no cost to you, by clicking any of these affiliate links to buy a Gregory Baltoro 65 or other sizes at backcountry.com or moosejaw.com, or a Deva 60 or other sizes at backcountry.com, or moosejaw.com.
Was this review helpful?
If so, would you like to support my work by clicking here to leave a tip for The Big Outside?

Please also consider sharing it using one of the buttons at right and leaving a comment or question at the bottom. Thank you, I really appreciate it.
See all of my reviews of backpacks and backpacking gear at The Big Outside.
See also my "Top 5 Tips For Buying the Right Backpacking Pack," and my "Gear Review: The 10 Best Backpacking Packs" (the Baltoro and Deva are on that list) and my picks for "The Best Ultralight Backpacks."
NOTE: I tested gear for Backpacker Magazine for 20 years. At The Big Outside, I review only what I consider the best outdoor gear and apparel. See categorized menus of all of my gear reviews at The Big Outside.
—Michael Lanza
Let The Big Outside help you find the best adventures.
Join now to read ALL stories and
get a free e-guide

!