Down Jacket
The North Face Morph Jacket
$249, 12.5 oz. (men's medium)
Sizes: men's XS-XXL, women's XS-XL
ems.com

While today's insulated jackets come in a greater variety, with different strengths and weaknesses, it can seem confusing to differentiate between them. One easy metric relevant to any consumer is warmth per dollar—and that's where The North Face Morph Jacket shines. Stuffed with high-quality down feathers that are not water resistant, it delivers warmth that competes with the best down jackets of the same weight, and performance ideal for many backpackers, climbers, and others, at a price about 100 bucks lower than top competitors.
The Morph Jacket kept me warm over a midweight base layer on cool mornings and evenings in camp—with the low one morning around 40° F—on a three-day, late-August backpacking trip on the Teton Crest Trail, and I rarely had to zip it up on mornings in the low 50s on a six-day, early May backpacking trip in the Grand Canyon, and in similar temps camping in June at Idaho's City of Rocks National Reserve; and my 18-year-old son found it warm enough over a midweight base layer on raw, wet, chilly May evenings in the 40s and high 30s at the City of Rocks.
---
---
High-quality, 800-fill, RDS (Responsible Down Standard) down makes the jacket quite warm for its weight compared to down with lower fill ratings or most synthetic insulated jackets. The jacket also stuffs easily into its left hand pocket—one of three zippered pockets (the third is on the chest)—and packs down to a little larger than two liter bottles, a nice size for a backpacking pillow.
One reason the Morph isn't more expensive is that it uses standard down feathers—not water-resistant down found in other, usually pricier high-end puffy jackets. For users who generally don't get their insulated jacket wet—or routinely go out for days in very wet conditions, when moisture can slowly build up in insulation—the Morph offers warmth comparable to much pricier jackets, and only sacrifices water resistance that many users largely don't need. The Morph's shell also has a DWR (durable, water-resistant treatment) to repel the kind of light precipitation that comprises the worst weather to which many users will expose a down jacket, anyway.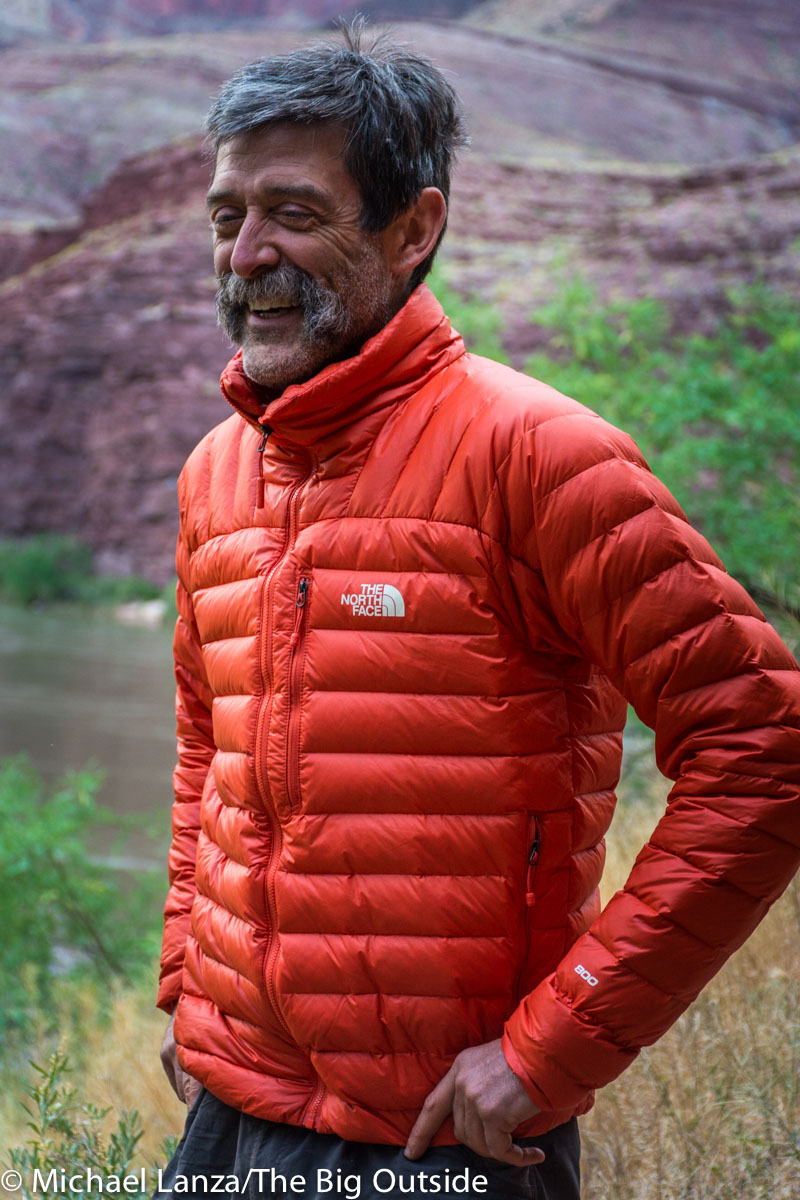 The slim fit allows space for a warm base layer underneath, and the relatively short, just-below-the-waist, adjustable hem, designed for wearing with a climbing harness, is long enough for three-season backcountry nights and mornings, and reduces unneeded length in favor of placing all of its warmth-per-ounce in your body's core. The collar reaches to the chin, and the fit is slightly loose around the neck; you may want a base layer with a high collar in chillier temps.
The unique internal, elasticized cuffs seal around the wrist while giving the sleeve about three inches of additional length that extends to the knuckles—ideal for climbers reaching overhead and for helping keep hands warm in camp. The 20-denier shell fabric is common in down jackets, especially lighter models, and it's reasonably durable, as long as you don't catch it on sharp points or edges.
The Morph Jacket lacks a hood, and while I almost always prefer (and recommend) a puffy jacket with a hood for cold temps, if you're carrying a wool hat, anyway, and not likely to encounter temps around or below freezing, the hood becomes superfluous. But for hood fans, there is a men's Morph Hoodie ($279). There's also a men's Morph Vest ($150).
The Verdict
If a basic but warm, high-quality down jacket is what you're after, The North Face Morph Jacket offers the quality, warmth, and packability of many pricier down jackets.
BUY IT NOW You can support my work on this blog, at no cost to you, by clicking any of these affiliate links to purchase a men's The North Face Morph Jacket at Moosejaw.com or ems.com, a women's The North Face Morph Jacket at Moosejaw.com, a men's Morph Hoodie at Moosejaw.com, a men's Morph Vest at Moosejaw.com, or a women's Morph Vest at Moosejaw.com.
Tell me what you think.
I spent a lot of time writing this story, so if you enjoyed it, please consider giving it a share using one of the buttons at right, and leave a comment or question at the bottom of this story. I'd really appreciate it.
See all of my reviews of insulated jackets and outdoor apparel that I like at The Big Outside, and my "Review: The 10 Best Down Jackets."
Want to make your pack lighter and all of your backpacking trips more enjoyable? See my story "A Practical Guide to Lightweight and Ultralight Backpacking." If you don't have a paid subscription to The Big Outside, you can read part of that story for free, or click here to download that full story without having a paid membership.
NOTE: I tested gear for Backpacker Magazine for 20 years. At The Big Outside, I review only what I consider the best outdoor gear and apparel. See my Gear Reviews page at The Big Outside for categorized menus of all of my reviews and my expert buying tips.
—Michael Lanza
The Big Outside helps you find the best adventures. Join now to read ALL stories and
get a free e-guide

!

THE NORTH FACE MORPH JACKET

Warmth When Wet (Not Designed for This)

Summary

If a basic but warm, high-quality down jacket is what you're after, The North Face Morph Jacket offers the quality, warmth, and packability of many pricier down jackets.