By Michael Lanza
We emerge from our tents on a mild August morning to discover that the waters of the upper and middle Cramer Lakes, in Idaho's Sawtooth Mountains, have transformed overnight. Where last evening these lakes on either side of our campsite had been rippled by mountain breezes, now they lie perfectly still; they are glassy mirrors offering inverted, sharp reflections of the forest and jagged peaks surrounding the lakes. A few hours later, our backpacking party of three parents and six teenagers hikes across wildflower meadows and past alpine tarns to proudly reach a mountain pass at over 9,000 feet on the Cramer Divide, overlooking a turbulent sea of razor peaks stretching to every horizon.
It's an inspiring panorama. But to me, there's more to this pass than the view: We also happen to be standing at one of the highest points along the most remote and wild long-distance trail in the Lower 48—and the newest. And thanks to the help of some conservation leaders in Idaho, this trail has, metaphorically speaking, come a long way from a notion in my mind to fruition.
A few years ago, I brought an idea to my good friend, Justin Hayes, then the program director of the Idaho Conservation League and now ICL's executive director. I told him that Idaho deserves to have a long-distance backpacking trail that traverses its three signature federal wilderness areas.
From north to south, they are the 1.3-million acre Selway-Bitterroot Wilderness, which by itself is larger than many national parks, including Yosemite, Grand Canyon, and Glacier; the nearly 2.4-million-acre Frank Church-River of No Return Wilderness (aka "the Frank"), largest in the Lower 48 and bigger than Yellowstone; and the 217,000-acre Sawtooth Wilderness, protected as a primitive area since 1937, among the first places protected in The Wilderness Act of 1964, and now Idaho's best-known and most beloved mountain range for its jagged peaks and hundreds of alpine lakes.
Taken together, these three very special places comprise nearly four million acres of almost-contiguous wilderness, a vast realm of mountains and canyons divided by just one rural highway (ID 21 outside the small town of Stanley) and two remote dirt roads. If these three wildernesses were contained within one national park, it would be America's third-largest and the biggest outside Alaska.
I already had a name for this new footpath when I approached Justin and ICL: the Idaho Wilderness Trail. Not only do I like how it sounds, but that name speaks volumes about the quality of the backpacking experience the trail delivers.
---
---
Linking up existing trails (requiring no new trail construction), the Idaho Wilderness Trail (IWT) crosses mountain passes over 9,000 feet and threads its way past peaks rising over 10,000 feet; follows three designated wild and scenic rivers, the Middle Fork of the Salmon, Main Salmon, and the Selway; traces the shores of innumerable alpine lakes; and meanders below dramatic spires from the Bighorn Crags in the Frank to the Selway Crags and the Sawtooths.
It traverses pristine backcountry that is home to mountain goats and bighorn sheep, elk and moose, black bears, hundreds of wolves (a population estimated to be at least seven times as many as live in Yellowstone), and abundant trout—and which offers some of the nation's best remaining habitat in the Lower 48 for restoring a viable population of wild salmon.
Perhaps most uniquely, the IWT offers the kind of solitude you simply cannot find on most long-distance trails. In fact, many backpackers have never even heard of the wilderness areas the trail traverses.
Imagine that: Discovering a new long-distance trail that's not just one of the best in America, but has been hiding in plain sight.
Now it's ready to be explored by backpackers.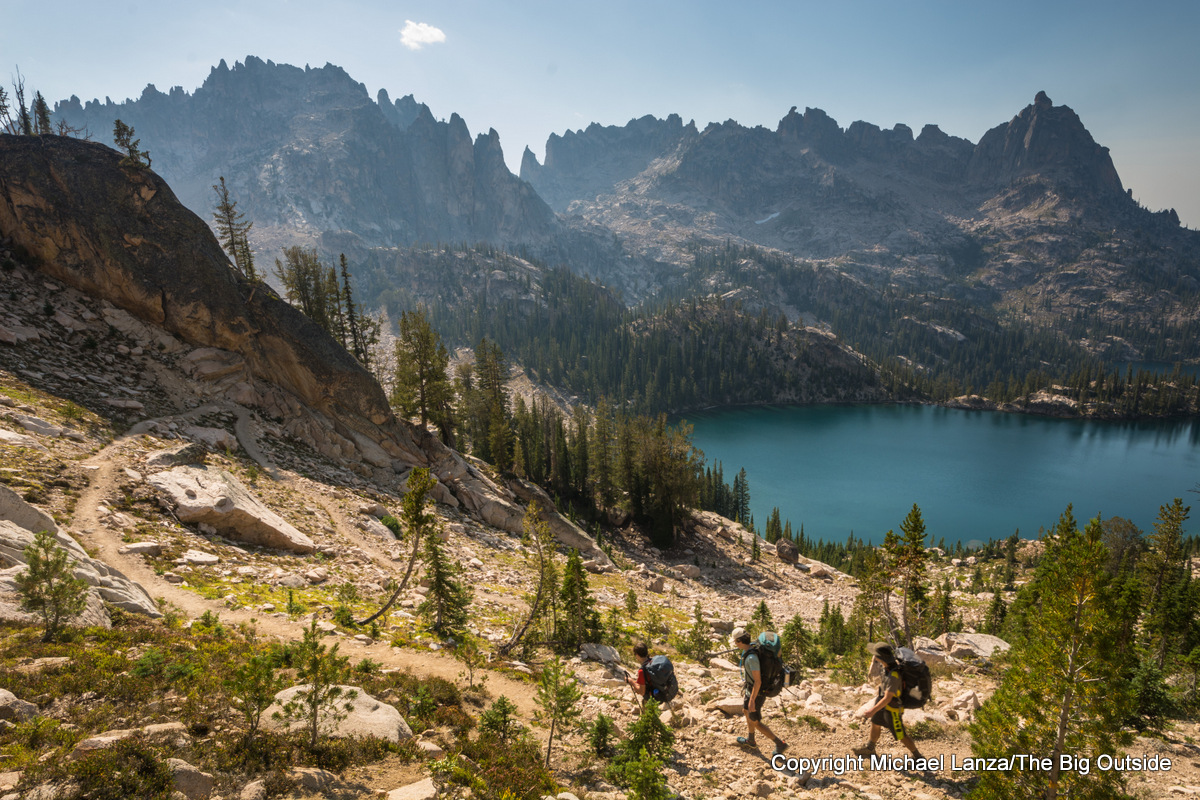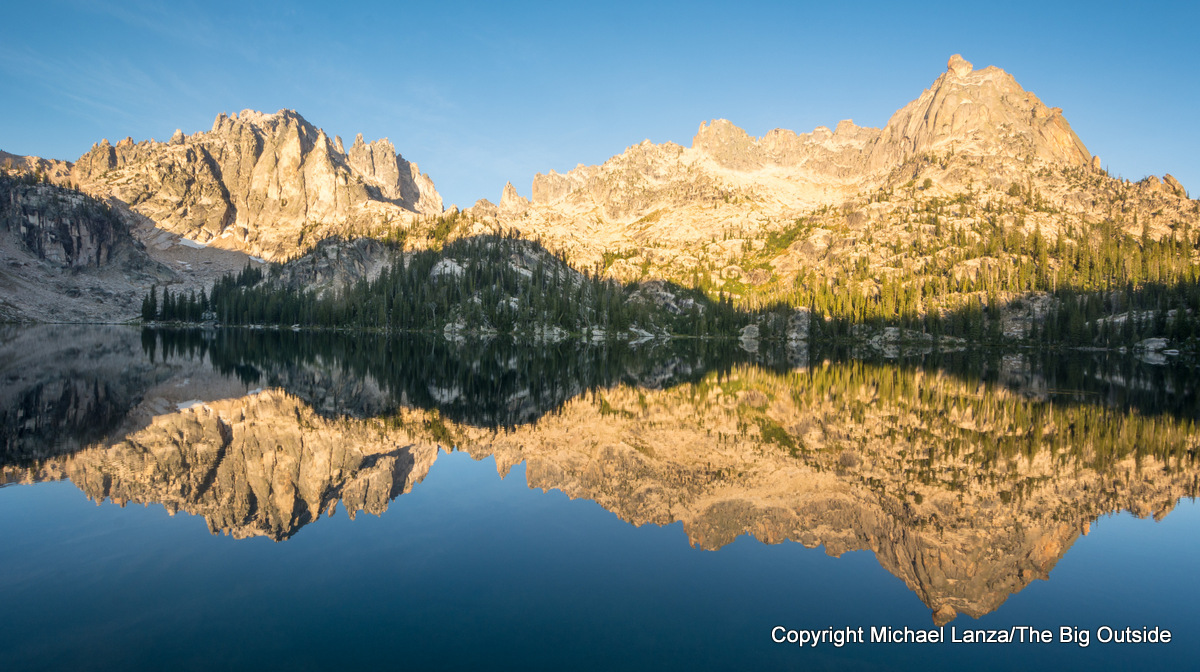 Birth of a New Long Trail
Having backpacked through much of the Sawtooths and parts of the Frank and Selway-Bitterroot over the course of living in Idaho for 20 years—as well as many of the very best backpacking trips the country—I knew that a north-south trail linking those wildernesses would constitute one of the most spectacular, diverse, challenging, and lonely long-distance trails in America.
With the help of ICL staff, including Community Engagement Coordinator Lana Weber, who served as ICL's point person on the project, and a couple of hard-working interns named Hannah Zimmerman and Johnny Whittemore, we mapped out a route following existing trails across the three wilderness areas.
We learned that while the 11 national scenic trails in the U.S. were created by acts of Congress, many established long-distance trails—including the John Muir Trail (JMT) and other well-known footpaths—have no official designation: They have simply, over time, come to be widely known by a certain name to backpackers. In other words, we could "create" the Idaho Wilderness Trail simply by making people aware of it.
The IWT stretches for 285.6 trail miles through these three wilderness areas, between its southern terminus on the outskirts of the tiny town of Atlanta, to its northern terminus at Wilderness Gateway campground on US 12. It can be hiked as three or four distinct sections or thru-hiked in a month or less—a more-reasonable distance and time commitment for many backpackers than the AT or PCT. (See my tips and more information on backpacking the IWT in the Take This Trip section at the bottom of this story.)
I've backpacked the John Muir Trail and parts of the Pacific Crest Trail, Appalachian Trail, and other long-distance footpaths. The IWT matches them for scenic beauty, but far eclipses them in terms of solitude.
And while the AT, JMT, PCT and other long-distance paths are generally well-marked and well-maintained—and mostly beginner-friendly and popular enough that you're likely to regularly encounter other backpackers who might offer help if you need it—the IWT poses significant challenges for its remoteness, dearth of people, and rough condition along some stretches. I've hiked through parts of the Frank, for instance, where trails go years without maintenance. I've seen footpaths that have essentially disappeared beneath overgrowth.
I can help you plan this or any other trip you read about at my blog. Find out more here.
Much of the Idaho Wilderness Trail is no beginner backpacking trip.
Among the unique qualities of the IWT are some that don't always come immediately to mind when you think about backpacking. Camping in these wilderness areas, you will gaze up at one of the darkest night skies in America—the Milky Way looks like it was painted across the heavens. A 1,400-square-mile area encompassing the Sawtooth and neighboring White Clouds wilderness areas has been officially recognized for the untainted blackness of its night sky with the designation of the Central Idaho Dark Sky Reserve, the country's first dark sky reserve.
And those night skies aren't just in the Sawtooths. I have also gazed up at night skies in the Frank and Selway-Bitterroot so dark that I've at stared for endless minutes, transfixed.
And nowhere else will you breathe as easily. Designated a Mandatory Class I air quality area by the 1977 Clean Air Act, the Sawtooth Wilderness has the clearest air in the continental United States. You can bet the air in the Frank and Selway-Bitterroot is nearly if not just as clean.
Beyond introducing more backpackers to these wildernesses, a primary objective of our effort is to use the IWT as a communication vehicle to promote wilderness values and, hopefully, gradually grow a larger constituency of people willing to pitch in to protect and maintain it. That support is desperately needed because these places suffer from decades of chronic under-funding that has created shocking trail-maintenance backlogs throughout the U.S. Forest Service.
Because loving anything isn't enough by itself. You have to show the love.
Plan your next great backpacking trip in Yosemite, Grand Teton, and other parks using my expert e-guides.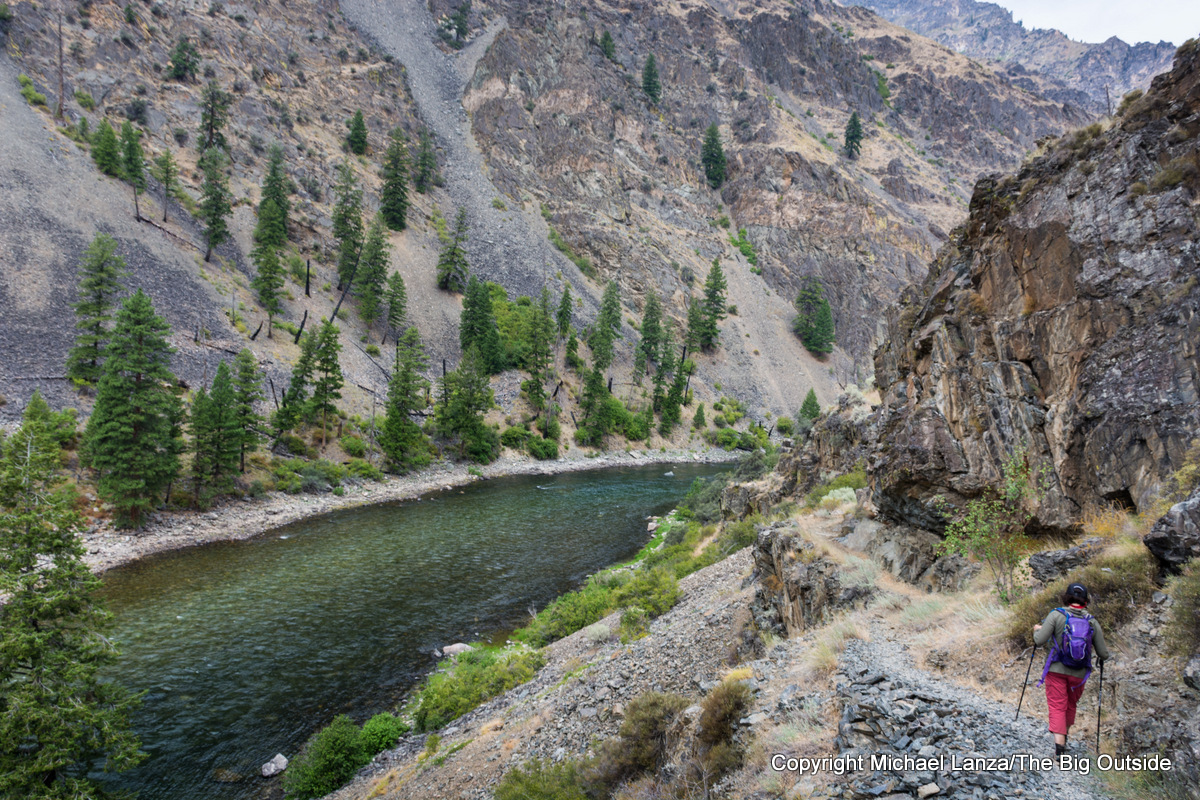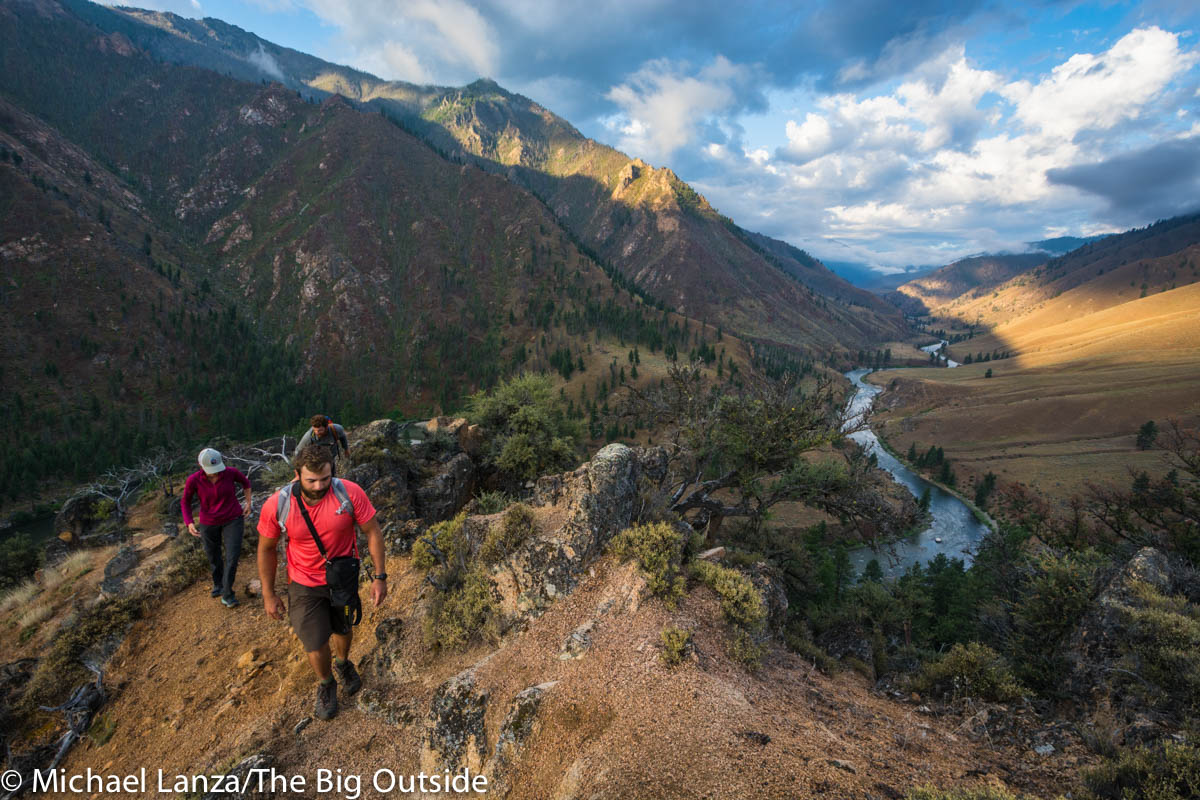 True Wilderness
Twenty summers ago, I backpacked a roughly 160-mile, north-south traverse of central Idaho's wilderness, from a remote, grass airstrip on Moose Creek in the Selway-Bitterroot—where a friend and I stepped out of a six-seater prop plane to begin our trek—to the end of a remote dirt road at the foot of Sleeping Deer Mountain in the Frank.
That friend accompanied me for the trip's first week; I did the second week solo, until two other friends met up with me the last night before I finished. During those two weeks, I hiked through rugged, breathtaking mountains, and canyons thousands of feet deep that impressed upon me the scale and remoteness of these places.
Few backcountry experiences in my life, before or since, have given me such a powerful sense of wilderness and solitude as that trip. Just two Alaskan adventures come immediately to mind, in fact: backpacking in Denali National Park and sea kayaking in Glacier Bay National Park.
Much of what I hiked that summer long ago is now the Idaho Wilderness Trail.
And the defining characteristic of that two-week hike—what made it feel so different from the many other backpacking trips I've taken in some of America's signature wild landscapes—was the solitude. While I encountered rafters and kayakers along the Main Salmon and Middle Fork Salmon rivers (and was the grateful recipient of meals generously offered by them), I saw exactly two other backpackers in two weeks. And they were on the Middle Fork Salmon Trail. For several days of backpacking through the mountains between those canyons, I saw no one.
Where else in the Lower 48 can you backpack for two weeks in the peak of summer and see not another person for days?
More recently, in July 2015 and again in July 2019, I floated the Middle Fork of the Salmon through the Frank with my family and 20 friends (on each trip), guided by my favorite river company, Middle Fork Rapid Transit. (See these photos from our most-recent trip and watch for my upcoming story about it.) Besides running scores of exciting rapids on a wilderness river, one of the most unique features of floating the Middle Fork is the abundance of side hikes to waterfalls, hot springs, high points, along tributary creeks. We took several hikes on the Middle Fork Salmon Trail, which parallels much of that river, sometimes hugging its banks, sometimes meandering hundreds of feet above river level to afford long vistas of that canyon of indescribable beauty.
Hiking the Middle Fork Salmon Trail—which the IWT follows—gave me a fresh perspective on the magic of the Idaho Wilderness Trail. That now has me planning to backpack the IWT's longest section, through the Frank Church-River of No Return Wilderness.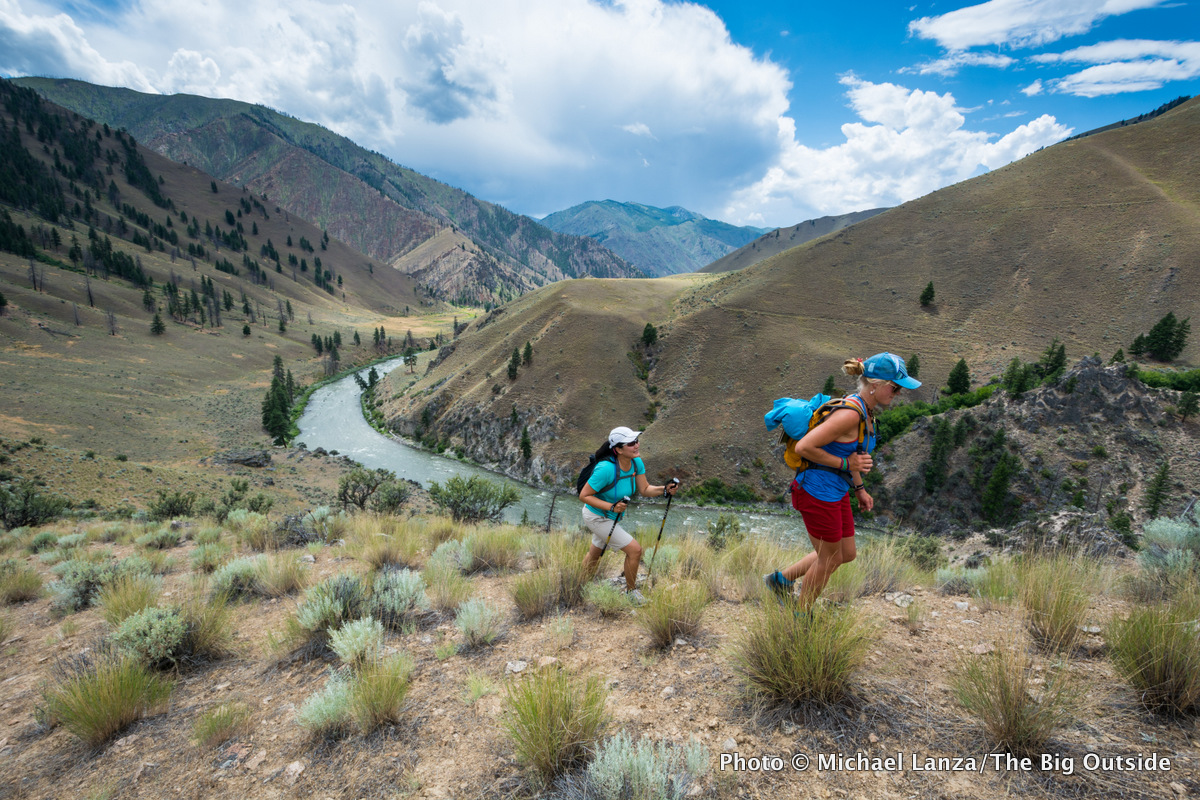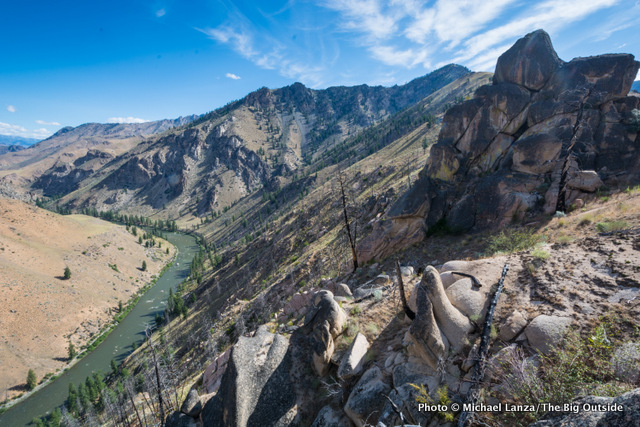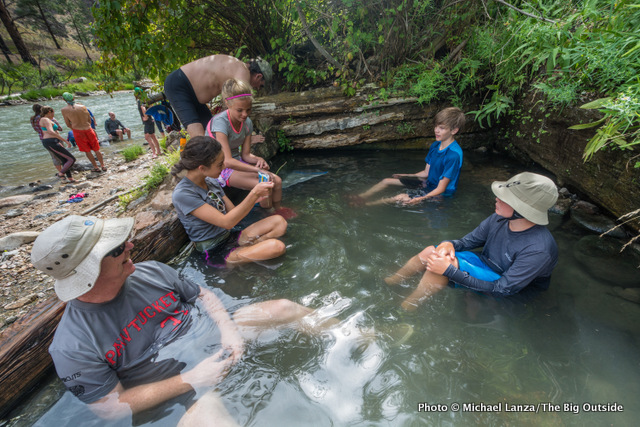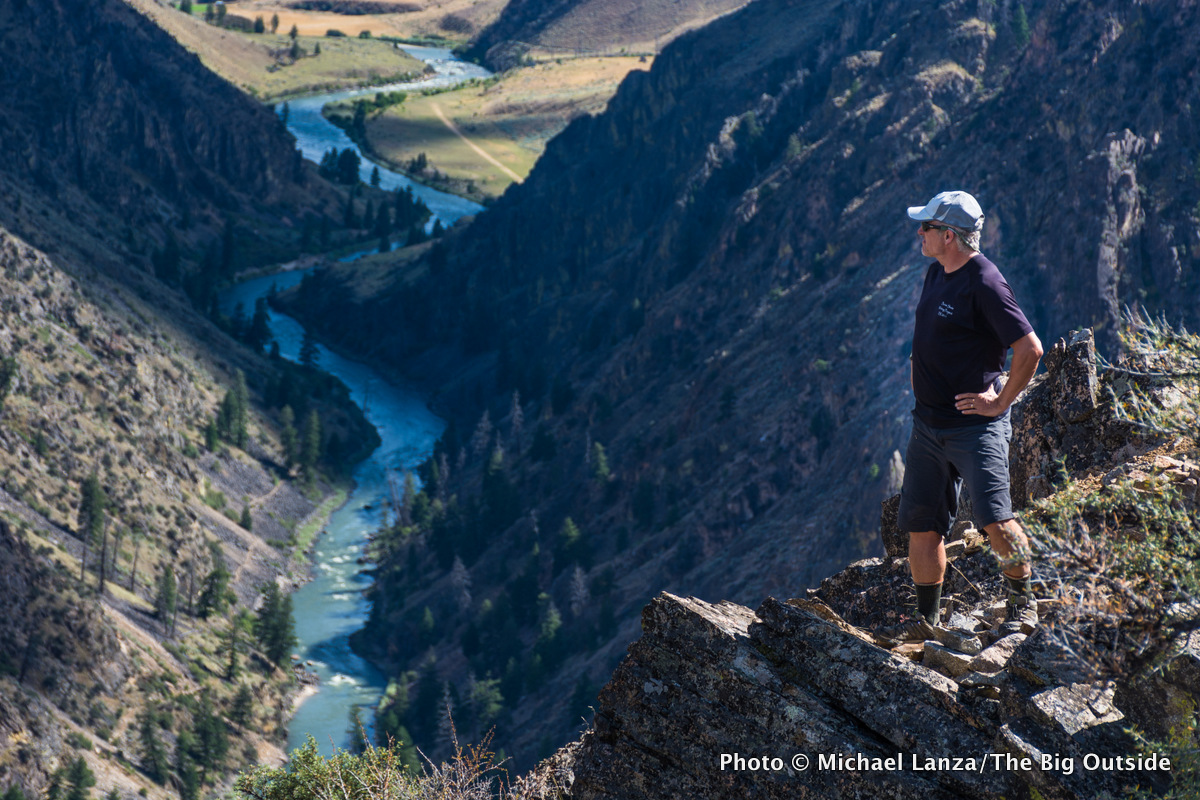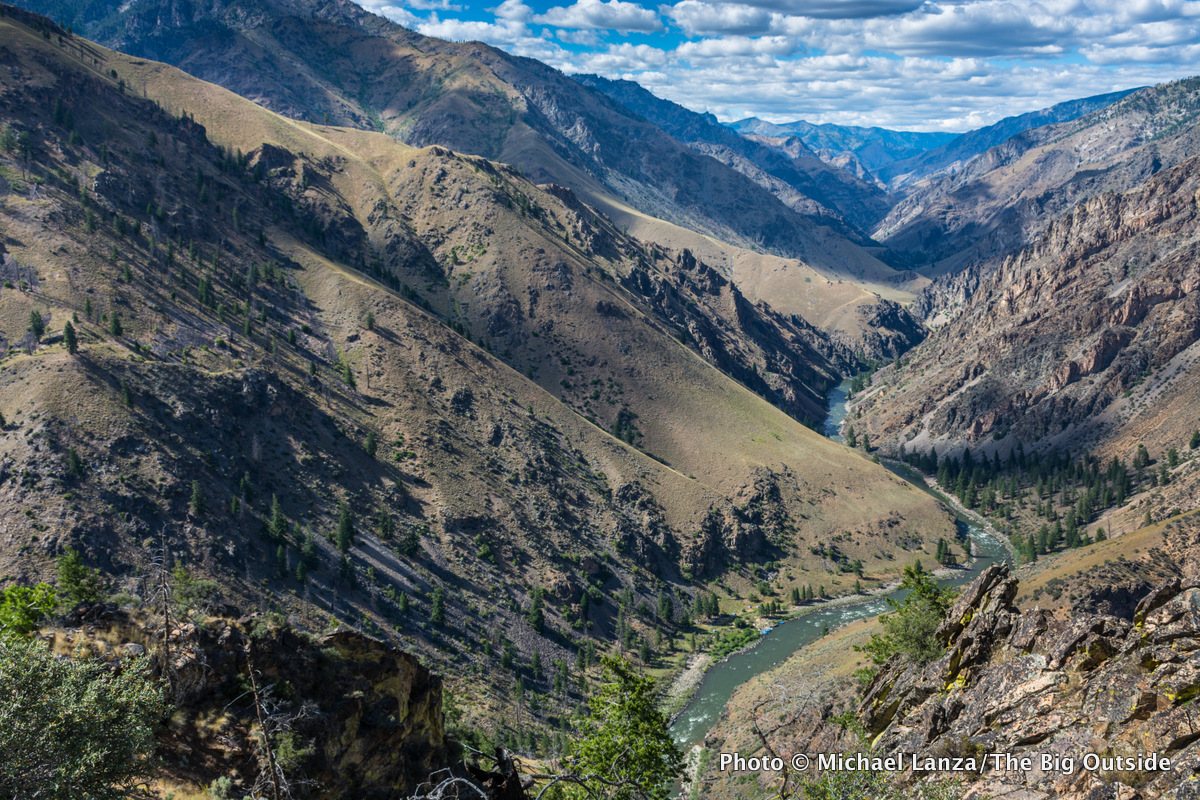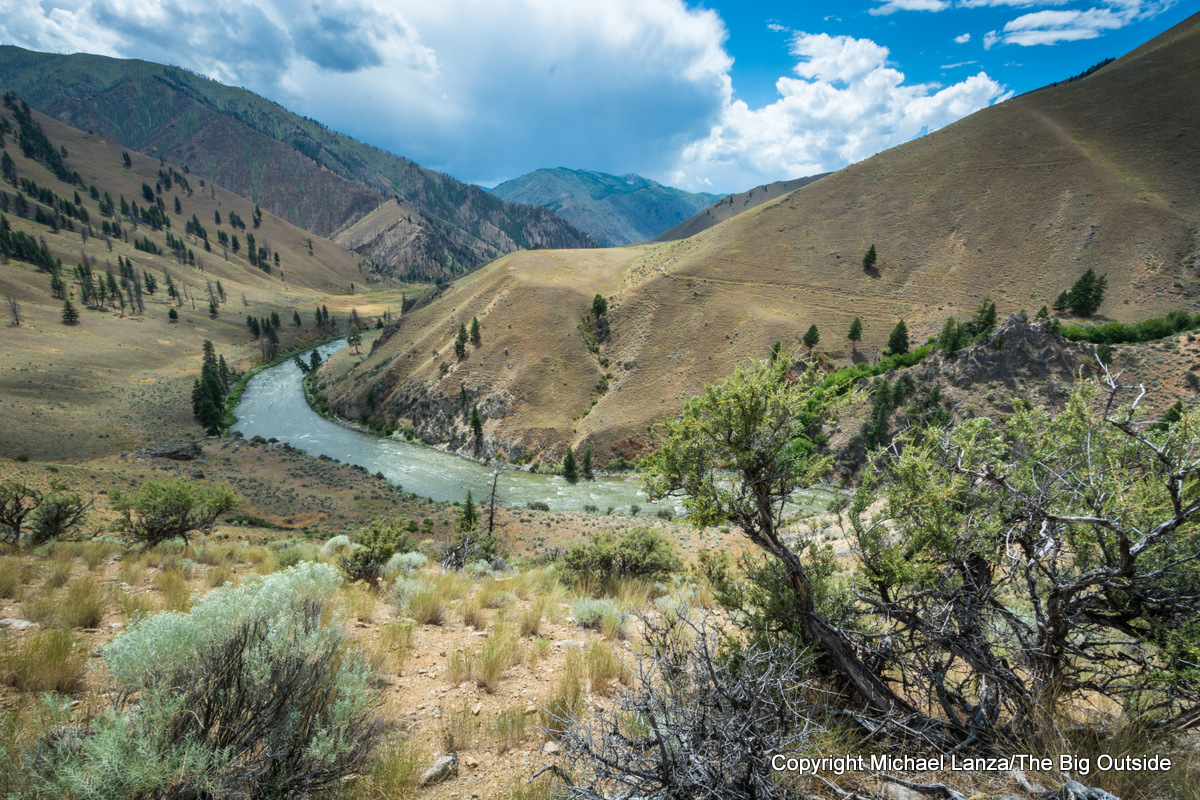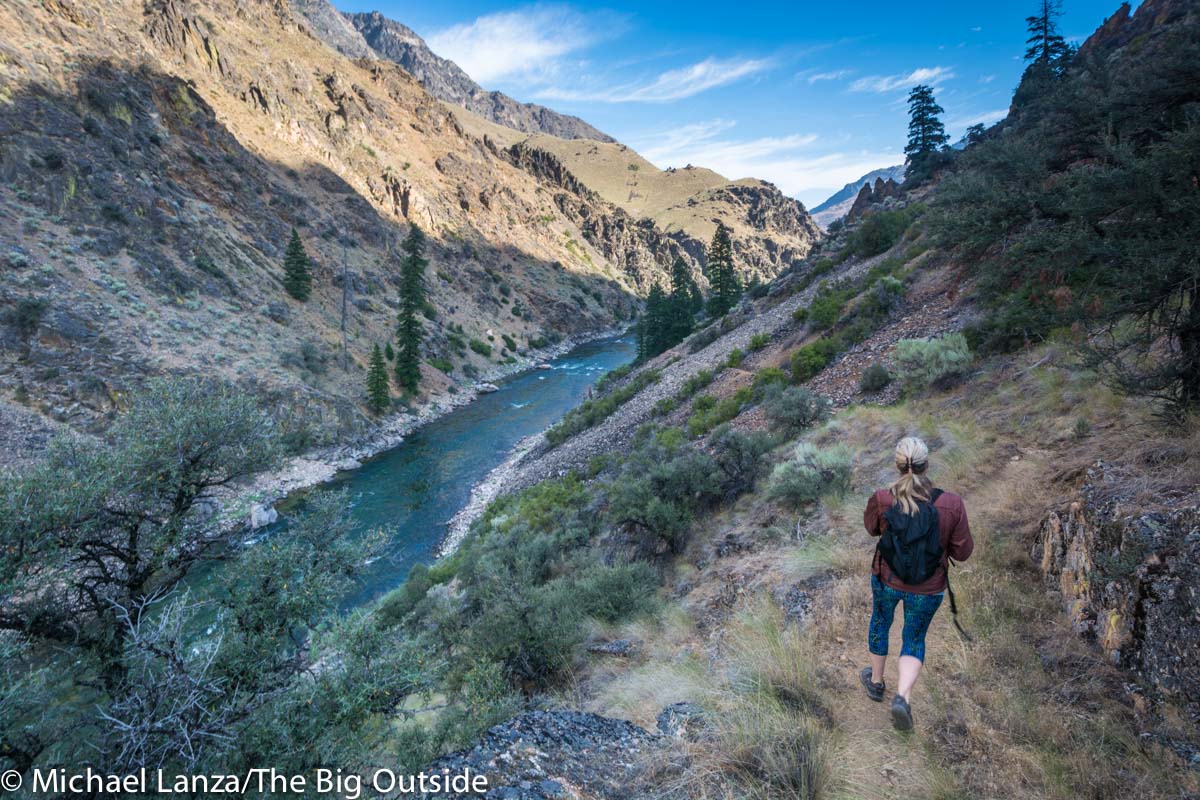 The Most Remote and Wild Trail
As the ICL team and I worked on creating the IWT, we settled pretty quickly on a slogan that epitomizes the IWT: "The most remote and wild long-distance trail in the Lower 48."
Much of the IWT lies at least a day's hike from the nearest road—in long stretches of it, multiple days. Even in the Sawtooths, the smallest and most accessible of the three wildernesses traversed by the IWT, backpackers must devote significant time and effort to explore the trail.
On that August backpacking trip in the Sawtooths that I described at the beginning of this story, our group left a wonderful campsite beside Edna Lake on our third morning and started hiking uphill toward Sand Mountain Pass. And within minutes, we turned at a trail junction and left the Idaho Wilderness Trail behind—having spent only about two days, cumulatively, of our four-day trip on it.
But that illustrates the IWT's remoteness: Even in the relatively accessible Sawtooths, the IWT traverses the most inaccessible corners of those fabulous mountains.
Take my advice: Walk this trail. You will discover some of the finest wilderness lands in America, and an experience every backpacker should have.
See all of my stories about the Sawtooth Mountains and the Frank Church-River of No Return Wilderness at The Big Outside.
Read all of this story, including my tips on planning this trip, and ALL stories at The Big Outside, plus get a FREE e-guide. Join now!
Take This Trip
THIS TRIP IS GOOD FOR fit, experienced backpackers with expert navigation and backpacking skills—not beginners—at least on the more difficult, remote, and in spots infrequently maintained sections of the Idaho Wilderness Trail, especially in the Frank Church-River of No Return Wilderness and Selway-Bitterroot Wilderness. On other sections, particularly traversing the Sawtooth Wilderness on the IWT, trails are generally well maintained, obvious, and signed at junctions—appropriate for beginner to intermediate backpackers.
Challenges include significant elevation gradients of 3,000 feet to more than 5,000 feet separating valleys and canyon bottoms from mountainous terrain; mountain passes reaching over 9,000 feet; possible thunderstorms and other weather; and the physical and mental rigors inherent to any long, remote trek. Some stretches of the IWT—again, mainly in the Frank and Selway-Bitterroot—lie multiple day's walk from the nearest road.
Trying to figure out if you're ready for the remote parts of the IWT? See my story "Are You Ready for That Outdoor Adventure? 5 Questions to Ask."
See also my expert tips in "How to Prevent Hypothermia While Hiking and Backpacking" and my "8 Pro Tips for Preventing Blisters When Hiking."
Map and Guide See an overview map of the Idaho Wilderness Trail at drive.google.com/file/d/11GOZEV1ufser-wbHh9SniDkdXeJKyN2Q/view?ts=5ce5d90e. The Idaho Conservation League hosts a website describing the IWT at idahoconservation.org/events/plan-your-own-adventure/idaho-wilderness-trail. We are currently working with a cartographer to produce section maps of the IWT that will be available for sale online; more information to come when they are ready.
Want to make your pack lighter and all of your backpacking trips more enjoyable? See my story "A Practical Guide to Lightweight and Ultralight Backpacking." If you don't have a paid subscription to The Big Outside, you can read part of that story for free, or click here to download that full story without having a paid membership.
Find categorized menus of gear reviews, expert buying tips, and best-in-category reviews at my Gear Reviews page.
Guide/Outfitters/Rentals Various guide services offer backpacking, river float trips, climbing, fishing, and other trips in these wilderness areas, providing access to parts of the Idaho Wilderness Trail. My family has taken a couple of outstanding, six-day float trips down the Middle Fork of the Salmon River in the Frank Church Wilderness with Middle Fork Rapid Transit (middleforkrapidtransit.com), an adventure that offers almost daily opportunities to hike parts of the IWT that overlap the Middle Fork Salmon Trail through that magnificent canyon.
Contact Idaho Conservation League, idahoconservation.org/events/plan-your-own-adventure/idaho-wilderness-trail/
Tell me what you think.
I spent a lot of time writing this story, so if you enjoyed it, please consider giving it a share using one of the buttons at right, and leave a comment or question at the bottom of this story. I'd really appreciate it.