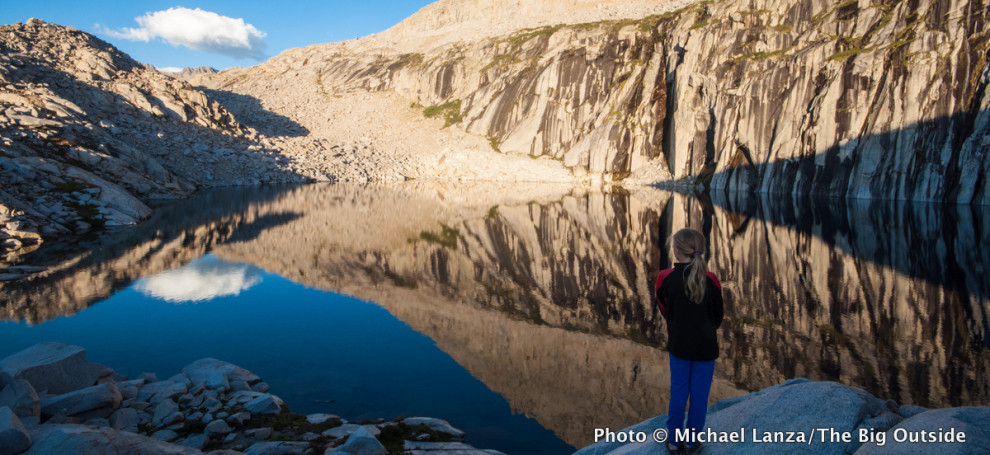 Featured
Is Sequoia National Park on your to-do list? From backcountry sequoia trees to high, jagged peaks and glassy alpine lakes, this was one of my most photogenic trips ever.
Backpacking Sequoia National Park
Featured
The Spider Gap-Buck Creek Pass Loop in Washington's Glacier Peak Wilderness harbors big scenery—like Image Lake—and big adventure. See why I love the North Cascades region.
Exploring the Glacier Peak Wilderness
October 1, 2014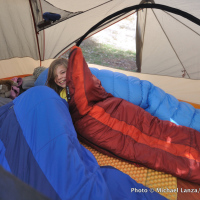 By Michael Lanza
Head into the mountains in summer, or almost anywhere in fall or spring, and you can encounter nighttime and morning temperatures anywhere from the 40s Fahrenheit to below freezing. I've spent enough frosty nights outside over the past few decades to learn a few things about how to stay warm. (My coldest night was minus-30° F—in winter in New Hampshire's White Mountains—and I don't recommend it.) Here are my 10 tips for making your camping experience more comfortable. Continue reading →
Ultralight Tarp
Sea to Summit Escapist Tarp
$199, 12 oz. (large)
Sizes: Large 10 ft. x 10 ft./3x3m, medium 6 ft. 6 ins.x8 ft. 6 ins./2×2.6m ($169, 9.5 oz.)
seatosummit.com
When rain began falling while a friend and I were sleeping under the stars in Yosemite National Park's Grand Canyon of the Tuolumne River, we grabbed our gear, pitched this tarp in just a few minutes, and had dry shelter for the night. Besides using the Escapist Tarp on that four-day, 85-mile, backpacking trip, I camped under it with my son in Idaho's City of Rocks National Reserve, where the tarp held up well throughout a windy night. For late-summer and fall trips where I won't encounter bugs, there's no need to carry the weight and bulk of a tent. The Escapist tarp provides a sturdy, spacious, and durable ultralight shelter from rain, acts as a wind break, and on calm nights will keep you a little warmer than you'd be sleeping under the stars because it traps some warmth. Continue reading →
September 29, 2014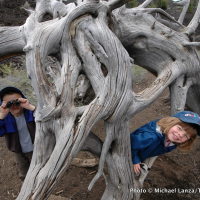 Hi Michael,
We have a newly turned six-year old, a three-and-a-half-year-old, and I'm expecting! How old were your kids when you started doing "big" trips with them? By big I mean hiking and camping for multiple nights, etc.
Sara
Huntsville, AL Continue reading →
Hydration Pack
Mammut MTR 201 10+2L
$90, 9.5 oz.
One size
mammut.ch
How can the lightest hydration pack on the market be stable enough for trail running and mountain biking, yet have the capacity for a big dayhike? When that pack morphs into a different animal with the pull of a zipper. From mountain bike rides of up to five hours and numerous trail runs of up to 20 miles and 3,600 vertical feet in the Boise Foothills, to dayhikes in Italy's Dolomite Mountains, the MTR 201 10+2L proved unusually versatile and carried surprisingly well for being lighter than any hydration pack I've reviewed. Continue reading →
September 24, 2014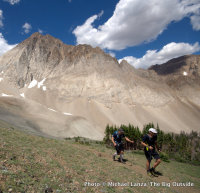 By Michael Lanza
We gaze up at a wall of shattered, crumbling gray and white rock rising several hundred feet above us, a barrier of cliffs separated by severely steep gullies of loose stones. The gullies offer the only remotely feasible routes up or down, but they look about as stable as a mountain of marbles. We're debating which gully to climb up, and it feels a little like choosing which heavy, hardcover book you want to use to smack yourself in the head. Continue reading →
← Older posts