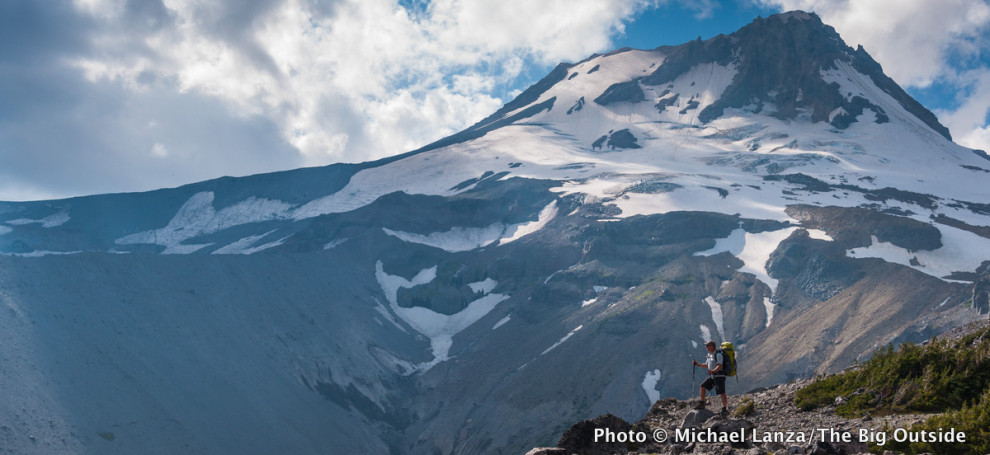 Featured
The 41-mile Timberline Trail around Oregon's Mount Hood delivers top scenery, big adventures, and a few surprises. Read this story and see for yourself.
Backpacking Around Mount Hood
Featured
Idaho's Sawtooths are known for hundreds of gorgeous lakes, but three of the best are Alice, Hell Roaring, and Imogene. See for yourself in this story.
Jewels of the Sawtooth Mountains
August 4, 2015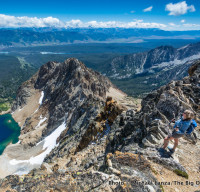 By Michael Lanza
We started hiking in a cool, morning fog that hung thickly over the Sawtooth Valley, our destination a very small, very airy block of stone that lay beyond sight about 6.5 miles and 4,200 vertical feet in the distance: the 10,751-foot summit of Thompson Peak, the highest in Idaho's best-known mountain range, the Sawtooths, where 33 summits exceed 10,000 feet. Four-and-a-half hours later, I snapped this photo of my wife, Penny, in a notch right below the short, third-class scramble to Thompson's summit. We had the crown of the Sawtooths to ourselves on this July weekday, with a sweeping view of the entire Sawtooth Range, Goat Lake 1,700 feet below us, and the White Cloud Mountains across the valley. Continue reading →
August 3, 2015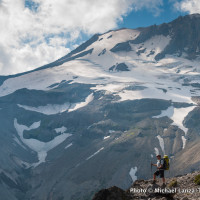 By Michael Lanza
Minutes after we walk past the sign warning that this section of the Timberline Trail is closed due to "a deep chasm," with 100-foot drop-offs, created by flooding from a storm—rendering the creek crossing ahead of us "very unstable and unsafe"—Jeff and I reach the top of the ridge high above the east bank of Eliot Creek. If you've ever wondered about the destructive power of water, take a look at Eliot Creek. A few steps ahead of us, the trail disappears as if bitten off by a set of jaws about 300 feet wide. The slope below is a torn-up debris field of rocks and crumbling earth. At its bottom, Eliot Creek, the foaming, white-and-gray spawn of Mount Hood's Eliot Glacier, spits and rages loudly as it courses downhill, like an angry young man spoiling for a fight. Continue reading →
August 2, 2015
By Michael Lanza
Do you wonder how some people come back from national parks and other outdoor trips with fantastic photos? Would you like to take the kind of pictures that make people ooh and aah? It may not be as complicated as you think. Continue reading →
Daypack
Osprey Talon 18/Tempest 16
$90, 1 lb. 5 oz. (S/M Talon 18)
Men's Talon 18 sizes:
S/M 16L/976 c.i., fits torsos 41-51cm/16-20 ins.
M/L 18L/1,098 c.i., fits torsos 48-58.5cm/19-23 ins.
Women's Tempest 16 sizes:
XS/S 14L/854 c.i., fits torsos 33-43cm/13-17 ins.
S/M 16L/976 c.i., fits torsos 40.5-51cm/16-20 ins.
ospreypacks.com
I've used enough daypacks over the years to notice the little differences between the many models out there—and to be very picky about them. Not only do I favor lighter, simpler daypacks for everything from dayhikes with my family to ultra-dayhikes, but I expect comfort, good access, and versatility, and I know what I like in features. With those requirements in mind, I took Osprey's Talon 18 out on several dayhikes of varying lengths—including a 27-mile, 12-hour day—during a six-day rafting trip down Idaho's Middle Fork of the Salmon River in the Frank Church-River of No Return Wilderness. Continue reading →
July 30, 2015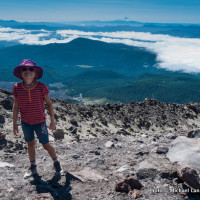 By Michael Lanza
After hiking 1,000 vertical feet uphill on the dusty Upper Yosemite Falls Trail in Yosemite Valley, baking under a thermonuclear Sierra sun, we sat on rocks for a snack and a much-needed break. My seven-year-old daughter, unprompted, blurted out, "I'm tired and hungry!" My nine-year-old son was still fuming over having been woken up earlier than he prefers (which is 11 a.m.) for this hike—although we were broiling in the sun precisely because we didn't start even earlier, when it was cooler. He groused, "If you're going to wake me up that early, it's your fault if I complain."
It was looking like my plan to hike my kids and my 12-year-old nephew 3,000 feet and nearly four miles uphill to the brink of Upper Yosemite Falls—and then, of course, back down—was on the express bus to the graveyard for dumb ideas from overzealous hiker-dads.
← Older posts