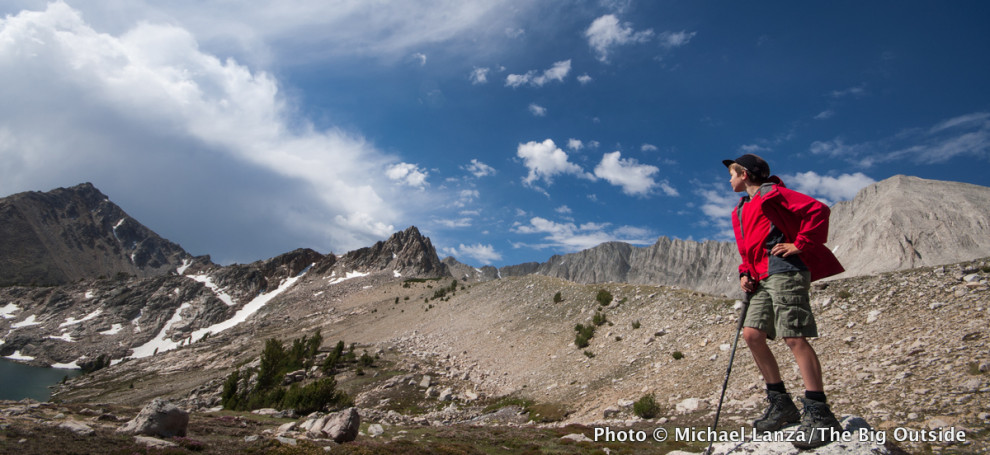 Featured
The Spider Gap-Buck Creek Pass Loop in Washington's Glacier Peak Wilderness harbors big scenery—like Image Lake—and big adventure. See why I love the North Cascades region.
Exploring the Glacier Peak Wilderness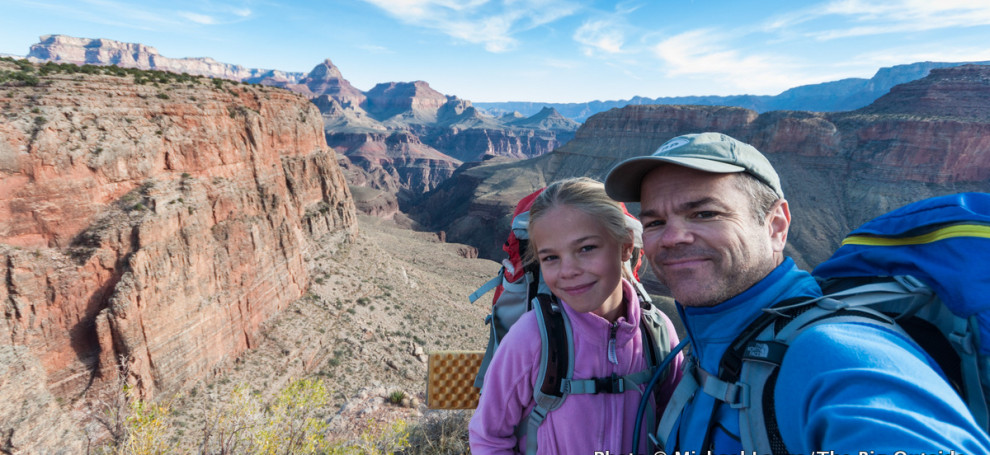 Featured
Why I take regular father-son and father-daughter outdoor adventures—and how my kids look forward to it as much as I do.
Boy Trip, Girl Trip
July 31, 2014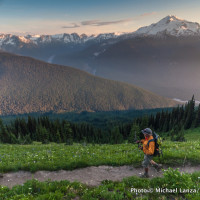 By Michael Lanza
I step one foot from the dry rock onto the snow and find it frozen solid on this chilly early morning in late July. Ahead of me, a line of boot tracks, undoubtedly created yesterday afternoon, after sunshine and warm temperatures had softened the snow, leads up to Spider Gap. Below me, this broad, hooked finger of white ice undulates downhill like a frozen water slide—one that runs for hundreds of feet between high walls of stone and ends not in a big, deep pool, but on rocks.
This isn't a water slide with any commercial potential. Continue reading →
July 30, 2014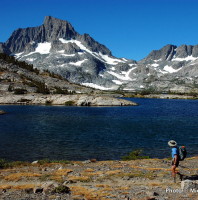 Hi Michael,
I have been enjoying your adventure posts immensely; keep up the great work!
I lead hikes for the local chapter of the Sierra Club in Tucson, and in mid-August we'll be doing a 7-day backpacking adventure in the High Sierra. We'll be accessing the John Muir Trail, with elevations ranging from 9,000 to 12,000 feet. How cold can it get at this time of year and what clothes/protection would you recommend? Would a light windbreaker over a fleece with gloves and hat be sufficient? Or would you recommend a down jacket, etc.? Continue reading →
Ultralight Rain Shell
Mountain Hardwear Quasar Hybrid Pullover
$375, 9 oz. (men's medium)
Sizes: men's S-XXL
mountainhardwear.com
There was a time when we thought of a waterproof-breathable jacket as a security blanket: It had to protect us against anything, so we wanted it to look like it could. Now that we know more about their strengths and weaknesses, we smartly look at three-season rain shells more in terms of the question: How minimal a jacket can we get away with? On several trips using the Quasar Hybrid Pullover, from the Grand Canyon in November to Arches and Canyonlands national parks in March and Idaho's Sawtooth Mountains in June, and on a weeklong, hut-to-hut trek in Italy's Dolomites, I was surprised by how much protection this nine-ounce shell delivers. Continue reading →
July 28, 2014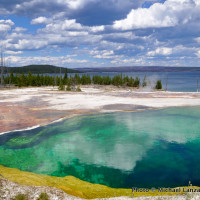 Hey Michael,
I am planning a grand adventure this summer that will include Yellowstone National Park. My buddy and I are hoping to spend three to four nights backpacking. Yellowstone is massive, however, so we are having a hard time trying to decide which part of the park we should explore. Do you have any suggestions? Do you have any favorite hikes to take in Yellowstone? Continue reading →
Soft-Shell Pants
Outdoor Research Ferrosi Convertible Pants
$89, 11 oz. (men's 32)
Sizes: men's 32-38, women's 2-14
outdoorresearch.com
For most summer and fall backpacking trips, unless I expect really wet conditions, I wear zip-off, nylon trail pants because they're lightweight, dry fairly quickly, durable, and inexpensive. But when I'm heading to a place where I could face a wide range of weather, including wet and cold, I want pants that repel water better and dry faster than run-of-the-mill nylon pants. And waterproof-breathable rain pants are so hot to hike in that I rarely wear them. For me, the solution is a zip-off, soft-shell pant that's light enough for summer. On a seven-day, hut-to-hut trek through Italy's Dolomites this month, where almost daily we encountered on-and-off rain, wind, even some hail and wet snow, and temperatures ranging from the high 30s to around 60° F., the Outdoor Research Ferrosi Convertible Pants shined. Continue reading →
← Older posts