Featured
The summit ridge of Clouds Rest is just the start of an amazing, 65-mile backpacking trip south of Tuolumne Meadows in Yosemite. Click here and start dreaming.
Best of Yosemite Backpacking, Part 1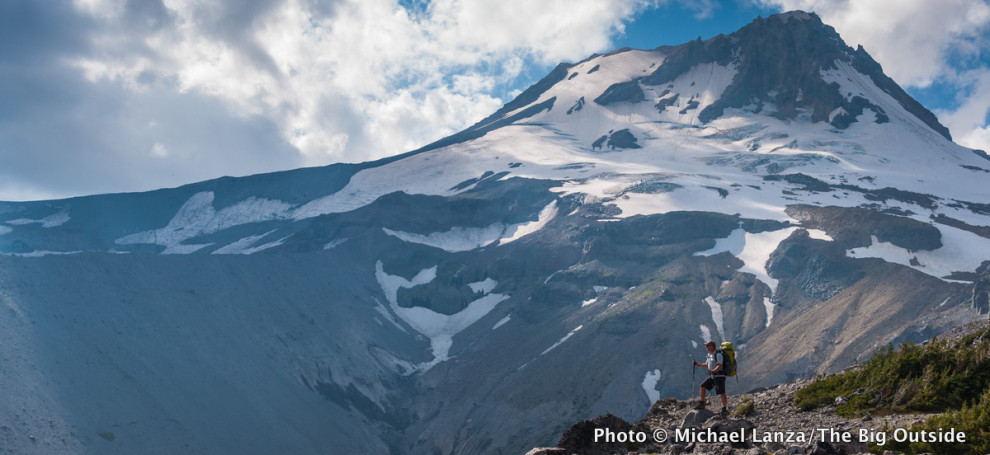 Featured
The 41-mile Timberline Trail around Oregon's Mount Hood delivers top scenery, big adventures, and a few surprises. Read this story and see for yourself.
Backpacking Around Mount Hood
Ultralight Headlamp
Princeton Tec Sync
$30, 3 oz. (including three AAA batteries)
princetontec.com
Hiking down the steep, rocky, frequently slippery trails of Mount Washington in the dark for the final 90 minutes of a 17-mile, 6,000-vertical-foot dayhike over the four summits of New Hampshire's Northern Presidential Range, the last thing I needed was a headlamp that wasn't bright enough or lost power. With the Sync, those issues weren't a problem. In fact, its brightest setting threw a broad beam that illuminated the lower Tuckerman Ravine Trail well enough that two teenagers in our party who had forgotten their headlamps could see. Considering also that the Sync is one of the lightest, cheapest, and simplest headlamps on the market today, and it's hard to find fault with it. Continue reading →
September 3, 2015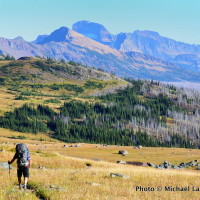 Dear Michael,
Thank you for such a comprehensive site. It is a joy to read and inspires so many travel dreams! I was pouring over all your entries on Glacier but I still have a remaining question. A friend and I just decided to go to Glacier in mid-September and would like to do a backpacking trip for two, or perhaps three nights. We would appreciate something beautiful, somewhat challenging, but most of all, solitude. It seems we are quite late to get a reservation on top trails and it seems like a good opportunity to take a much less traveled trail for a few nights. I am just having a hard time finding one. Do you have any suggestions? Continue reading →
September 2, 2015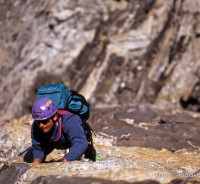 By Michael Lanza
The finger-numbing morning shadow of Maine's highest peak, Katahdin, hung over us as we organized ropes and gear to rock climb the Pamola Cliffs, a slab of heavily fractured granite rising several hundred feet above us. Somewhere up there, Katahdin's famous Knife Edge ridge—where we intended to finish the climb—scraped at the heavens. Below us, Chimney Pond caught the light of the clear sky like an unblinking eye in the dark green conifer forest.
I felt a powerful and untarnished sense of joy and excitement that always washed over me on the brink of a great, new adventure. I was back in one of my favorite spots in New England, Baxter State Park. I'd organized the trip months earlier, planning to climb that first day, hike a loop over Katahdin the next day, and backpack north of Katahdin for three days after that, with an assortment of friends, some of whom were arriving that night. None of that ever took place; we never even reached the top of the Pamola Cliffs. Within a few hours, a good friend was dead and the way I viewed the outdoors would be changed forever. Continue reading →
September 1, 2015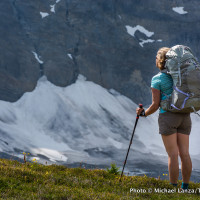 Hello Michael,
I saw your gear reviews on your blog and I want to ask which backpack you'd recommend for long trails for a man: Osprey Xenith 75 (or 88) or Gregory Baltoro 75? Normally I take from 15 to 25 kg (30 to 50 lbs.). And I need this backpack for trips up to approximately 12 days—from short weekend trips with tent to 14-day trips. It would be nice if the backpack has a lot of pockets. For speed and technical routes I have a 35-liter Deuter Guide without any extra pockets, but for long treks I need more space for my wallet, phone, headlight, etc.
Best regards,
Emil
Lodz, Poland Continue reading →
August 31, 2015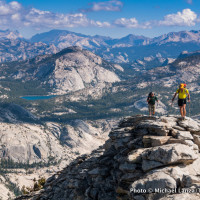 By Michael Lanza
I am floating in the stratosphere.
The feeling reminds me of childhood dreams of flying, but this is no dream. We are hiking across the slender, granite spine of 9,926-foot Clouds Rest, between sphincter-puckering abysses of deep air in the heart of Yosemite National Park. Below my left elbow, the rock drops off like a very long and insanely steep slide for several hundred feet before reaching forest; and that's the side that feels less exposed. Below my right elbow, a cliff face sweeps downward a dizzying, stomach-churning 4,000 feet—that's a thousand feet taller than the face of El Capitan. Continue reading →
← Older posts