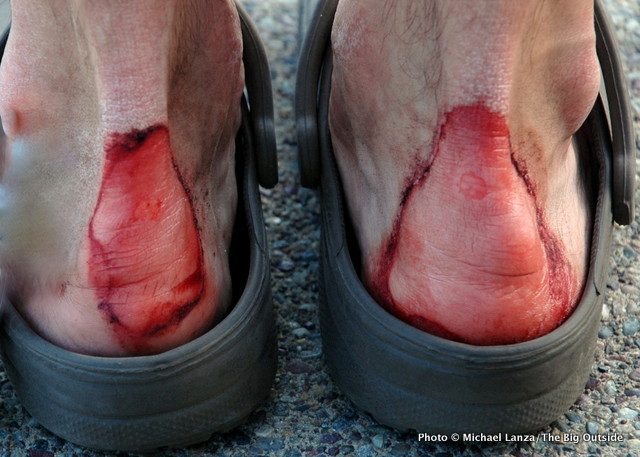 6 Pro Tips for Avoiding Blisters
I field test upwards of a dozen or more models of hiking, backpacking, climbing, mountaineering, and trail-running shoes and boots every year. I'm constantly wearing new footwear right out of the box on trips—usually without doing anything more than trying them on. And I very rarely get a blister. Here's how I avoid them.
First of all, remember that blisters require three conditions to occur: heat, moisture, and friction. Eliminate any one of those factors and you prevent blisters.
1.    Eliminate friction: Buy boots that fit.
Friction happens when your boots don't fit your feet well. Buy them in a store where the staff knows how to measure your foot size. Try on a variety of brands because they all fit slightly differently; find the brand that fits your feet best. If the best boots you find still don't fit perfectly, try after-market insoles to customize the fit.
2.    Eliminate heat and moisture: Keep your feet dry.
This may be the easiest and most effective strategy I employ: Whenever I stop for a break of five minutes or more, I take off my boots and socks and let them and my feet dry out. As simple as that.
3.    Eliminate moisture: Carry extra socks.
If your feet get chronically sweaty, change into clean, dry socks midway through a day of hiking. Try to wash and cool your feet in a creek and dry them completely before putting on the clean socks.
4.    Eliminate moisture: Wear lightweight, non-waterproof footwear.
Any footwear with a waterproof-breathable membrane is not as breathable as shoes or boots with mesh uppers and no membrane—which also dry much faster if they do get wet. If you're generally dayhiking in dry weather, why do you need waterproof boots? It may seem counterintuitive, but non-waterproof shoes or boots may keep your feet drier because they won't sweat as much. (See all of my reviews of hiking shoes and backpacking boots.)
5.    Eliminate friction: Tape hot spots.
I rarely carry (or need) blister-treatment products like Moleskin—but I always carry athletic tape, which sticks well even on damp skin. If I feel a hot spot developing, I stop immediately and apply two or three strips of athletic tape to the spot, overlapping the strips, and then check it periodically to make sure they're still in place.
6.    Eliminate friction: Tape pre-emptively.
When I'm taking a really long dayhike—where I'm exponentially increasing the amount of friction that can occur—I tape my heels before starting out, because I have developed blisters on them on dayhikes longer than 20 miles in the past. If you routinely get blisters in the same spots, tape them before your hike, no matter how far you're walking.
See a menu of all of my Skills stories at The Big Outside.