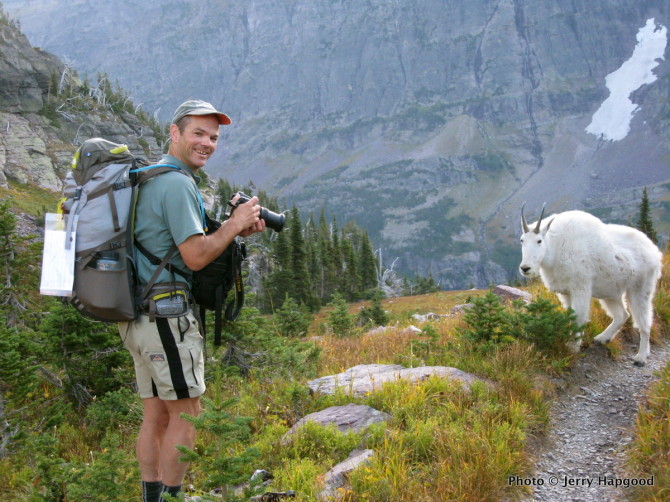 Ask Me: What Camera Equipment Do You Carry in the Backcountry?
Mr. Lanza,
Been following you for a while, great site, great articles and amazing photography.
I've been a lifelong outdoorsman and really enjoy hiking, backpacking, mountain biking and fly-fishing. I am also a professional photographer, working as a newspaper photographer.
My question is: How do you juggle the obvious needs of equipment, time, and enjoyment of photography while doing things outdoors
I know you make your living this way, but I have been struggling with the choices of how much equipment to take, how much time to spend shooting images, and how much time the photography takes from my enjoyment of the outdoors.
To make a long story short, I've gone from carrying a DSLR and several lenses to pretty much only carrying a high-end, point-and-shoot camera when I go on my adventures. While I love shooting photos, I go hiking, backpacking and fly-fishing to get away from work. Of course, while cruising down the trail with just 25 lbs. on my back I'm loving the point-and-shoot, on every trip I find myself wishing I brought the DSLR along because of some incredible image that presents itself.
Just wondering what your basic "I'm going for a few day backpacking trip" load out is like and how you decide when to take the cameras out, and maybe more importantly, when to put them away and just enjoy what's happening.
All the best and keep up the great work!!
John
York, PA
Hi John,
Thanks for writing. Your question is one I have wrestled with many times over the years. There are certainly times when I don't bother carrying my usual camera setup, but that's usually only when I'm revisiting a place that I already have a lot of good photos from, and I don't expect to have the time to shoot or I don't expect good light in the short time I have. Sometimes I just want to get in a trail run or quick hike and not carry a camera.
There are also plenty of times on the trail when the light just isn't good and I tuck my camera away for a while and not think about it until the good light returns. Sometimes I just want to hike and talk with my family, or just enjoy the scenery and quiet.
But to be honest, I've had the experience too many times of coming upon a scene I really want to photograph and not having my DSLR with me. I may grab a photo with my iPhone, which is okay for, say, sharing on social media, but of course it doesn't create an image that compares to what I could have shot with a good DSLR.
So I virtually always bring my DSLR and two lenses with me, certainly when backpacking, backcountry skiing, for a trip on water (which presents the challenge of protecting gear)—or even when taking a long dayhike or ultralight backpacking trip, when I'm walking a lot of miles every day and trying to go as light as possible. I shoot with a Nikon DSLR with a Nikkor 18-200 zoom and a Sigma 10-20 ultra-wide zoom (which I love). Sometimes, as when rock climbing, I may only carry the 10-20 zoom because that's all I'm likely to use in those circumstances.
There are some great point-and-shoot cameras out there today. But even the best are still limited in their lens versatility, and I would miss having a high-range zoom or an ultra-wide-angle lens.
So I suppose my answer is that I'm enough of a photography geek that I consider my DSLR and two lenses critical gear on virtually every outdoor adventure, despite the fact that they add several pounds to my load.
I hope that answers your question. Thank you for following The Big Outside, I hope you continue to enjoy it. Get in touch anytime.
Best,
Michael
Thanks for getting back to me, Mr. Lanza. Great info, I have been considering purchasing one of the "all-in-one" type zooms such as the 18-200, maybe now I'll make the investment. I agree there are many times when the light is incredible or there is a bear, otter, or some other thing that I need the longer lens for. Actually saw a red wolf in the Smoky Mountains two years ago, only had the p&s.
All the Best!!
John
Note: In Ask Me, I share and respond to a reader question. Got a question about hiking, backpacking, gear, or any topic or trip I write about at The Big Outside? Send it to me at mlanza@thebigoutside.com or tweet it to @MichaelALanza. I will answer the ones I can in a post, using only your first name and city, with your permission.
—Michael Lanza