Category Archives: Backpacking
Stories and images from the best backpacking trips in America and around the world, with trip-planning advice based on my personal, on-the-ground knowledge from having done the trip.
August 19, 2014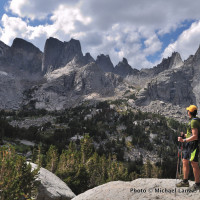 Hello Michael!
I read your dayhike story on the Wind River Range, and wow! Thank you for sharing it. I've been doing research on the range for several months now for a trip a few friends and I are taking there this summer. We will have 6 to 7 days of backpacking available on our trip. But I am having the hardest time trying to decide where in the Winds to hike. None of us have ever been to the Winds before and I want to hit as many beautiful and peaceful areas as I can, but still get some highlights from the Winds we see in many photos.
In your story, you hinted about climbing in the Winds in the past, so I'm assuming you have some familiarity with them. Could you please recommend one or two weeklong routes that will not have as many people but also give us a great view of the Winds that we will never forget and can tell our friends and family about? Continue reading →
← Older posts