Category Archives: Backpacking
Stories and images from the best backpacking trips in America and around the world, with trip-planning advice based on my personal, on-the-ground knowledge from having done the trip.
July 31, 2014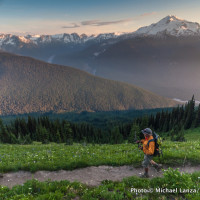 By Michael Lanza
I step one foot from the dry rock onto the snow and find it frozen solid on this chilly early morning in late July. Ahead of me, a line of boot tracks, undoubtedly created yesterday afternoon, after sunshine and warm temperatures had softened the snow, leads up to Spider Gap. Below me, this broad, hooked finger of white ice undulates downhill like a frozen water slide—one that runs for hundreds of feet between high walls of stone and ends not in a big, deep pool, but on rocks.
This isn't a water slide with any commercial potential. Continue reading →
← Older posts