Category Archives: Backpacking
Stories and images from the best backpacking trips in America and around the world, with trip-planning advice based on my personal, on-the-ground knowledge from having done the trip.
March 6, 2014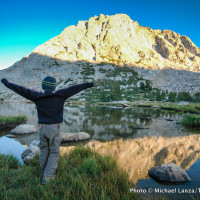 By Michael Lanza
As we neared Gunsight Pass in Glacier National Park, on the middle day of a three-day family backpacking trip, a man and woman in their fifties stopped to talk with us. They sized up our kids and smiled; Nate was nine and Alex was seven. "We're impressed!" they told us. "We never had any luck trying to get our kids to backpack when they were young." We chatted a bit and then headed off in opposite directions on the trail.
After they were out of earshot, Alex turned to me, wanting to clarify a point: "You didn't get us to do this," she told me. "We wanted to do it." Her words, of course, warmed my heart. But her comment also spotlighted the biggest lesson for parents hoping to raise their kids to love the outdoors: Create experiences that make them eager to go out again the next time. Continue reading →
← Older posts