Category Archives: Backpacking
Stories and images from the best backpacking trips in America and around the world, with trip-planning advice based on my personal, on-the-ground knowledge from having done the trip.
October 16, 2014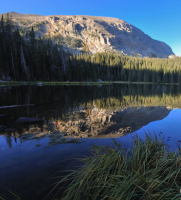 By Michael Lanza
"I'm dying!" my son, Nate, bellowed to the entire forest in the Wild Basin of Colorado's Rocky Mountain National Park. "This pack is too heavy!" We were just 30 minutes up the trail at the outset of a three-day backpacking trip. It was a trip that seemed like an unmitigated disaster for the first two days—then morphed into an adventure my kids remember fondly, and that helped expand their outdoor interests.
For me, those three days in Rocky serve as a reminder about the many ways you can do it wrong when taking kids outdoors, but how simple and easy it is to make it right. Continue reading →
← Older posts