Category Archives: Gear Reviews
I've been testing gear for Backpacker magazine for two decades and counting. At The Big Outside, I review only what I consider the best outdoor gear and apparel.
September 1, 2015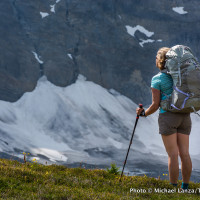 Hello Michael,
I saw your gear reviews on your blog and I want to ask which backpack you'd recommend for long trails for a man: Osprey Xenith 75 (or 88) or Gregory Baltoro 75? Normally I take from 15 to 25 kg (30 to 50 lbs.). And I need this backpack for trips up to approximately 12 days—from short weekend trips with tent to 14-day trips. It would be nice if the backpack has a lot of pockets. For speed and technical routes I have a 35-liter Deuter Guide without any extra pockets, but for long treks I need more space for my wallet, phone, headlight, etc.
Best regards,
Emil
Lodz, Poland Continue reading →
← Older posts