By Michael Lanza
Minutes into our hike through the jaw-dropping Cares Gorge in northern Spain's Picos de Europa National Park, we come upon several chamois grazing beside the trail. A deer-like animal about the size of a goat, chamois are the emblematic fauna of the Picos, regularly seen in the alpine areas of these mountains. As my family aims cameras and phones at them, they strike regal, chin-held-high poses—and stare back at us as if we are the true curiosity.
I can't help but see a bit of symbolism in this brief encounter between species—because as we walk through a herd of chamois in a gorge that looks like an impressionist painting with its soaring, white and gray limestone cliffs dappled with greenery, curiosity defines my reaction to this place. And the greatest curiosity is that this mountain range—which looks like a smaller replica of Italy's Dolomite Mountains, and lies just two flights from major U.S. airports and obviously a much shorter distance from numerous European cities—has retained a surprising degree of anonymity.
Until just months before this trip, in fact, I had never heard of the Picos de Europa—and I've made a living for years seeking out the world's best hiking trails.
I've come to the Picos with my wife, Penny, our 18-year-old son, Nate, and 16-year-old daughter, Alex, to trek about 52 miles (84k) over five days through the highest and most rugged and vertiginous peaks of the Picos de Europa, in the part of the range known as the Central Massif. We'll stay in lodging in villages and in mountain huts as we hike a loop through the heart of these mountains that already have me intrigued.
But as the mountains sometimes dictate, our plan will not unfold quite as planned. Instead, it will morph into the kind of trip that becomes a memorably wonderful adventure precisely because of the unexpected.
---
---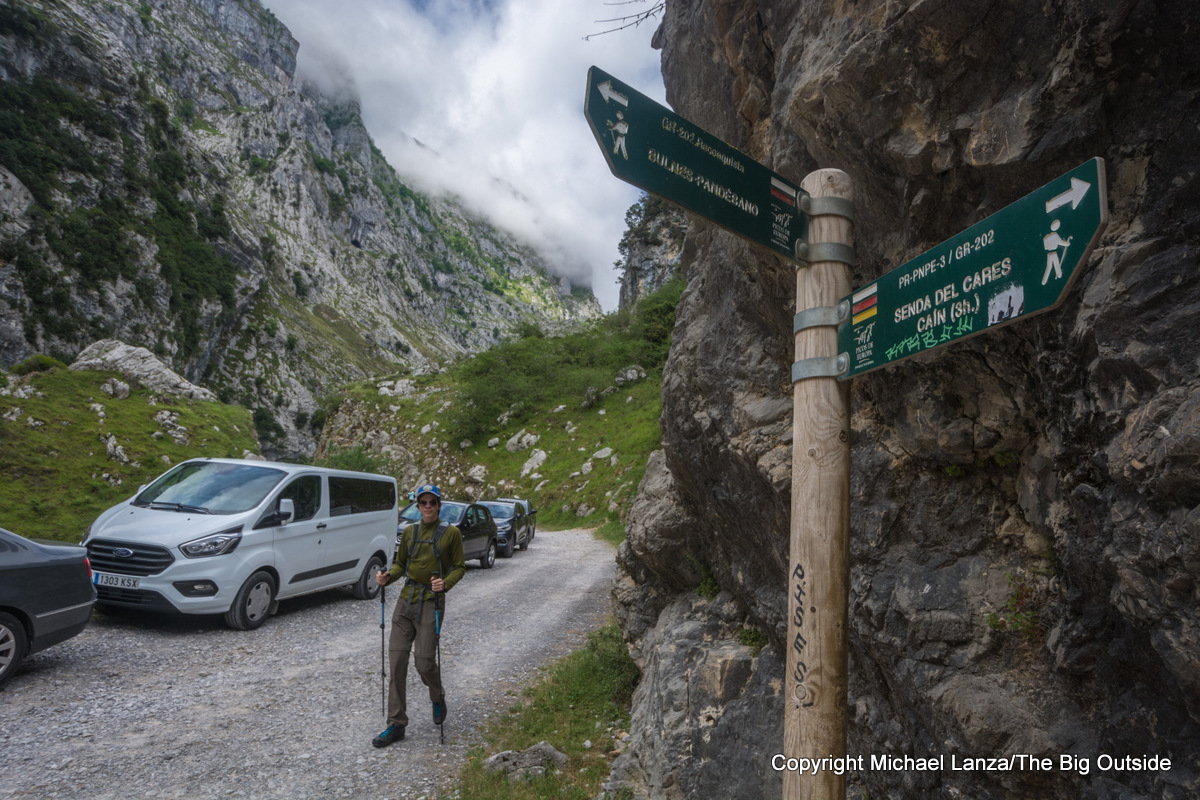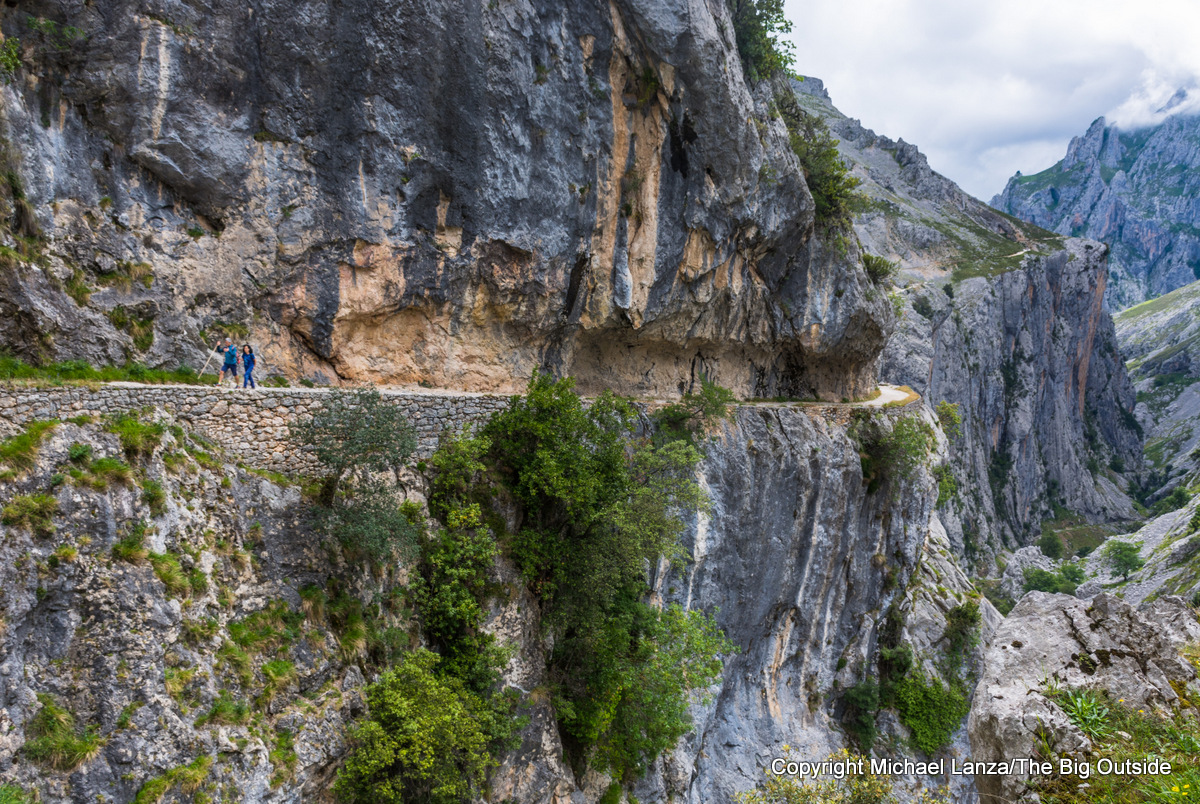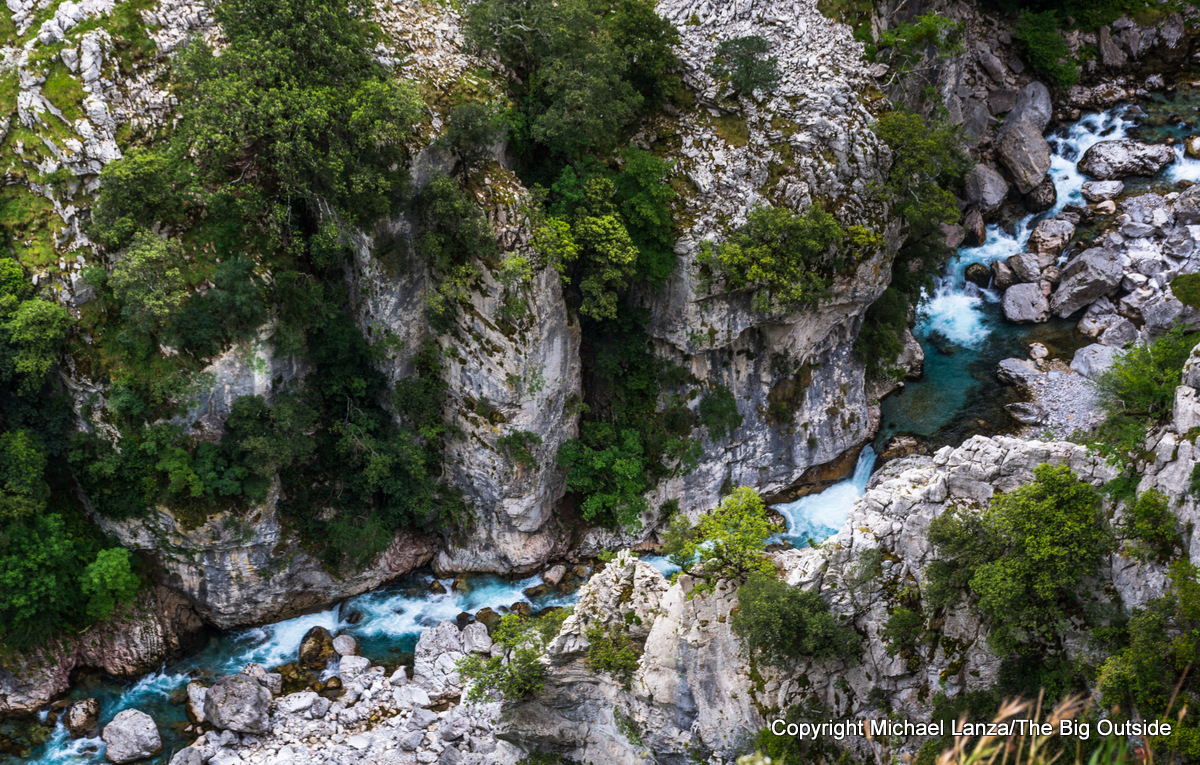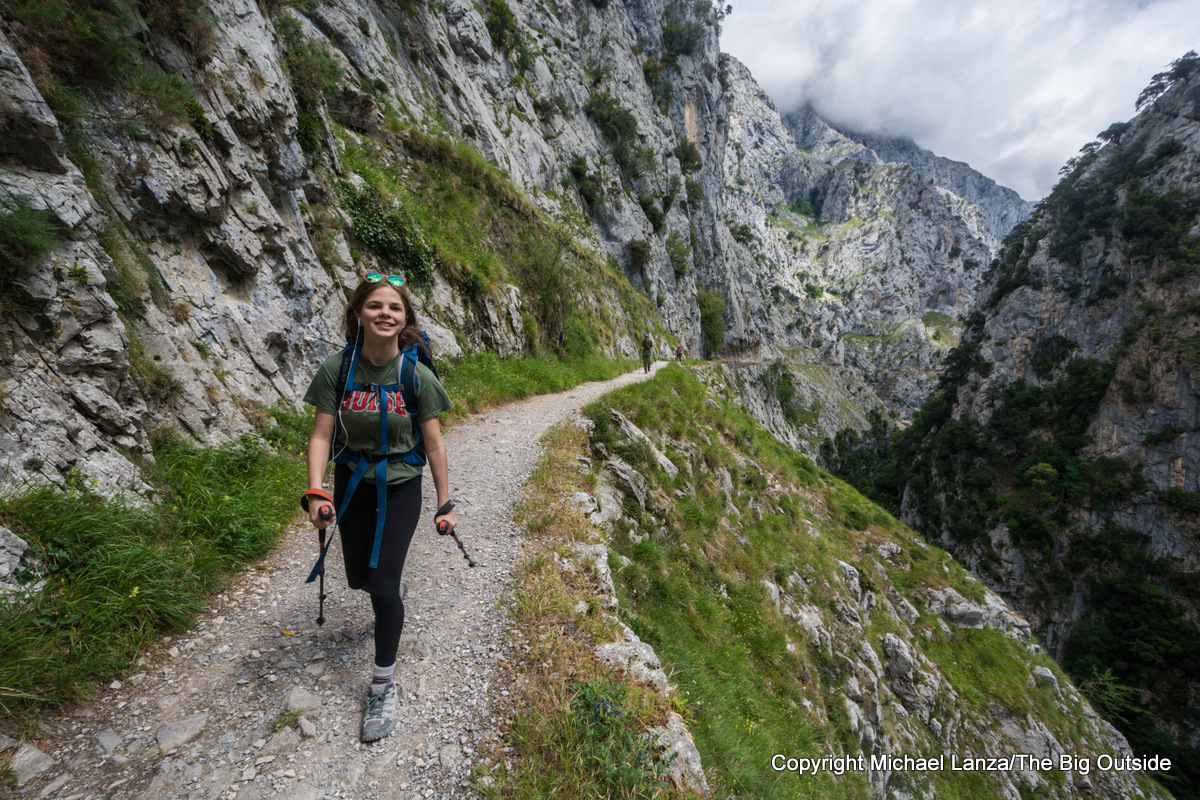 The Cares Gorge
Although the Cares Gorge is one of the most popular dayhikes in the Picos—attracting hundreds of hikers on nice summer weekends—today, a Monday, it's quiet. In the second week of June, the air remains pleasantly cool for hiking. The trail rises at a mostly gentle angle as we ascend the gorge. As we anticipated before the trip, this will be one of our easiest days.
The ease of the hiking contrasts with the vertiginous character of the gorge: The trail, while meticulously constructed, wide, and never precarious—in other words, very Euro-civilized—frequently presses up against sheer walls of rock towering overhead, with precipitous drop-offs of hundreds of feet to the narrow, boulder-choked, whitewater river at the bottom. A dense, gray blanket of clouds hovers among the tops of cliffs and spires high above us, tendrils of fog slithering through gaps in the walls, alternately engulfing and revealing the highest ramparts of the gorge.
There's nothing subtle about the Cares Gorge. From the moment we drove into the tiny village of Poncebos, where the road ends at the bottom of the Cares Gorge and where we'll finish this loop hike in five days, the scenery has enchanted us. Perhaps an hour into our hike, Nate, spinning around and craning his neck to take in the panorama, tells me, "I approve of your choice of a hike, Dad."
Overlapping three very different regions of northern Spain—Asturias, Cantabria, and Castilla y León—the Picos were part of Spain's first national park when the Massif de Peña Santa was declared the National Park of Covadonga Mountain in 1918. In 1995, it became Picos de Europa National Park.
Covering just over 166,000 acres (67,455 hectares)—making it slightly smaller than Shenandoah National Park and slightly larger than Zion National Park in the U.S.—the Picos has been designated a UNESCO Biosphere Reserve because of its unique limestone peaks, many rising to well over 8,000 feet (over 2,500m); forests of oak and beech; biodiversity of fauna including chamois, raptors and other birds, 137 species of diurnal butterflies, salmon in its rivers, and wolves; and some of the most unique karst formations, or caves, in Europe.
Three hours and 7.5 miles (12k) of relatively easy hiking from Poncebos, we reach the upper end of the Cares Gorge and the village of Cain, squeezed in tightly between tall cliffs. Even on a quiet Monday, the handful of local restaurants on the one short, main street are doing a bustling business. Hungry and facing a couple more hours of hiking to reach tonight's lodging, my family randomly picks one of the restaurants and eats more than any of us probably thought we would.
Then we start walking up the winding, narrow road—nearly empty of vehicles—leading south out of Cain, soon turning onto a trail that climbs steadily. The wind picks up and the darkening overcast spits intermittent light rain at us. By the time we reach our hotel in the little, hilltop village of Cordiñanes, we are ready for another large meal and our beds—and we have little inkling of what we'll face tomorrow.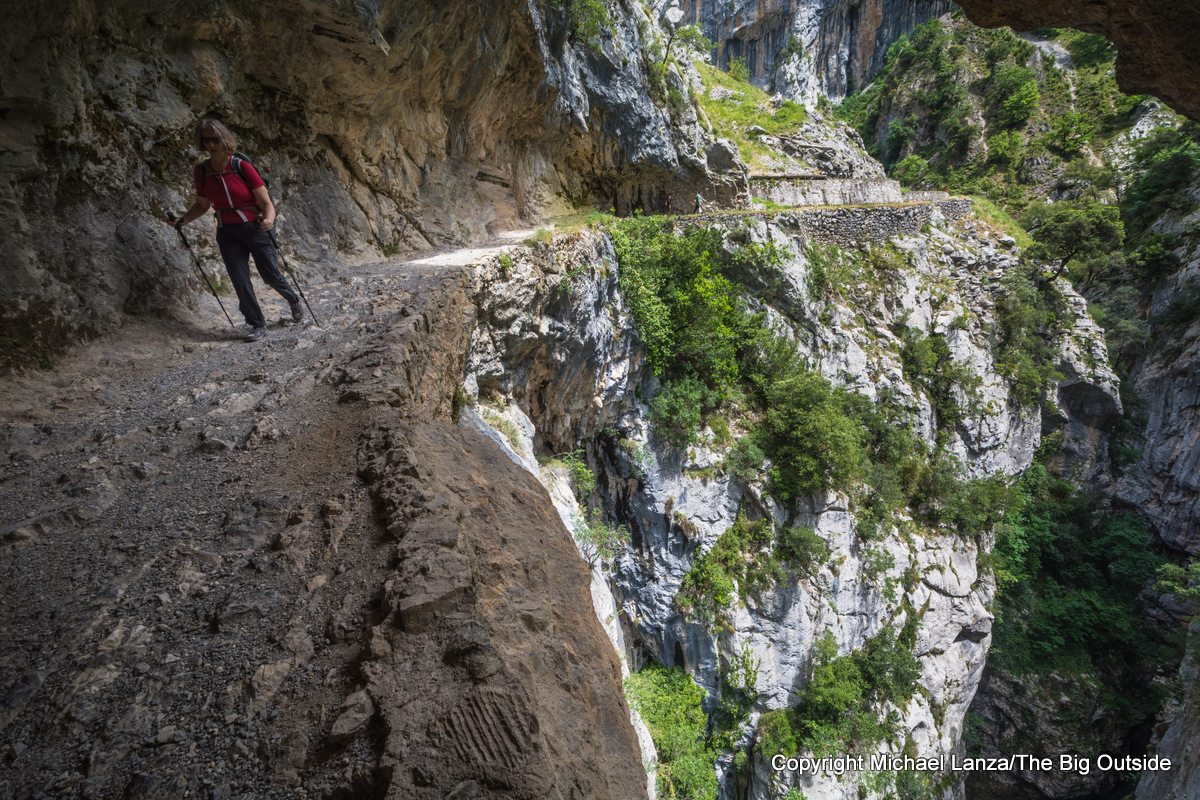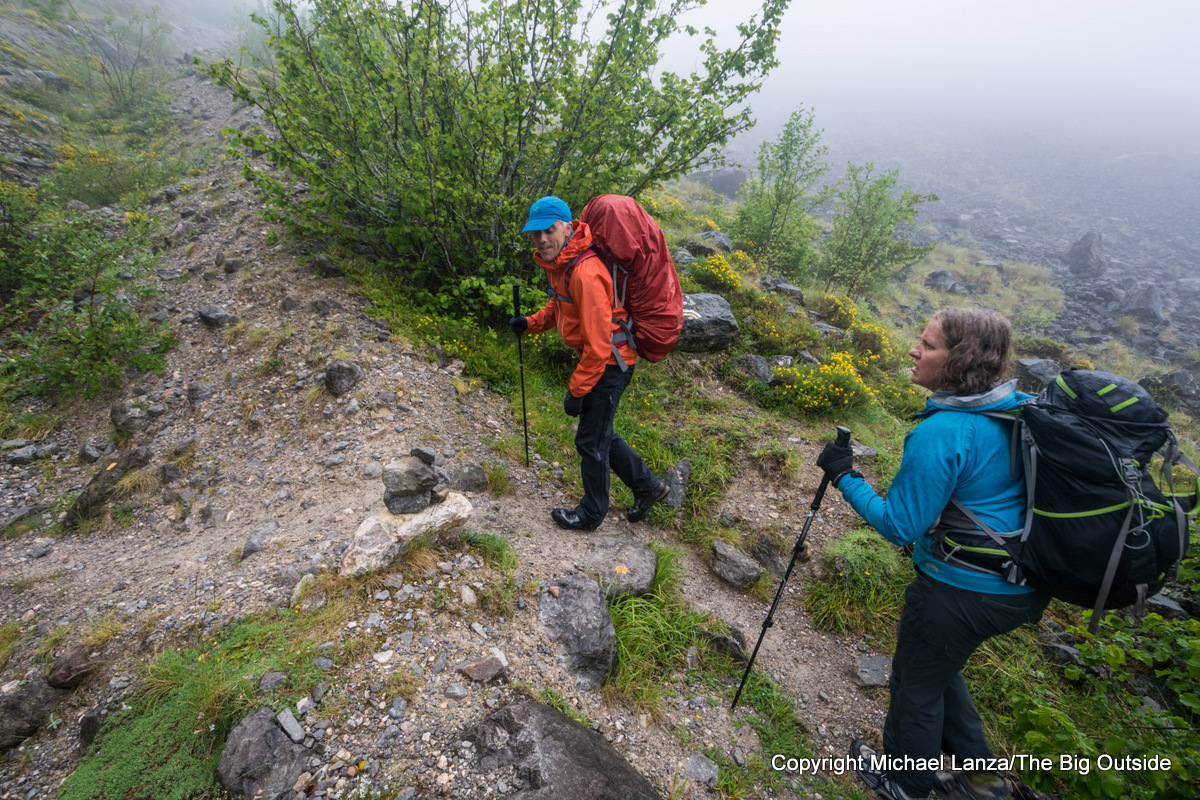 A Surprise Snowstorm
As my groggy family wolfs down an early breakfast, our trekking guides enter the hotel dining room. Longtime Picos guide Alberto Mediavilla Serrano and his assistant guide, Celso Suarez Fernández, sit with us to have their coffee and discuss today's plan. I met Alberto via email through a good friend of mine in the States who's a mountain guide and a friend of Alberto's and recommended him as the best guide in the Picos. Alberto, it turns out, is a reader of The Big Outside and very generously offered to join us for the last four days of our trek.
Given the weather that awaits us and our unfamiliarity with the Picos, welcoming Alberto's offer will be the best decision we make on this trip.
Light rain starts falling as we're readying to leave. Stepping outside, in the second week of June, we begin a walk back in time into winter.
We hike steadily and at times steeply uphill, winding through forest and traversing a footpath across the face of a short cliff, following a marked trail leading from Cordiñanes to the Refugio Collado Jermoso, where we have reservations for tonight. But Alberto had cautioned at breakfast that the usual, direct route to that hut may not be safe if covered with snow—which we're likely to encounter higher up. "There is an exposed section where it's better not to fall, and the rocks will be covered with ice," he told us. However, we can take a somewhat longer route around that lacks such dangerous exposure.
By late morning, we reach an elevation in the rocky, alpine Asotin Valley where the rain abruptly transforms to wet snow. The swirling wind blasts us from various directions, growing stronger as we get higher. It feels more like Scotland's Northern Highlands in March than the north of Spain in June.
At times, the fog retreats enough to give us a view, and we spin in a circle like a dog preparing to lie down, gaping at enormous limestone cliffs flanking the valley. The mountains continue to slip in and out of clouds and the wind strafes us with horizontal snow, which accumulates to several inches on the ground, obscuring the trail—and making Alberto's knowledge of the Picos invaluable. We continue uphill, wearing shells layered over insulation and hoods up.
I periodically ask Alex and Nate whether they're warm enough. But they shrug off my concerns: My kids are long accustomed to trips occasionally not going as expected. They'll both tell me later that today was actually fun for them. I will never get tired of hearing them say that about hiking through the mountains as a family.
At a trail junction, with the snow still falling, Alberto suggests we descend a short distance to take shelter in an old stone hut, smaller than a one-car garage, once used by park rangers. We eat lunch inside it, out of the storm, and discuss our options—but it doesn't require much discussion at this point. We're all convinced it would be crazy to continue upward through this intensifying snow and wind toward the Jermoso hut. The weather "is much worse than the forecast said it would be," Alberto says.
We decide to play it safe and descend to the nearest village, Espinama, a cluster of stone houses and small businesses in the next valley. Once we've hiked up above the stone hut and regained cell reception, Alberto pulls out his phone in the blowing snow and reserves us rooms in Espinama.
Then we commence a long downhill of more than 2,600 vertical feet (800m) through dozens of switchbacks, dropping below the snow line into the magnificent cirque of the Fuente Dé, where we return to spring and walk through intermittent showers and sprawling meadows of wildflowers. Although we will miss hiking one of the alpine sections of this trek, from the Jermoso hut, we can still get right back on our itinerary tomorrow morning and hike to our next mountain hut.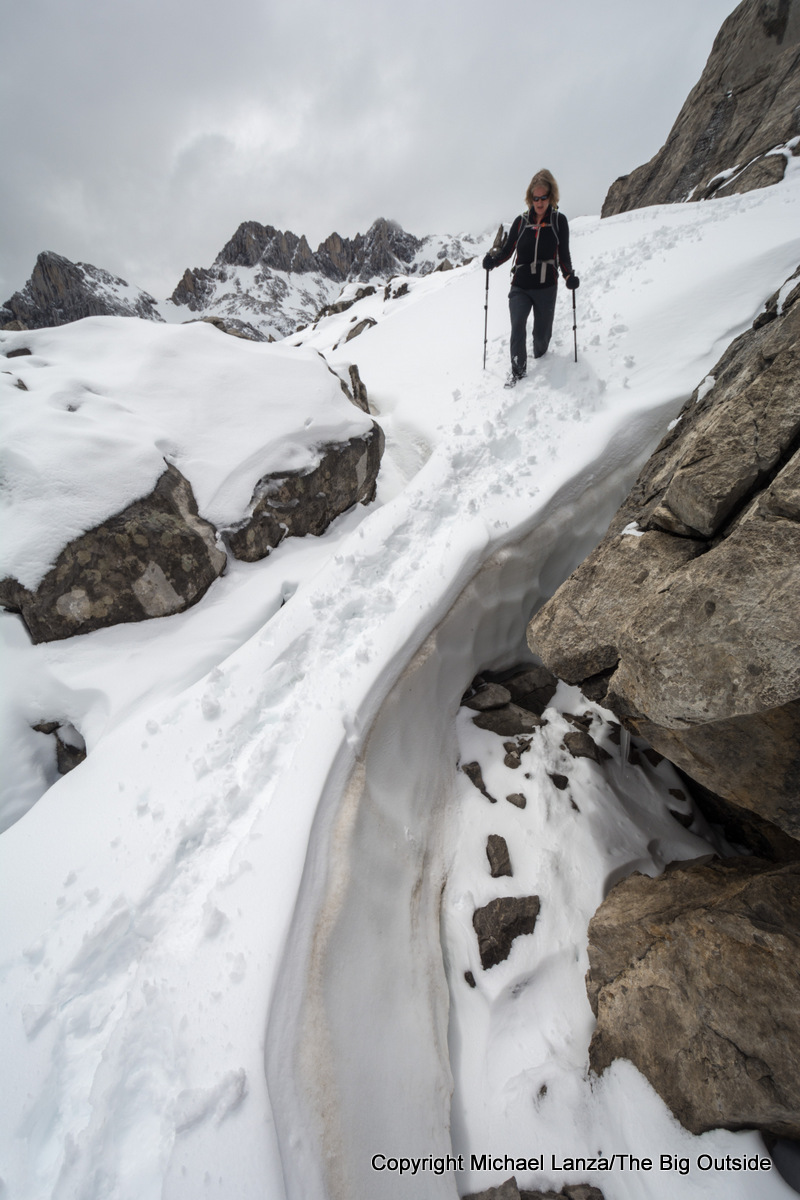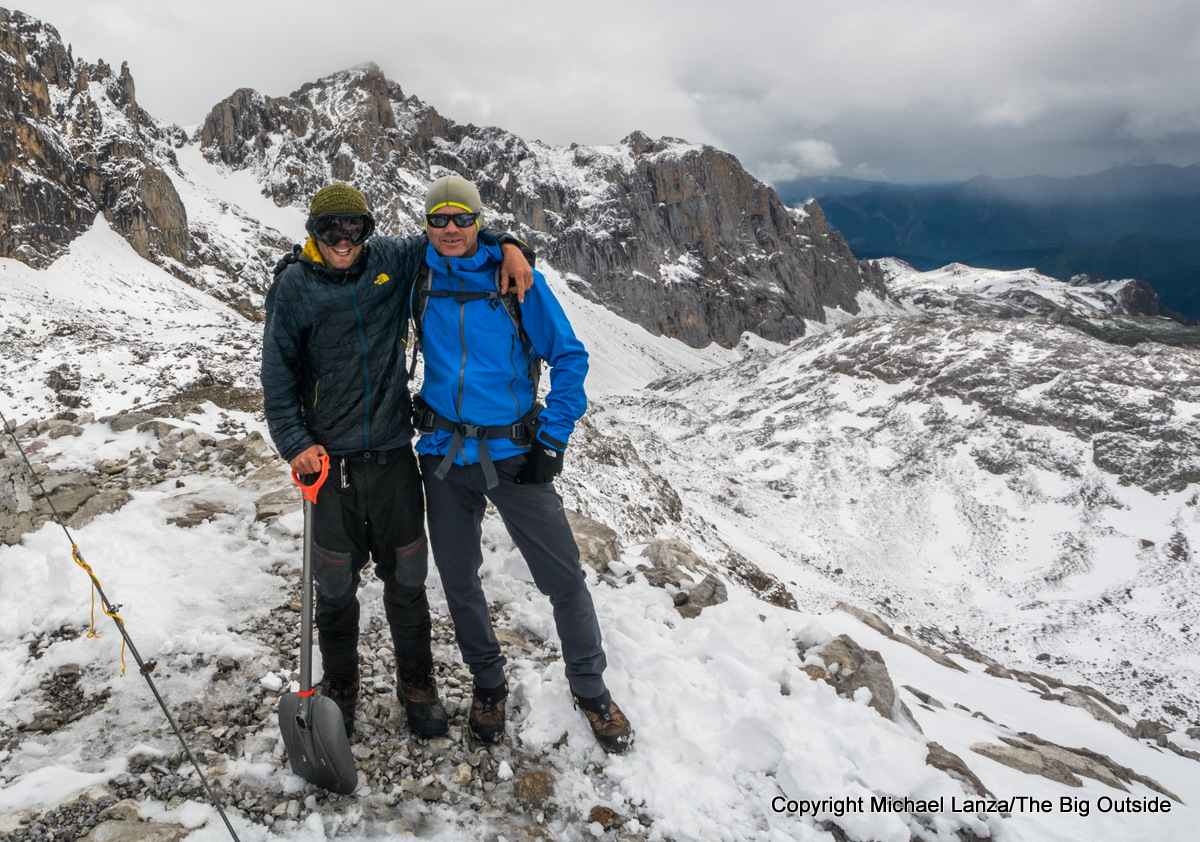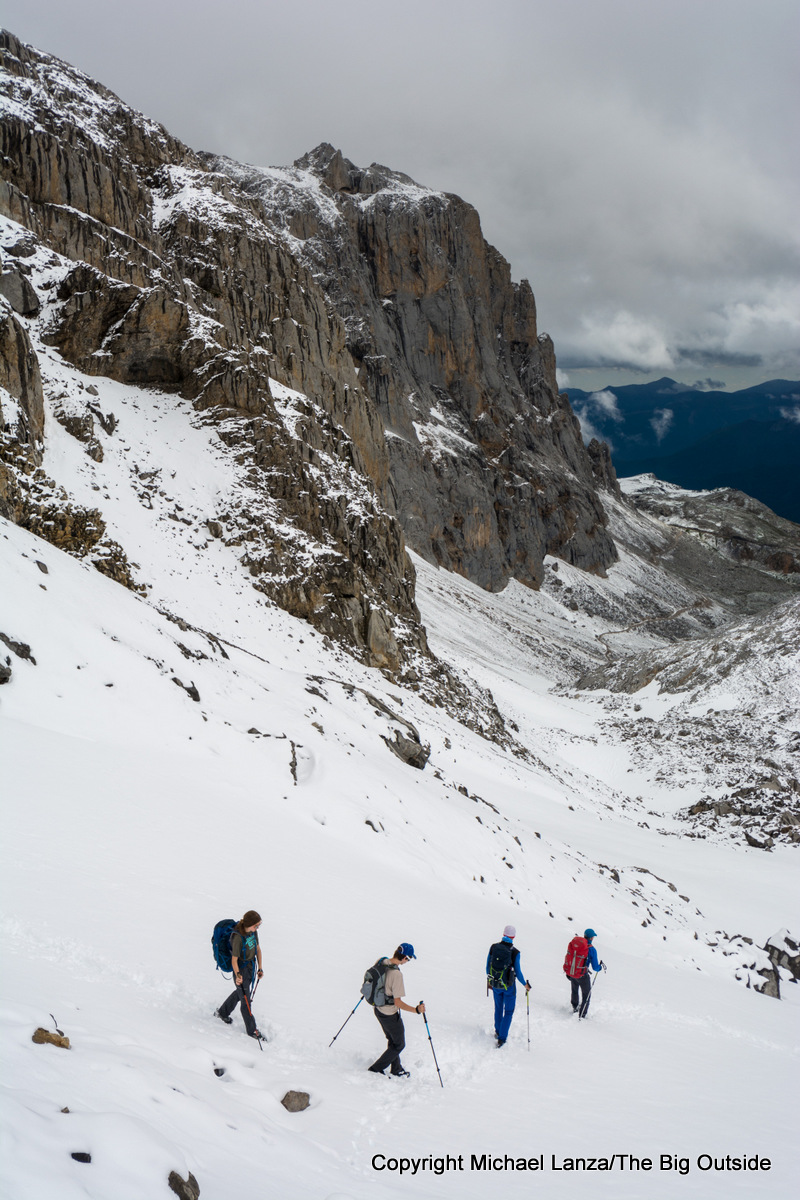 Fuente Dé and the Refugio Cabaña Verónica
In the chilly air on our third morning in the Picos, the six of us—my family, Alberto, and Celso—crowd into a cable car with other hikers, most of them out for a dayhike. The glass-walled capsule rises quickly to hundreds of feet above the meadows, gliding past the cliff faces that form the breathtaking Fuente Dé cirque. Ten minutes after boarding the cable car, we step out at its upper station some 2,600 vertical feet (800m) above the meadows where we began this short journey into the sky.
From the smiles on my family's faces, I know we're all thinking the same thing: Now that's civilized.
Alberto leads us walking along a flat, lonely dirt road winding into the mountains. Yesterday's storm has passed, but the sky remains overcast and the air cool, and fresh snow blankets the ground a few inches deep. At a hairpin bend in the narrow road, we pick up a trail angling upward into a high cirque, the snow now reaching our calves. We reach what seems like the belly of the clouds—and enter the fog. Finally, we see our destination just uphill from us: the Refugio Cabaña Verónica, at just over 7,600 feet (2325m).
I can help you plan this or any other trip you read about at my blog. Find out more here.
Jorge, the ponytailed, thirty-ish hutkeeper, invites us inside the tiniest mountain hut I've ever seen. A repurposed gun emplacement from a decommissioned U.S. Navy battleship that was dismantled in Bilbao, it wound up high in the Picos de Europa because a local man—clearly with an active imagination—thought it would serve an excellent and more peaceful second life as a mountain hut. He had it dissembled, transported on donkeys to this high cirque, and reassembled here.
Inside are three stacked bunks, each not much wider than a twin bed, separated by about two vertical feet of space; Jorge tells us each bunk normally sleeps two people. A small table with a couple of chairs occupies nearly half the floor space; a small stove and kitchen setup, shelves and cabinets, maps, and a bench line the walls, and daylight pours in through two porthole windows. The entire hut interior is about the size of a large walk-in closet.
Alberto says he once shared this hut with 13 people, all stranded in a snowstorm. They slept three to a bunk—the middle person on each with his head at the feet of the other two, like batteries in a headlamp—and Alberto says he didn't have enough room to get up and pee when he needed to go. Surveying the limited floor, with barely enough space for stepping around one another, we can't imagine how another five people would have slept on it. Sardines enjoy roomier sleeping quarters than that.
Jorge confesses that the hardest part of his job isn't living in a claustrophobic metal can, it's answering the same questions repeatedly—and on summer weekends, he'll see some 500 to 1,000 dayhikers visiting this hut after riding the Fuente Dé cable car. I've already asked him two of those questions: How long are you here for? (Answer: the entire season, May to November.) And how often do you go down to the valley? (Answer: once or twice a week.)
As we're listening to Jorge's and Alberto's stories and sipping the coffee, tea, and hot chocolate Jorge serves us, I notice through the open door that we can now see the valley far below. We all step outside to find the clouds have lifted. Sunlight beams onto us, reflecting blindingly off the snow and revealing the great horseshoe of towering rock walls and knife-like peaks looming over the Refugio Cabaña Verónica.
Jorge asks the name of my blog—Alberto told him about it—and when I answer him, he says, "Oh, I already know of it." He says he bought a Gregory Baltoro after reading my review. We live in a small virtual world.
Plan your next great backpacking trip in Yosemite, Grand Teton, and other parks using my expert e-guides.
Backtracking toward the cable car station to walk from there to tonight's lodging, the Hotel Aliva, I notice a high pass in the long escarpment of peaks above us and ask Alberto, referring to the hut we'll hike to tomorrow: "Is that the pass to Urriellu?" He says it is, and in these snow conditions, he thinks it would be unsafe, at least without ice axes. With this much snow in the Picos, we've resorted to planning our hiking itinerary, Alberto tells us, "one day at a time."
We finish a marvelous day walking down another lonely dirt road to the Hotel Aliva, situated beside a dirt road on a high, treeless plateau with stunning mountain views. Guests arrive both on foot and by car, and it has private rooms—it's more hotel than hut. In the cafeteria and bar, we sip beers and hot drinks, laughing over our day and playing cards before dinner.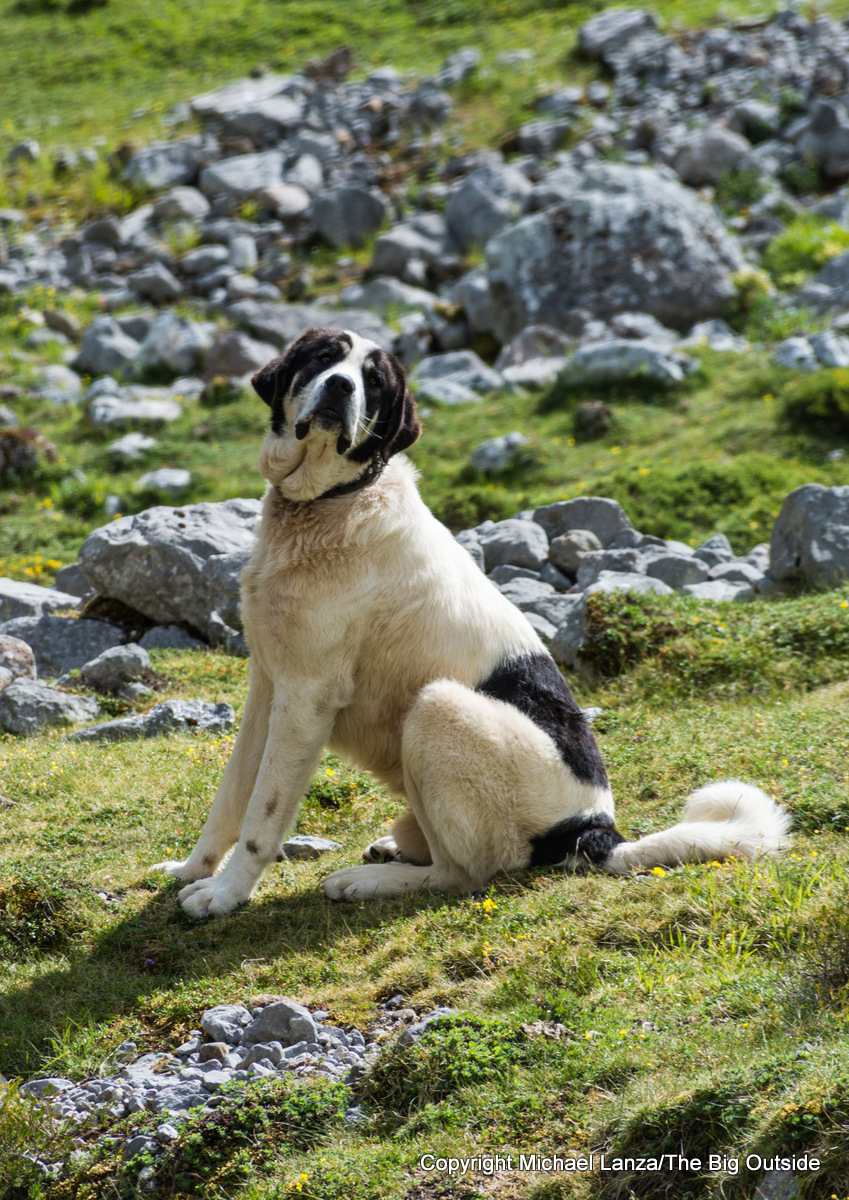 Refugio Vega de Urriellu and the Naranjo de Bulnes
We awaken on our fourth morning to a blue sky and fog creeping up the bucolic valley below Aliva. By around 9:30 a.m., we set out down the quiet dirt road, descending into a valley and walking past scores of fat, brown cows lying beside the road and grazing the almost treeless, grassy valley, the clanging of their bells drifting in the cool, dry air. We pass a sheep dog sitting calmly on an embankment above the road; the sheep in his charge part before us. Several trekkers pass by heading up to Aliva, but we see only a few cars in two-plus hours walking the road.
A stream courses down the valley, occasionally disappearing underground and reemerging above ground farther down—a common occurrence with the streams in these limestone mountains, where there are also almost no lakes. Sheer cliffs and spires rise a thousand feet tall above the wildflower-carpeted slopes to our left. Alberto points out a couple with long, moderate rock-climbing routes on them. We pass clusters of small, almost windowless, one-room stone shelters with roofs of clay tiles—cow huts. Alberto tells us the tile makers traditionally molded the roof tiles over their thighs to create their half-pipe shape.
Below the town of Sotres, which huddles against the mountainside across the valley, we turn onto a trail toward the Refugio Vega de Urriellu—commencing a 1,000-meter (over 3,000-foot) uphill slog to the hut where we will spend the night. Before long, a soupy fog rolls in and engulfs us.
I've helped many readers plan unforgettable backpacking and hiking trips. Want my help with yours? Click here.
My family ended up in the Picos de Europa almost accidentally. As it happened, June was when we had time for a longer trip this year—but trails in many mountain ranges remain largely buried under snow then. I discovered the Picos while researching hiking destinations online, but also discovered a dearth of information. I found maps but virtually no detailed trail and route descriptions and no guidebook.
As frustrating as that was, I gradually came to a happy conclusion regarding what that information vacuum said about the Picos: Somehow, these strikingly picturesque limestone peaks have evaded the spotlight. Then we had the serendipitous good fortune of meeting Alberto through a friend of mine.
Where the trail angles upward across a mountainside of wildflowers and rocks, Alberto stops us outside a small, one-room, stone house that stands just a few steps off the path. He shares with us the story of the woman who lived there for 40 years without electricity or plumbing. Rosa was known for making the best cheese in the region, so people would hike up to her tiny home to buy her cheese. She got her water from a pipe that led from a stream running past her hut. She had no communication with the outside world. Alberto got to know her during the two summers and one winter he worked in the Urriellu hut—which, he tells us, had no heater then, so in winter they sometimes stayed warm by stringing a line across the dining room to play volleyball.
Alberto would regularly walk the trail past Rosa's little hut and visit with her. Several years ago, in her seventies, with government regulations requiring cheese makers to use sanitary conditions that she could never replicate in her hut, she had to give up her trade. Alberto stopped by one day to find her weeping. "I just sold my last cow," she told him between sobs. "I do not know what I will do tomorrow if I'm not making cheese." She now lives down the valley in the village of Bulnes, and her old one-room, stone house sits empty.
Read all of this story, including my expert tips on planning this trip, and ALL stories at The Big Outside, plus get a FREE e-guide. Join now!
Throughout our four days of trekking with him, Alberto finds moments to tell us stories of his mountain-based lifestyle, from his days working in the Urriellu hut to the past 15 years he has guided every summer and worked every winter providing field reports on snow conditions to the government agency that produces avalanche forecasts for the Picos. Listening to Alberto, Nate says to me, in a tone of awe and envy, "He just does whatever he can to be in the mountains all the time."
After about two-and-a-half hours of hiking uphill, mostly in fog, Alberto turns to us and says with a laugh, "Can't you see the hut right there in front of us?!" We see only a wall of white. Not until we are about 50 feet from the stone building does it emerge from the dense cloud we're in.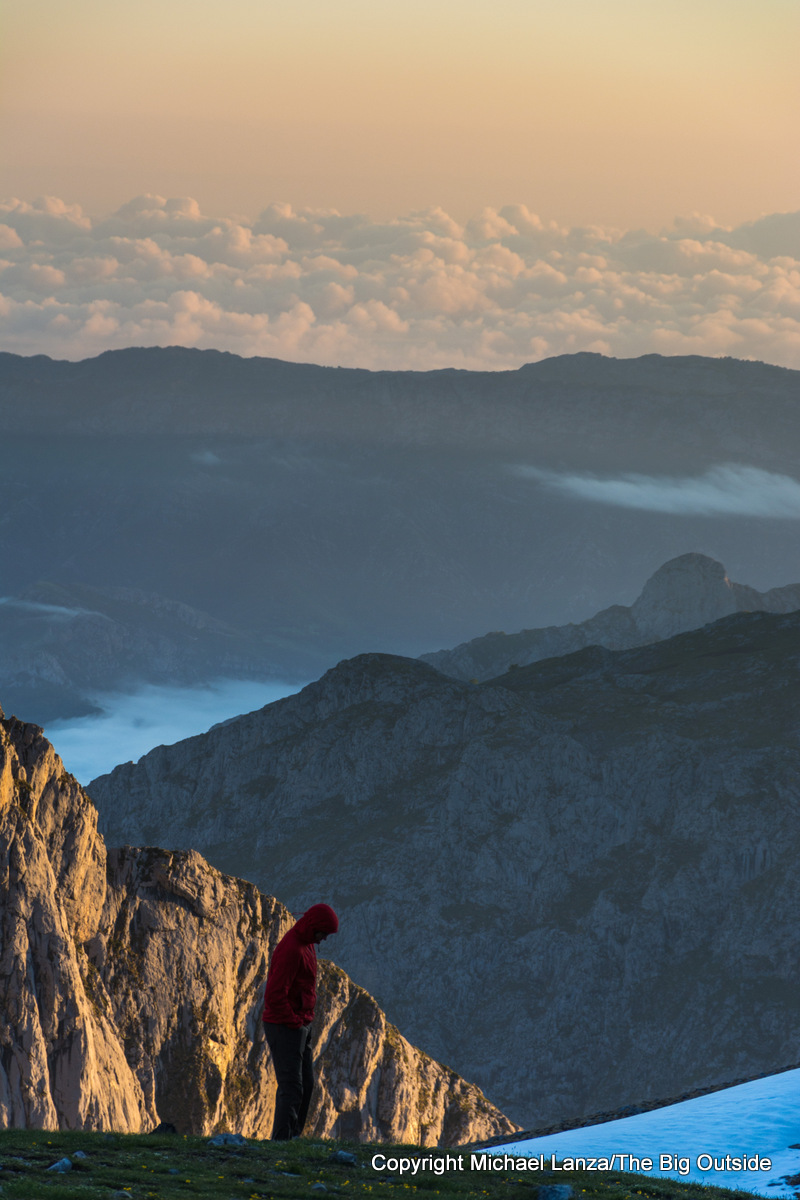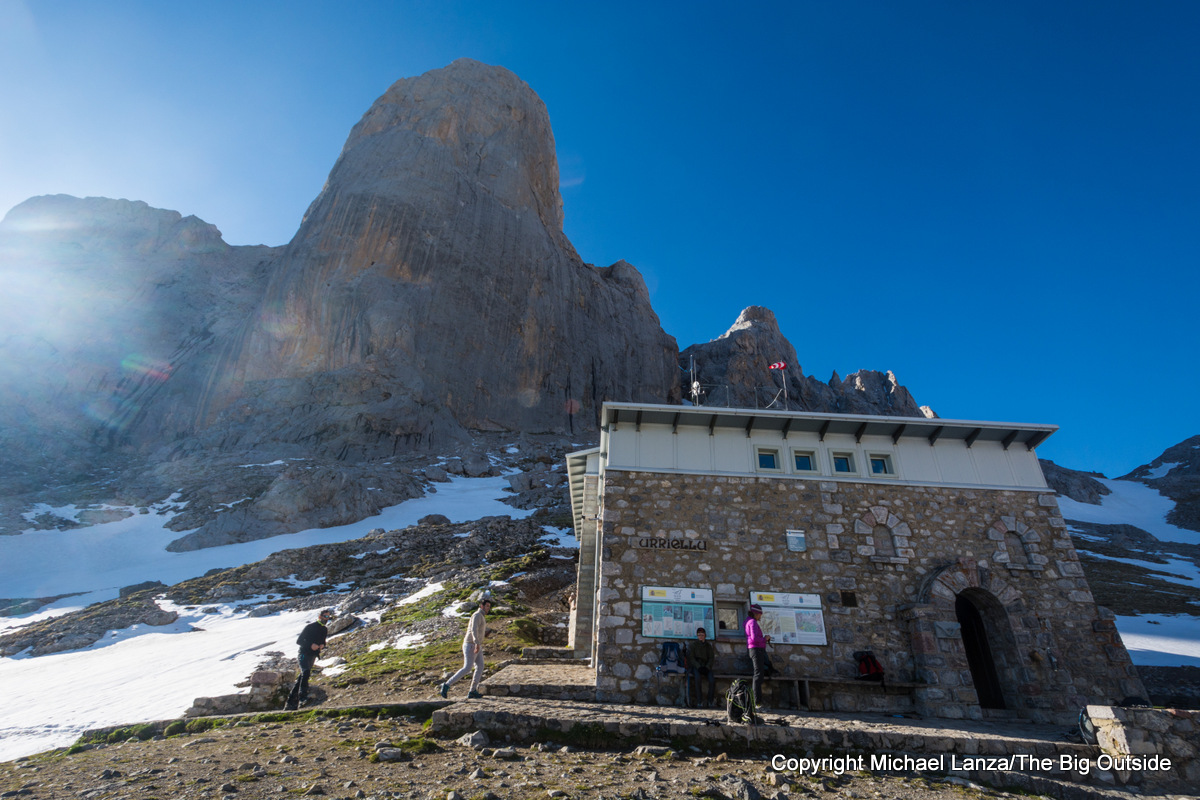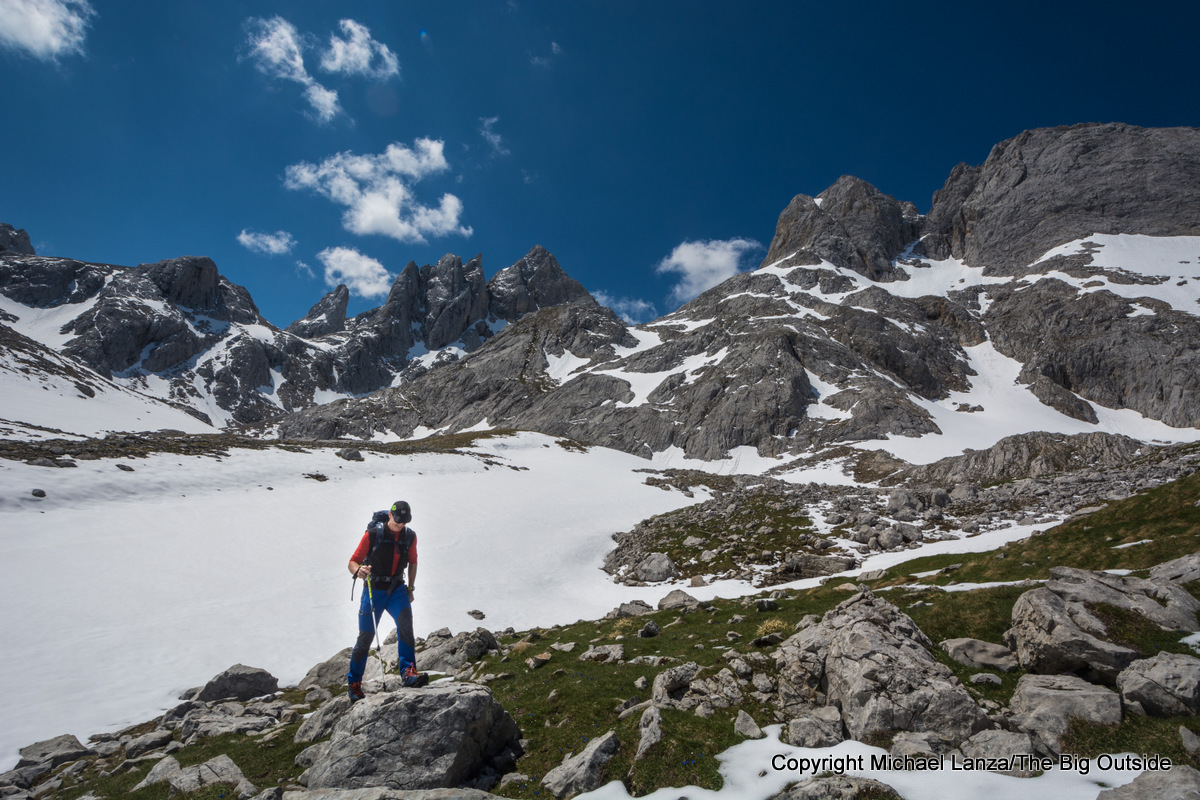 'The Heart and Soul of the Picos'
Minutes after we begin hiking on our last morning, we stop at a spot overlooking the Urriellu hut, which squats at the foot of the 1,600-foot (500m tall) face of 8,264-foot (2519m) Naranjo de Bulnes, the most famous peak in the Picos. Beneath a cloudless, electrically blue sky, our view stretches from Bulnes and an arc of rocky peaks to a sea of clouds filling the valley far below us.
Alberto turns to us and says, "Our days have been fine so far, but the alpine areas that I will show you today are the heart and soul of the Picos."
Mountain Guide Alberto Mediavilla Serrano, alberto.mediavilla@gmail.com.
I also got useful information from guide Mike Stuart of Picos Rock and Snow, thepicosdeeuropa.com/picos-rock-and-snow, thepicosdeeuropa@gmail.com.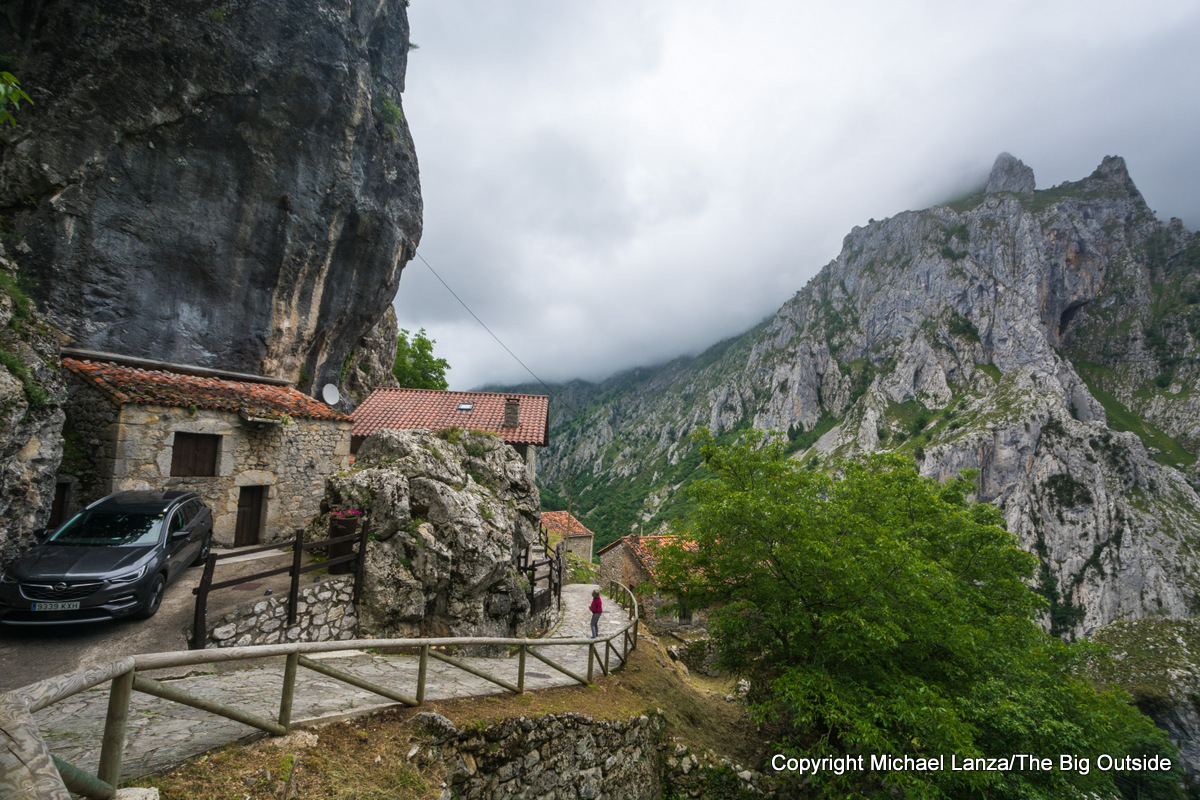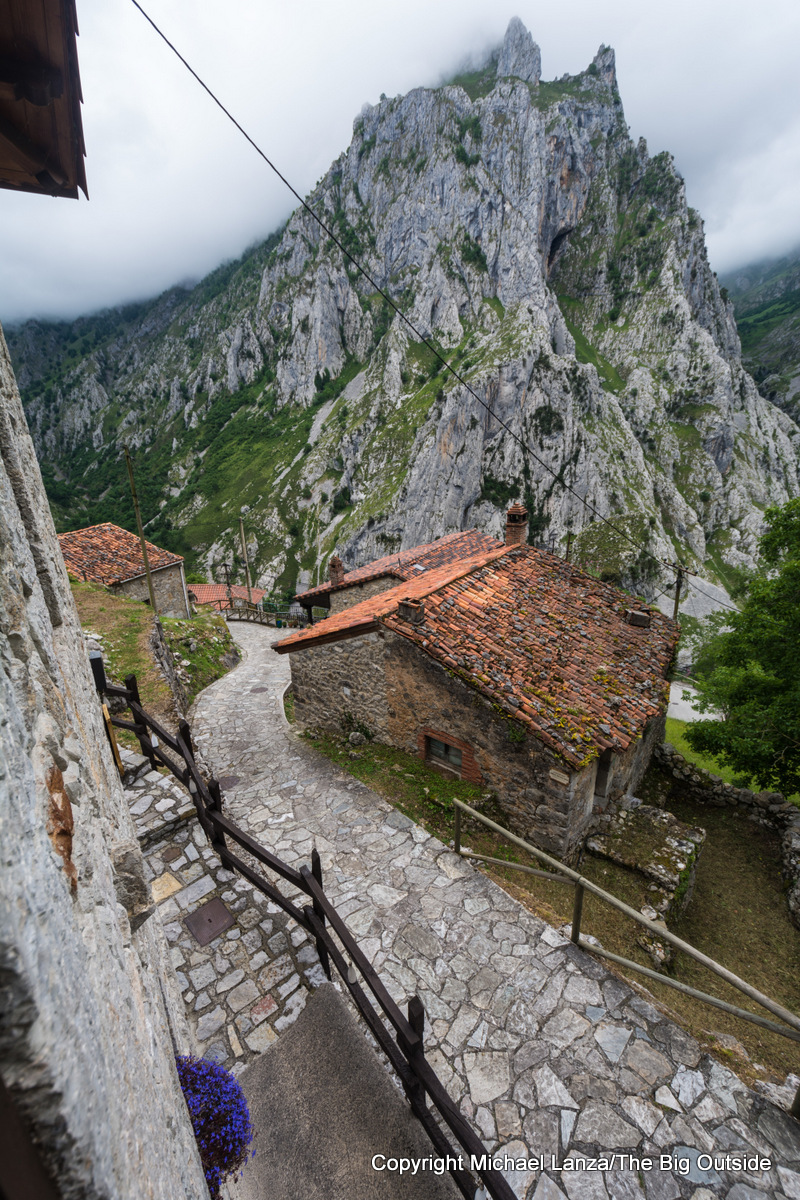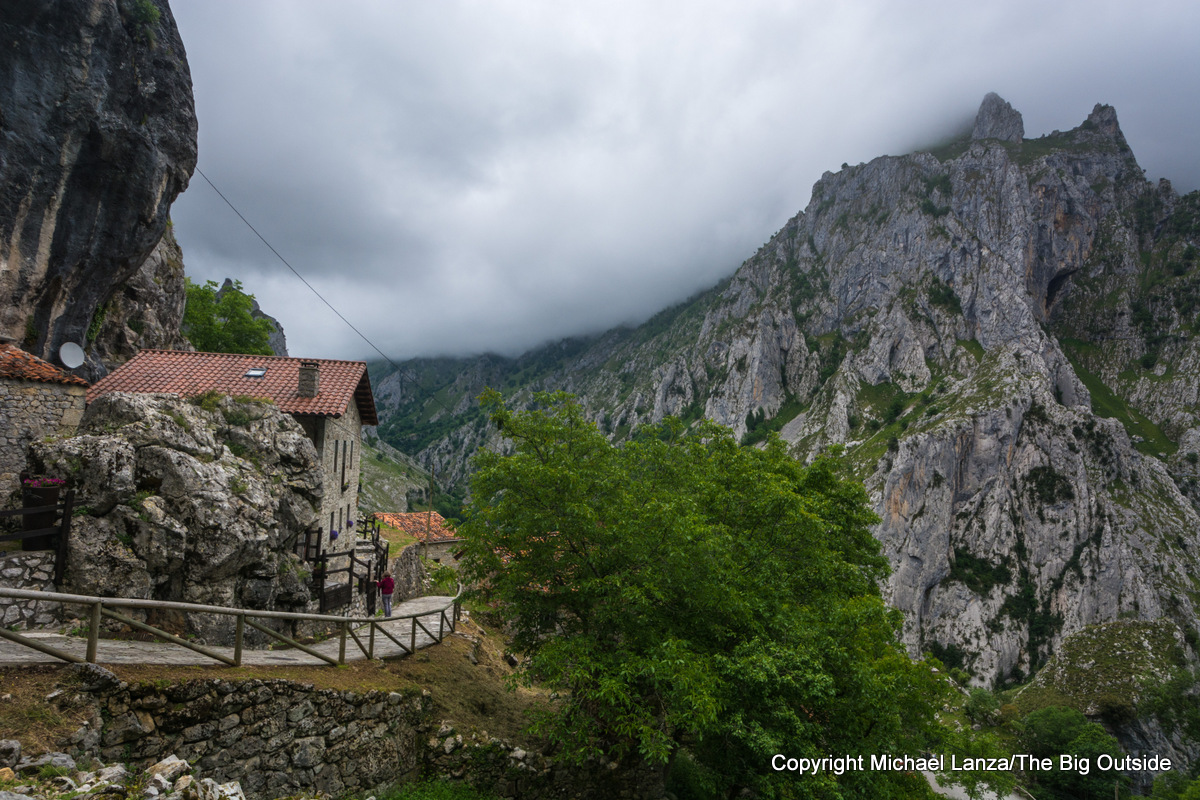 Lodging The Casa Maru B&B in Camarmeña—a charming village of a few narrow, cobblestone streets and nine residents in summer, perched on a mountainside about a mile/1.5k and hundreds of feet above Poncebos and the Cares Gorge trailhead—has two guest rooms and a commanding view of the bottom of the Cares Gorge and the most-famous peak in the Picos de Europa Mountains, the Naranjo de Bulnes. Hosts Alberto Rosado and Jhousy Rubio, who together speak Spanish, English, French, and German, serve a delicious and substantial breakfast and share info on local hiking trails; casamaru.com, info@casamaru.com.
The Hostal Poncebos offers affordable rooms (although with thin walls, so you will hear neighbors in adjoining rooms) and meals and sits right on the Rio Cares, a few minutes' drive or a short walk from the end of the road and the trailhead for Cares Gorge; booking.com/hotel/es/hostal-poncebos.html.
The season for both lodges runs from roughly early June until mid-October.
The Gear I Used See my reviews of the outstanding gear I used in the Picos: the Deuter Trail Pro 36 and Trail Pro 34 SL and Gregory Miwok 18 and Maya 16 daypacks, the Black Diamond Helio Active Shell rain jacket, the Black Diamond Distance Wind Shell, and the Oboz Sawtooth II Low Waterproof hiking shoes.
Want to make your pack lighter and all of your backpacking trips more enjoyable? See my "10 Tricks for Making Hiking and Backpacking Easier" and "A Practical Guide to Lightweight and Ultralight Backpacking." If you don't have a paid subscription to The Big Outside, you can read part of both stories for free, or download the e-guide versions of the 10 tricks here and the lightweight backpacking guide here without having a paid membership.