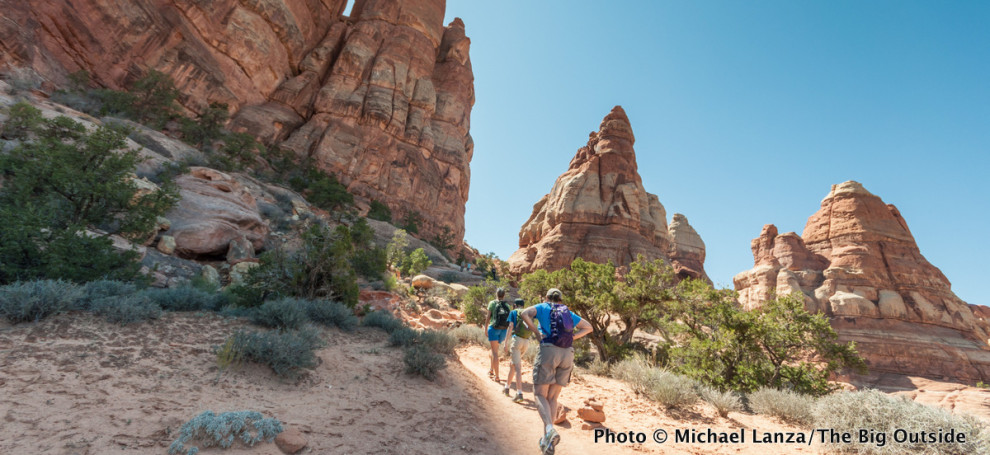 Featured
Discover a pair of Southwest jewels: Read about my family's adventure backpacking and hiking in Canyonlands and Arches national parks.
Exploring Canyonlands and Arches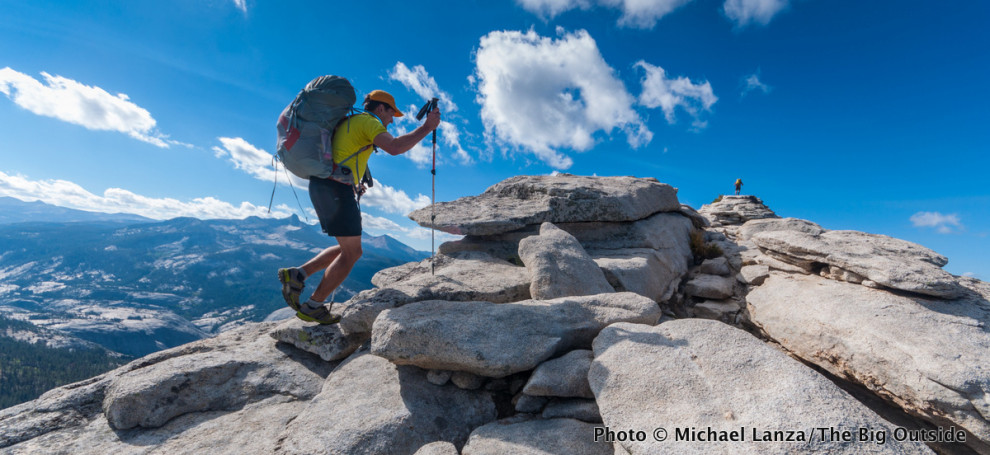 Featured
Don't get shut out of a backcountry permit in popular parks like Yosemite. Read my 10 Tips For Getting a Hard-to-Get National Park Backcountry Permit.
Take An Epic National Park Adventure
Featured
There are few experiences as sublime or memorable as having a gorgeous campsite in the backcountry. I've been lucky to enjoy many. Here are my top 25. You'll want to hit them all.
My 25 Favorite Backcountry Campsites
May 24, 2015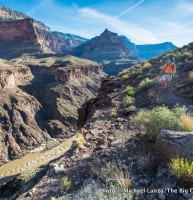 By Michael Lanza
On the last morning of a three-day, 34.5-mile backpacking trip on the Grand Canyon's remote and very rugged Royal Arch Loop, I got this photo of my friend David Ports at a spot where the Tonto Trail traverses close to the brink of a precipice nearly a thousand feet above the muddy Colorado River roaring through Granite Gorge. Continue reading →
Hybrid Insulation Jacket
Outdoor Research Deviator Hoody
$185, 10 oz. (men's medium)
Sizes: men's S-XL, women's XS-XL
outdoorresearch.com
On cool mornings in May while backpacking the Grand Canyon's Royal Arch Loop, and in late March on a five-day, family backpacking trip down Paria Canyon on the Utah-Arizona border, I did something unusual: I started the day's hiking wearing the same jacket I had worn while in camp, OR's new Deviator Hoody. From cool-weather hiking to skate-skiing in winter, I liked the Deviator as a next-generation, hybrid insulation piece whose versatility is limited only by your creativity in thinking about your layering system. Continue reading →
May 21, 2015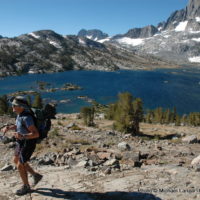 By Michael Lanza
If you could do one thing to make every backcountry trip more enjoyable, would you? If you're one of the many backpackers who finish every day on the trail sore from neck to toes, the answer may be simpler than you think. Continue reading →
May 20, 2015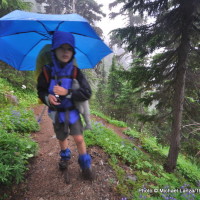 By Michael Lanza
There are only three guarantees in life: death, taxes, and getting rained on when dayhiking or backpacking. As we all know, wet clothing conducts heat away from your body, making you colder. And simply donning rain shells may make you so warm that you sweat a lot, thus getting wet from the inside rather than the outside. Staying as dry as possible while on the trail or in camp is key to staying warm in the backcountry when the weather turns wet—especially in temperatures below around 60° F and in wind, which swiftly chills your body. Follow these tips for a much more comfortable and pleasant backcountry adventure—even when the weather doesn't cooperate.
May 19, 2015
By Michael Lanza
When I first started hiking, in my early 20s, I was like a young baseball pitcher with an overpowering fastball: I simply hurled myself at every hike with all of my energy and cluelessness, not terribly concerned about whether I hit the metaphorical strike zone. I didn't think much about how far I was hiking, how rugged the terrain was, how heavy a pack I was carrying—or, to be honest, how much my companions were ready or eager for whatever lunatic plan I was dragging them into. I was young and fit and didn't really care how much my body ached afterward, so my haphazard strategy worked well enough.
Now, many miles and (too) many years later, I'm more like a veteran hurler who's learned the benefits of honing a repertoire of off-speed pitches. Continue reading →
← Older posts
Newer posts →