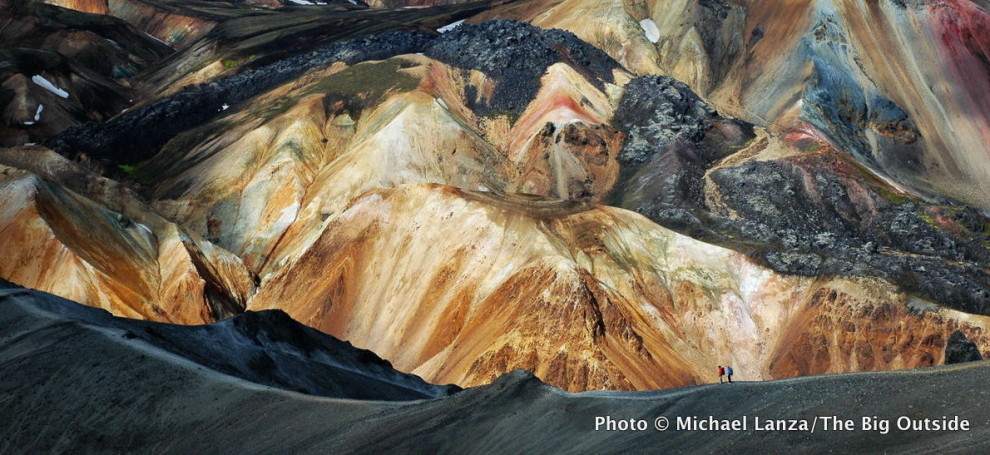 Featured
Got an all-time favorite adventure? I have 10 of them (including this one in Iceland). See a photo gallery from my favorite trips ever.
My Top 10 Adventures… Ever
Featured
Idaho's Sawtooths are known for hundreds of gorgeous lakes, but three of the best are Alice, Hell Roaring, and Imogene. See for yourself in this story.
Jewels of the Sawtooth Mountains
July 26, 2015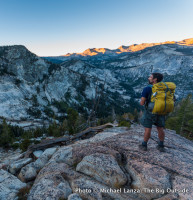 By Michael Lanza
One the final morning of a three-day, 65-mile hike deep into the southeast corner of Yosemite National Park, three friends and I started hiking shortly after first light, to take advantage of cool morning temperatures and enjoy some morning light on the mountains. Climbing through switchbacks hundreds of feet up a steep granite wall of the canyon carved by the Lyell Fork of the Merced River, we reached this high overlook just as the rising sun set fire to distant, jagged peaks around Red Peak Pass, which we had crossed the day before. Continue reading →
Three-Season Sleeping Bag
Kelty Dualist 20
$150, 3 lbs. 1 oz. (regular)
Sizes: regular and long ($160)
kelty.com
Outfitting yourself with good-quality backpacking gear when you're on a budget can be a challenge, especially core gear like your pack, boots, tent, and sleeping bag. That's why I wanted to test out Kelty's competitively priced Dualist 20 on a weeklong rafting trip down Idaho's Middle Fork of the Salmon River, where I discovered this dual-insulation bag delivers a lot of value for its bargain-basement price. Continue reading →
July 23, 2015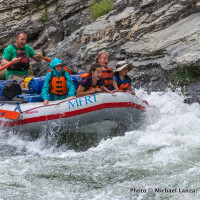 By Michael Lanza
On the fifth afternoon of our six-day rafting trip on one of the world's premier wilderness rivers, Idaho's 100-mile-long Middle Fork of the Salmon, our big, guided party reached one of the most exciting of the scores of whitewater rapids on the river: class III Cliffside Rapid, which takes a sharp right turn while slamming up against a jagged wall of rock. Standing on a gravel bar right beside the rapid, I got this shot of guide Matt Leidecker's raft crashing through Cliffside's massive wave train as four kids in his boat, including my daughter, Alex, shrieked and laughed loudly enough to be heard for a half-mile up or downriver. The expressions on all of their faces—including Matt's—say everything. Continue reading →
July 22, 2015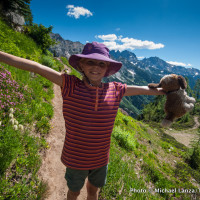 Hi Michael,
My fifth-grade daughter and I spend most of our summer playing and hiking. We are upping our backpacking mileage each year and hope to be able to do the Wonderland Trail around Mount Rainier when she is 12. For this summer, we are looking to do a hike of about 60 to 75 miles. One possibility is the Pacific Crest Trail between Highway 50 and 80. It's a beautiful route I've taken before. But I'm very open to other ideas. She's tough and has built up to solid 10-mile days. Any help or direction you could give me would be great. I envy the time you have been able to spend in the wild.
Adam
Sacramento, CA Continue reading →
July 21, 2015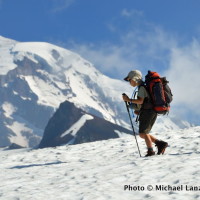 By Michael Lanza
Mount Rainier National Park presents a multitude of excellent backpacking options. But one that encapsulates the experience well, shows off some of the park's highlight views, glaciers, and wildflower meadows, and can be knocked off in a weekend is the traverse from Mowich Lake to Sunrise. Hiking below Rainier's north face makes it look so impossibly big it seems unreal, rising 8,000 to 11,000 vertical feet above hikers on trails. Few North American peaks have visible relief of two vertical miles. You naturally react as you might to a full-blown, heat stroke-induced hallucination: Compelled to believe your eyes, you nonetheless struggle with the nagging intuition that the delicate fruit that is your frontal lobe has spoiled badly in the heat. Continue reading →
← Older posts
Newer posts →