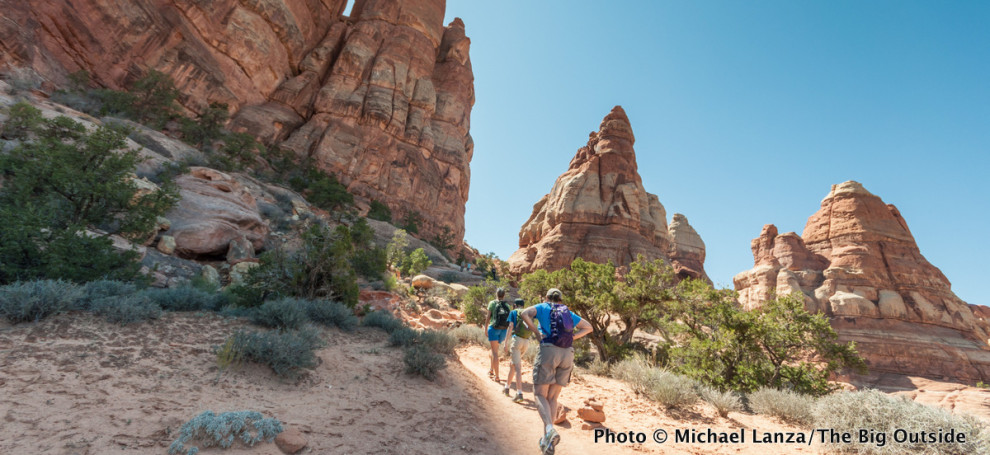 Featured
Discover a pair of Southwest jewels: Read about my family's adventure backpacking and hiking in Canyonlands and Arches national parks.
Exploring Canyonlands and Arches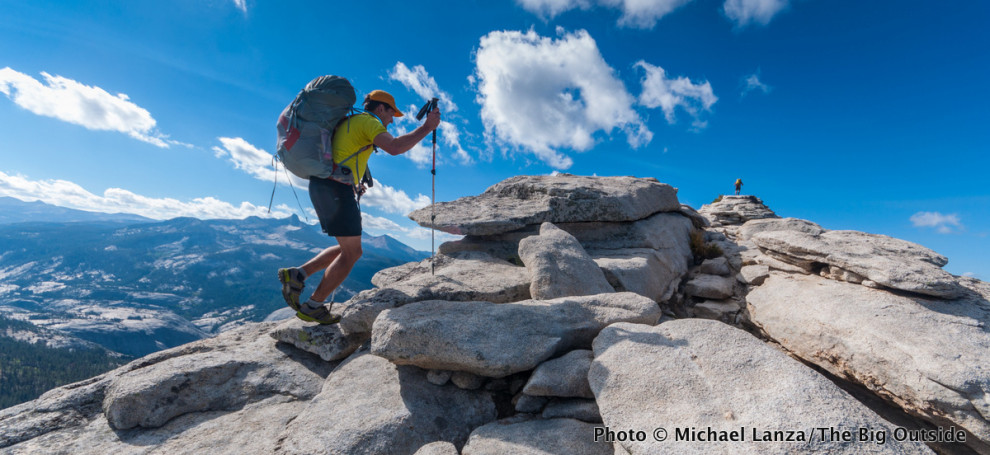 Featured
Don't get shut out of a backcountry permit in popular parks like Yosemite. Read my 10 Tips For Getting a Hard-to-Get National Park Backcountry Permit.
Take An Epic National Park Adventure
Featured
Whether you're planning to visit a national park this week, this year, or you're not sure when, check out this photo gallery of pictures from many parks I've visited.
Celebrating National Parks Week
April 19, 2015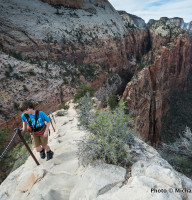 By Michael Lanza
Just a few weeks ago, en route to a family backpacking trip down Paria Canyon on the Utah-Arizona border, we had a few hours to kill in Zion National Park—a great place to kill a few hours. So we took a late-afternoon, family stroll on one of the most beloved and thrilling dayhikes in the National Park System, Angels Landing. Besides having beautiful weather, gorgeous light for the incomparable views of Zion Canyon, and few other hikers at that time of day, the outing marked a fun, little family anniversary: nine years since the first time we hiked Angels with our son, when he was five. Continue reading →
Kids Backpack
Osprey Ace 38
$140, 38L/2,319 c.i., 2 lbs. 4 oz. (my scale, not including the 3-oz. rain cover that comes with the pack)
One size, adjustable, fits torsos 28-38cm/11-15 ins., for ages 6 to 11 (approx.)
Osprey Ace 50
$160, 50L/3,051 c.i., 3 lbs. (my scale, not including the 3-oz. rain cover)
One size, adjustable, fits torsos 33-46cm/13-18 ins., for ages 8 to 14 (approx.)
Osprey Ace 75
$180, 75L/4,577 c.i., 3 lbs. 9 oz. (weight stated by Osprey)
One size, adjustable, fits torsos 35.5-48cm/14-19 ins., for ages 11 to 18 (approx.)
ospreypacks.com
If backpacking is sometimes hard on an adult, it presents a particular set of challenges to a kid who weighs under 100 pounds. One rule I followed when my kids were young was to not ask them to carry a backpack; instead, I waited for them to say they wanted to carry their own pack. (See my popular "10 Tips For Raising Outdoors-Loving Kids.") And then, I made sure my kids had good-quality gear, to help ensure they'd want to go backpacking again. With the Ace series of backpacks built for a huge range of children's body sizes—from the youngest you'd want to put a pack on to bigger teenagers—Osprey has just made it a little easier to turn your child into a backpacker. Continue reading →
April 16, 2015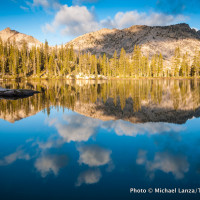 By Michael Lanza
We awoke on a September morning to find ice in our water bottles and frost coating our tents. Stepping outside shortly after dawn in the deathly silent calm, I walked to the shore of the lake with my camera and found it offering a mirror reflection of the surrounding peaks and the forest lining part of the lakeshore. On each of our two mornings and evenings camped there, in fact, the lake had given us a flawless, inverted picture of clouds lit afire at sunset and an overcast, gray sky rendered fascinating by the texture of the clouds, which looked as if someone had painted them onto the dome of sky by patiently dabbing with a cotton ball.   Continue reading →
Backpack
Gregory Baltoro 75 and Deva 70
$319, 6 lbs. (medium)
Men's Baltoro 75 sizes: S-L
S 73L/4,455 c.i., fits torsos 41-46cm/16-18 ins.
M 75L/4,577 c.i., fits torsos 46-51cm/18-20 ins.
L 78L/4,760 c.i., fits torsos 51-56cm/20-22 ins.
Women's Deva 70 sizes: XS-M
XS 66L/4,028 c.i., fits torsos 36-41cm/14-16 ins.
S 70L/4,272 c.i., fits torsos 41-46cm/16-18 ins.
M 74L/4,516 c.i., fits torsos 46-51cm/18-20 ins.
gregorypacks.com
Whether backpacking with my young kids or heading out on a multi-day climbing trip in the backcountry, I've carried 50 pounds or more on my back enough times with a mediocre pack to know that I don't yearn to do that again. For a big load, I want a pack that's supportive, comfortable, and more tricked out than I prefer for much lighter trips—and I know that means it will also be heavier. Having reviewed and liked the Baltoro 75 in the past, I wanted to try out the new, updated version. So I carried it with, at times, more than 50 pounds inside on a five-day, family backpacking trip down Paria Canyon, in Utah and Arizona, in late March. Without question, it remains among very few packs in this class that I'd want for backpacking with loads that heavy. Continue reading →
April 14, 2015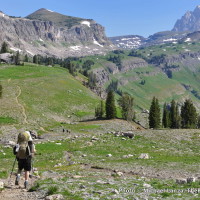 Hi Mike,
I came across your blog while I was researching information for a trip I'm planning for this summer, backpacking in Grand Teton National Park from Granite Canyon to Paintbrush Canyon: 53 miles over five days. Have you done this hike? I was looking for some advice on preparatory training and wondered if you had any thoughts. I walk every day and plan to do Old Rag and other hikes in the Shenandoah Mountains carrying some weight in my pack. Do you think this is enough? Continue reading →
← Older posts
Newer posts →