By Michael Lanza
"The best backpacking trip in the Grand Canyon."
That was what a longtime backcountry ranger I've interviewed in the past, who's hiked every mile of trail in the park, told me about the 74-mile hike from the South Kaibab Trailhead to the Tanner Trailhead, including the Escalante Route and Beamer Trail. That assertion had struck me as bold and debatable when I first read those words in an email from him—given the magnificence of any Big Ditch hike. But then I backpacked it and had to agree with him. I think you'll see why in the photos below.
Having now taken several of the Grand Canyon's premier backpacking trips and long dayhikes while running this blog and as a field editor for Backpacker magazine for many years, including hiking rim-to-rim-to-rim in a day and over two days (see links to my stories about those trips below the photo gallery), I have found that each of those adventures has a character all its own.
---
---
Each certainly delivers certain guaranteed characteristics of a hike in the canyon: mind-blowing scenery, wonderful campsites, and often more challenge and strenuousness than many people anticipate. But I've also found that each trip differs more from others than you might guess.
The popular "corridor" trails—the South and North Kaibab and Bright Angel—while tough, are nonetheless the kindest to backpackers and dayhikers and constantly serve up vistas that inspire wonderment. The remote Thunder River-Deer Creek Loop off the North Rim goes from the bone-dry Esplanade to some of the best waterfalls and perennial streams in the entire Grand Canyon. The remote and adventurous Royal Arch Loop explores a tributary canyon with sometimes puzzling obstacles to scramble over and around and shockingly lush desert oases; also requires one short rappel.
And the aforementioned "best backpacking trip in the Grand Canyon," from the South Kaibab Trailhead to the Tanner Trailhead, basically throws every ingredient of a consummate multi-day canyon hike into the pot: the never-grows-mundane majesty of two rim-to-river trails, the South Kaibab and Tanner; the unique perspective of the Tonto Trail; side canyons that are vast and magnificent by themselves; the blessed relief of campsites by perennial creeks and to-die-for camps by the Colorado River; spicy route-finding and scrambling on the Escalante Route; and the surprising variety, beauty, and remoteness of the Beamer Trail.
If you're thinking about taking any of these Grand Canyon backpacking trips this fall—an ideal time to visit—you should be looking into a backcountry permit right now for a trip anytime in October, because available permits for popular trails and campsites get claimed very quickly.
Few places boggle the brain so tenaciously as the Grand Canyon. A twisting gorge 277 miles long and averaging about 10 miles wide and a mile deep, and one of the largest national parks at more than 1.2 million acres, its vastness overwhelms you—even as you can never see more than a fraction of it at any moment.
As I have experienced on every GC hike going back to my first one three decades ago, walk any significant distance here and you will observe the perspective-bending phenomenon of rock monoliths and temples thousands of feet tall expanding like an inflating dirigible until they dominate your field of view, and then shrinking as you walk away until they disappear into the larger landscape. The unforgiving heat and aridity seems ill-suited to any life, but beautiful wildflowers bloom in the open desert, and lush gardens of greenery blossom in narrow, shady side chasms with perennial streams.
Truth is, in about 95 percent of the Grand Canyon, it's easier to die than it is to live. But each of the several multi-day hikes I've taken here has only amplified my appetite to explore more of the canyon, because the Grand Canyon always pays back more than your investment of sweat and toil in it.
I've helped many readers plan an unforgettable backpacking trip in the Grand Canyon.
Want my help with yours? Find out more here.
In the words of John Wesley Powell: "You cannot see the Grand Canyon in one view, as if it were a changeless spectacle from which a curtain might be lifted, but to see it, you have to toil from month to month through its labyrinths."
You may not have months free to toil through the Grand Canyon's labyrinths, but a few days or a week can give you a pretty good sampler of the place.
My gallery of photos below includes images from all of the backpacking trips and long dayhikes (routes normally done as backpacking trips) that I've taken in the Grand Canyon; the first several photos are from the South Kaibab to Tanner hike. See links below the gallery to my stories about those trips at The Big Outside.
Get full access to my Grand Canyon stories and ALL stories at The Big Outside, plus a FREE e-guide. Join now!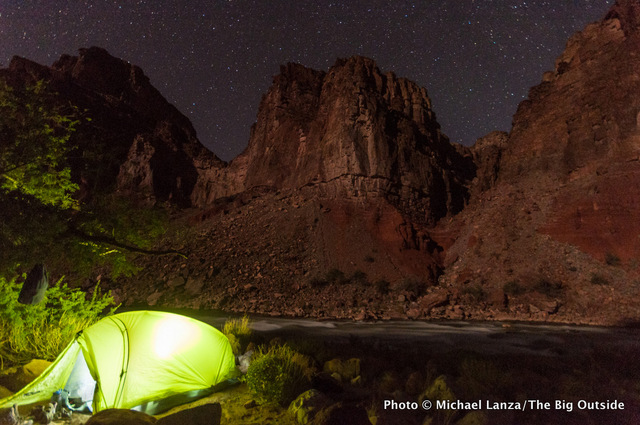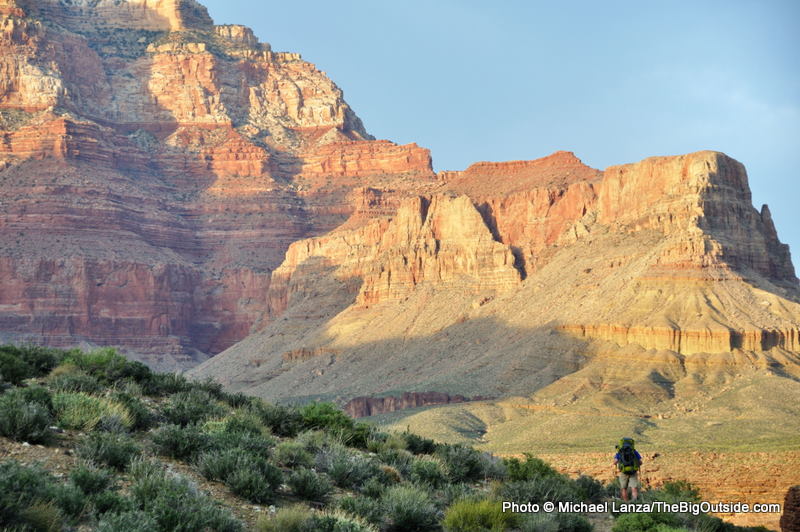 See my story "5 Epic Grand Canyon Backpacking Trips You Must Do," or scroll down to Grand Canyon on my All National Park Trips page for a menu of all of my stories about the Grand Canyon. And see all of my stories about family adventures at The Big Outside.
Whether you're a beginner or seasoned backpacker, you'll learn new tricks for making all of your trips go better in my "12 Expert Tips for Planning a Wilderness Backpacking Trip" and "A Practical Guide to Lightweight and Ultralight Backpacking." With a paid subscription to The Big Outside, you can read all of both stories for free; if you don't have a subscription, you can download the e-guide versions of "12 Expert Tips for Planning a Wilderness Backpacking Trip" and the lightweight backpacking guide without having a paid membership.
Tell me what you think.
I spent a lot of time writing this story, so if you enjoyed it, please consider giving it a share using one of the buttons at right, and leave a comment or question at the bottom of this story. I'd really appreciate it.