By Michael Lanza
Minutes after we started hiking down the Grand Canyon's South Kaibab Trail, we descended through short, tight switchbacks where the trail clings to the face of a cliff. The earth dropped away precipitously beyond the trail's edge; we gazed down nearly a vertical mile into the bottom of The Big Ditch. Not much farther along, we stopped, awestruck, at a breathtaking overlook of perhaps the most famous canyon on the planet.
Those first vistas laid bare the audacity of our plans: to walk across this awesome chasm in one push, on a 21-mile, nearly 11,000-vertical-foot, rim-to-rim dayhike.
On a visit to the Grand Canyon in mid-October—one of the two brief windows annually that offer ideal weather for this adventure—my wife, Penny, joined by our friends David and Kathleen Ports, made what has become possibly the most coveted grail for avid and very fit hikers and trail runners. A rim-to-rim hike traverses one of the most inspiring, rugged, vast, vertiginous, arid, and unforgiving landscapes in America. And that's just a short list of the applicable adjectives.
It's unquestionably one of the most beautiful dayhikes in the country. The Grand Canyon's severe verticality and desert climate create a landscape where seemingly endless views accompany you almost every step of the way. In the canyon's bottom, or Inner Gorge, instead of looking out over an infinite maze of canyons sprawling for miles, you pass through a more intimate environment. Rim-to-rim hikers follow the North Kaibab Trail's winding course through lower Bright Angel Canyon, walking along a lively creek, between close, dark rock walls that shoot straight up for hundreds of feet on both sides.
---
---
It's also one of the hardest dayhikes in the country—don't underestimate its grueling difficulty. A rim-to-rim hike, or r2r, poses an extremely challenging outing. The shortest route, combining the South and North Kaibab trails, entails about 21 trail miles and a cumulative 11,000 feet of elevation gain and loss. The heat can wilt even the fittest people. (We passed one couple that was clearly having problems. We heard later that the woman was collapsing to the ground repeatedly and had to be rescued by helicopter.) Cold temps and wind are not unknown in early morning and evening, and although unusual, rain or snow can soak your ambitious plans. In fact, hard rain fell the day before the four of us hiked it south to north, and snow fell the morning after David and I made the return hike on day two (while Penny and Kathleen—perhaps wisely—took the shuttle from the North Rim back to the South Rim).
The gallery below has photos from our two days hiking rim-to-rim: going south to north on the South Kaibab and North Kaibab trails, and returning the next day, north to south, on the North Kaibab and Bright Angel trails. Click on any photo to open the photo viewer, which allows you to scroll through all of the photos.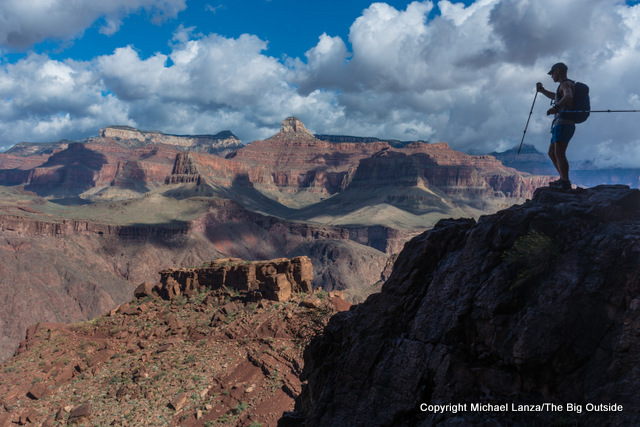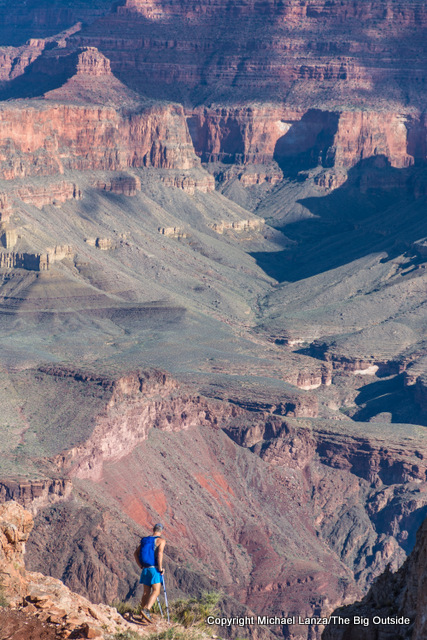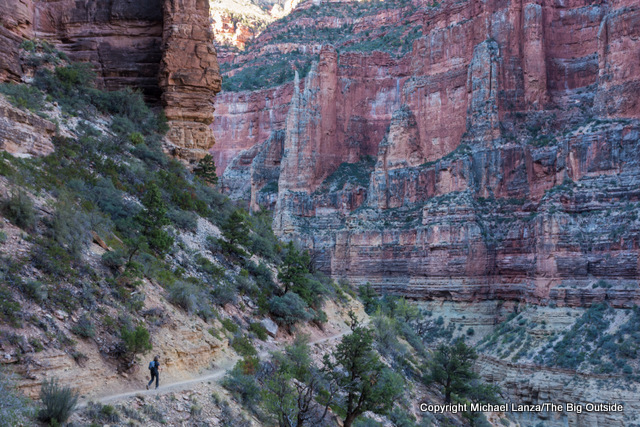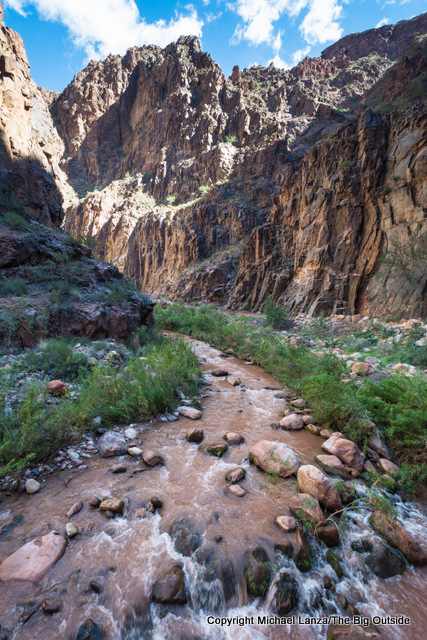 A rim-to-rim Grand Canyon hike delivers numerous moments of pure magic. Even on a popular trail like the Bright Angel, you can get gifted with a rare, thrilling surprise.
As I hiked wearily up the Bright Angel, in the final mile of the return leg of our two-day, nearly 45-mile, rim-to-rim-to-rim hike, I heard a noise to my left. Two bighorn sheep burst from the sparse vegetation on the trail's downhill side, dashed across it no more than 10 feet in front of me, and disappeared within seconds, clambering up the steep slope on the trail's uphill side. At that moment, there happened to be no other hikers within sight. I was the only one to see them.
The Big Outside helps you find the best adventures. Join now to read ALL stories and
get a free e-guide

!

Minutes later, still electrified by that chance encounter, I watched the same two bighorns jump onto the trail again, this time maybe 100 feet uphill from me. They sprinted down the trail, passing so closely to me that for an instant I thought they might crash right into me.

Read my feature story about this rim-to-rim hike, "Fit to be Tired: Hiking the Grand Canyon Rim to Rim in a Day." See also my story about a previous one-day, 44-mile, rim-to-rim-to-rim dayhike of the Grand Canyon and all of my stories about Grand Canyon National Park at The Big Outside.
Tell me what you think.
I spent a lot of time writing this story, so if you enjoyed it, please consider giving it a share using one of the buttons at right, and leave a comment or question at the bottom of this story. I'd really appreciate it.