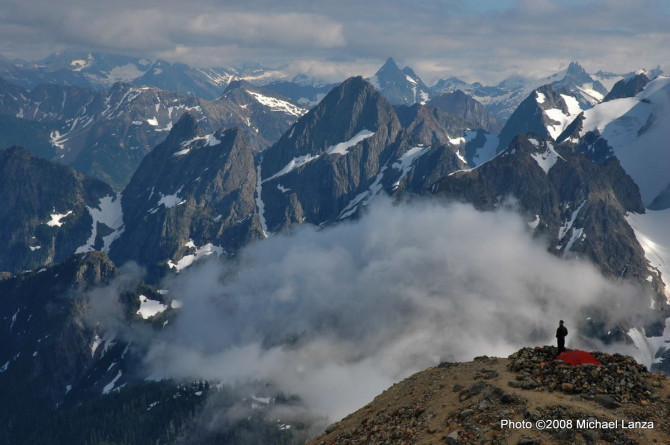 Tent Flap With A View: 25 Favorite Backcountry Campsites
By Michael Lanza
An unforgettable campsite can define a backcountry trip. Sometimes that perfect spot where you spent a night forges the memory that remains the most vivid long after you've gone home. A photo of that camp can send recollections of the entire adventure rushing back to you.
I've been fortunate enough to have enjoyed many, many great backcountry campsites over the past couple decades of backpacking and trekking all over the U.S. and the world. I've boiled the list of my favorite spots down to 25. In a few cases, the photos of these places show the view a few steps from our tent, rather than the tentsite itself. I share a brief anecdote with each photo because, for me, each campsite isn't merely a beautiful scene: it conjures a wonderful memory. That's what it's all about.
Sweet dreams.
This slideshow requires JavaScript.
Sahale Glacier Camp, North Cascades National Park, WA
We slogged up Sahale Arm into a cold, wind-driven rain, unable to see more than a hundred feet in any direction. But as my friend David Ports and I reached Sahale Glacier Camp (see lead photo, above), the rain and wind abated and the clouds dropped below us, giving us a view of the earth falling away into a bottomless abyss a few steps from our tent door. A mountain goat strolled past our camp.
Perched at the top of Sahale Arm and the toe of the Sahale Glacier, at 7,686 feet, the highest designated campsite in North Cascades National Park overlooks what appears to be a boundless, wind-whipped sea of sharpened peaks smothered in snow and ice, among them Johannesburg, Baker, Shuksan, Glacier Peak, and in the far distance, Mt. Rainier.
Getting There From Marblemount on WA 20, turn onto Cascade River Road and drive 23 miles to its end. Hike 3.7 miles and 1,800 feet up to Cascade Pass, then follow the trail up Sahale Arm another 2.2 miles and 2,300 feet to the camp.
Map Green Trails Cascade Pass no. 80, $7, greentrailsmaps.com.
Contact North Cascades National Park Wilderness Information Center, (360) 854-7245, nps.gov/noca.
Johns Hopkins Inlet, Glacier Bay National Park, AK
For one of the trips for my book about taking our kids on wilderness adventures in national parks facing threats from climate change, we took a five-day sea kayaking trip in Glacier Bay, where cliffs shoot straight up out of the sea and razor peaks smothered in ice and snow rise thousands of feet overhead. We watched bald eagles and other birds flying overhead, harbor seals popping up out of the water near our boats, Stellar sea lions honking and carrying on while sprawled on the rocks of South Marble Island, and brown bears roaming rocky beaches looking for food.
We spent two nights at this campsite near the mouth of Johns Hopkins Inlet. From there, we kayaked up the inlet to within about a quarter-mile of the mile-wide snout of the Johns Hopkins Glacier; a thousand or more seals occupied floating icebergs or swam around the inlet. Throughout the evenings and mornings in camp, we listened to that massive glacier calve another bus-size chunk of itself into the sea every 20 or 30 minutes, with an explosive sound the native Tlingits called "white thunder."
See my story, more photos, and a video about sea kayaking in Glacier Bay for information on how to pull off this trip.
Granite Park, John Muir Wilderness, CA
On the second night of a three-day, 32-mile, partly cross-country traverse of the John Muir Wilderness from North Lake Trailhead to Mosquito Flat Trailhead, we pitched our tents in Granite Park, an aptly named high valley speckled with scores of alpine lakes and tarns and encircled by an arc of 12,000- and 13,000-foot spires of barren, golden stone. In the evening, the sinking sun painted the peaks, lakes, and granitic landscape in a shifting, vivid light that was absolutely captivating. We couldn't tear our eyes from the light show that went on for a few hours. When the last alpenglow faded away, night brought a sky riddled with stars.
In the morning, we set out early and I got the above shot of my friend Jason Kauffman passing a lake minutes from our campsite.
See my story and more photos about backpacking a 32-mile, partly off-trail traverse in the John Muir Wilderness for information on how to pull off this trip.
Death Canyon Shelf, Grand Teton National Park, WY
I could rattle off a list of gorgeous campsites in the Tetons, a park I've visited somewhere between 15 and 20 times and never get tired of. But I decided to include just the two camping zones I consider the best places to bed down in the Tetons backcountry, that can be reached by trail: Death Canyon Shelf (above) and the North Fork of Cascade Canyon (below).
I've camped a few times in different spots on Death Canyon Shelf, a broad, three-mile-long bench at about 9,500 feet. With the earth dropping away abruptly into Death Canyon on one side, cliffs rising some 500 feet on the other side, and views across the jagged peaks and canyons of the Tetons—reaching all the way to the Grand Teton—there are few spots with such sweeping and dramatic panoramas. I've watched moose in Death Canyon through binoculars from the cliff tops and was awakened one night by a bull elk outside our tent. On my most recent night here, with my family and a couple of friends, we watched one spectacular sunset followed by an equally glorious sunrise.
North Fork of Cascade Canyon, Grand Teton National Park, WY
We backpacked over Paintbrush Divide, at about 10,700 feet, and descended through switchbacks into the North Fork of Cascade Canyon, gaping at the view of the sheer north face of the Grand Teton rising several thousand feet above the deep, green trough of the canyon. I've hiked all over the Tetons, including over this pass a couple times before. This spot gives one of the best views on a trail in all of the Tetons.
Passing Lake Solitude, ringed by a horseshoe of cliffs, we hiked down into the North Fork camping zone and grabbed the first available campsite. The shot above is of the creek flowing a short distance from our tent, looking down canyon at the Grand. In the morning, we continued down the canyon, passing several more established campsites in the North Fork camping zone that would have easily made this list as well.
See my story about backpacking the Teton Crest Trail, with more photos, for information on how to pull off this trip.
White Rock Lakes, Ptarmigan Traverse, Glacier Peak Wilderness, WA
It was the third day of our six-day trip on arguably America's premier mountain haute route. A multi-day walk along a high mountain crest, the Ptarmigan Traverse crosses six glaciers and stays high above treeline until the fifth day. We camped by lonely alpine lakes—one of which was still completely frozen and snow-covered in mid-August—below jagged summits in possibly the most vertiginous mountains in the country.
My climbing partners Stefan Kinnestrand and Wes Cooper and I ascended two of those glaciers, the LeConte and the South Cascade, in whiteout conditions on that third day, navigating by GPS while watching very carefully for crevasses. Then we scrambled from another pass down a precarious slope of loose rock so steep that a slip might have concluded with a tumble of several hundred feet right to the bottom. Most of the ground surrounding the White Rock Lakes remained snow-covered that August day, and the lakes were still almost completely frozen. When the fog finally lifted, we got a view across the deep valley of the West Fork of Agnes Creek to the Dana Glacier and Chikamin Glacier pouring off a ridge connecting several rocky peaks and spires. I'll eventually post a story and more photos from the Ptarmigan Traverse.
Dome Glacier, Ptarmigan Traverse, Glacier Peak Wilderness, WA
The first four nights of camping on the Ptarmigan Traverse are in the alpine zone with 360-degree views of some of the most severely vertiginous and heavily glaciated and snow-covered peaks in the Lower 48. With clear skies, any of those camps might among the most memorable you've ever had. But besides White Rock Lakes, my other favorite campsite on the Ptarmigan was on the Dome Glacier, base camp for our climb of Dome Peak. Throughout a clear evening, with a sea of clouds filling the valleys below us, we looked south to the white pyramid of the volcano Glacier Peak, glowing above the clouds in the dusk light.
Getting There Climbers traditionally begin the Ptarmigan Traverse at Cascade Pass in North Cascades National Park and walk south, largely hewing close to the Cascade Crest. Beyond Dome Peak, from the Cub Lake area in the Glacier Peak Wilderness, the route descends to the Downey Creek Trailhead on Suiattle River Road. The route is mostly off-trail and crosses six glaciers; expert skills at glacier travel and navigating off-trail through mountains are required. See an excellent route description at summitpost.org/ptarmigan-traverse/154644.
Doubtful Sound, Fiordlands National Park, New Zealand
It was a typical summer day in Doubtful Sound: alternating spells of light mist and steady rain punctuating brief periods without precipitation. The shifting gray overcast delivered about 10 minutes of sunshine the entire day. But the air was warm and the water flat, its dark surface as clear as a just-cleaned mirror. Tendrils of ghost-like clouds floated around granite cliffs that rose straight out of the sea up to 4,000 feet high; and the cliffs wore long coats of thick rainforest that seemed to defy gravity.
Our small group pitched our tents behind a rocky beach, in the forest of podocarp trees and punga tree ferns. After a mild night of periodic showers, we woke and walked to the beach to see the water still and glassy, reflecting the sea cliffs and misty clouds.
See my story about sea kayaking Doubtful Sound, with more photos and a video, for information on how to pull off this trip.
On the Dunes, Great Sand Dunes National Park, CO
Not long into our first day backpacking across the massive sand dunes of this park—which tower several hundred feet tall—I was already convinced that carrying a pack loaded with food and gear for three days as well as two gallons of water up giant dunes was not a brilliant plan. Our group of editors from Backpacker Magazine marched a few miles over the rolling, sometimes steep dunes until we found a relatively flat spot to pitch our tents. Then the magic show began.
It was November, and the light of late afternoon and early evening transformed the shifting, mountainous dunes into three-dimensional works of abstract art. I wandered a wide perimeter around our camp in the evening and early morning, shooting photos of frost on multi-colored dunes that often came to a peak as sharp as on the roof of a house. At times, sand avalanching downhill under our boots made an eerie sound, a phenomenon known as "singing." I decided the dunes more than made up for the effort expended getting there.
See my story, with more photos, about backpacking at Great Sand Dunes for information on how to pull off this trip.
Tonto Trail, Grand Canyon National Park, AZ
If there's a bad campsite in the Grand Canyon, I haven't found it yet. But my favorite (so far) is this spot just off the Tonto Trail, on the plateau between Lonetree Canyon and Cremation Creek. We camped here on the last night of a four-day, late-March family backpacking trip from Grandview Point to the South Kaibab Trailhead (another trip my family took for a chapter of my book).
While we were exposed to the wind—which can blow pretty hard—and had to carry water to that camp, those were small tithes for a 360-degree panorama reaching from the South Rim to the North Rim, with countless named temples and buttes within view, most prominently the Zoroaster Temple (visible in the background of the photo above). While the kids played with rocks in the dirt and my wife read, I walked around with my camera, finding an amazing background in every direction.
See my story, with more photos, about backpacking in the Grand Canyon for information on how to pull off this trip.
Camp Schurman, Mt. Rainier National Park, WA
Camp Schurman sits at 9,460 feet, on the very tip of Steamboat Prow, a cleaver of busted volcanic rock and dust. Two massive glaciers, the Emmons and Winthrop, part around this stone prow in a way that illustrates how frozen water behaves much the same as its liquid form. More than four square miles of moving ice, thousands of years old, and stretching over nearly 9,000 feet of elevation, the Emmons is the largest glacier in the Lower 48; the Winthrop isn't much smaller. When two friends and I set off to climb the Emmons in early August a few years ago, with much of the snow melted off the glaciers, they displayed heavy scarring: huge, frighteningly beautiful crevasses as plentiful as waves on a storm-tossed ocean.
A two-foot-high, oval, stone wall shielded our tentsite from the irrepressible, bone-chilling wind. Standing outside our tent, I was struck by the mind-boggling scale of Mt. Rainier. Looking up at the mountain, I couldn't fit it all within my peripheral vision. And yet, I knew I was looking at a tiny fraction of Rainier—which made me feel both very small and very fortunate for just being there.
Getting There From White River Campground at 4,400 feet, five miles past the White River ranger station (get a climbing permit there), hike the Glacier Basin Trail 3.2 miles to Glacier Basin Camp, at 6,000 feet. Follow a climbers' trail up into the basin, reaching the Inter Glacier (good training ground for new climbers) at around 6,800 feet. Climb to Curtis Camp on the ridge north of Mt. Ruth, then descend off the ridge onto the Emmons Glacier and continue to Camp Schurman at 9,460 feet.
Map/Guidebook Trails Illustrated Mt. Rainier no. 217, $11.95, (800) 962-1643, natgeomaps.com. Mt. Rainier—A Climbing Guide, by Mike Gauthier, $18.95, mountaineersbooks.org.
Contact Mt. Rainier National Park, (360) 569-2211, nps.gov/mora.
Coyote Natural Bridge, Coyote Gulch, Grand Staircase-Escalante National Monument, UT
My memory of my wife's and my first backpacking trip in Coyote Gulch 16 years earlier was cloudy when we returned recently with our 12- and 10-year-old kids and another family. Sometimes revisiting a place doesn't measure up to a fond recollection of it; not so with Coyote Gulch. It was more scenic even than I remembered. Soaring, red rock walls tower along its length. A steady creek pours over several short waterfalls, its year-round flow keeping the canyon bottom lushly green. And then there are features like Jacob Hamblin Arch and Coyote Natural Bridge.
My plan had been for us to spend our second night at one of the campsites below Jacob Hamblin; but the team was a little too pooped by the time we reached Coyote Natural Bridge to push on more than an hour farther. It turned out to be serendipitous, because we had the sandy beach area around the bridge to ourselves (whereas the campsites at Hamblin are popular). The kids played for hours in the creek and some adults took an evening hike while the others laid down on the warm sand with a book.
See my story about backpacking Coyote Gulch (and hiking slot canyons in the Escalante and at Bryce Canyon and Capitol Reef national parks), with more photos and a video, for information on how to pull off this trip.
Rock Slide Lake, Sawtooth Mountains, ID
Having lived in Idaho since 1998, I have explored much of the state's best-known mountain range, the Sawtooths. But it took me 15 years to finally backpack into the deep interior of the southern Sawtooths, an area speckled with mountain lakes that lies a solid two days' hike from the nearest roads in any direction.
So when a friend and I carved out four glorious September days to correct this glaring omission in my backpacking resume, we found deep, clear lakes filled with lunker trout, ringed by jagged peaks, and trails that don't receive many boot prints. Walking through the bright, airy forest there, filled with granite outcroppings, reminded me of the High Sierra—without all the people. We used Rockslide Lake (photo above) as a base camp for two nights to give us a day to explore just with daypacks, and spent hours on its shore, marveling at the dawn and sunset light there. Read my story and see more photos from this trip.
Getting There The fastest summer and fall (before snow hits the mountains) route to the Queens River Trailhead, with the least amount of driving on gravel roads, is to drive ID 21 about 17 miles north of Idaho City and turn right onto Crooked River Road 384. Follow it to North Fork River Road 348 and turn left. Follow that road for several miles, then turn left onto Swanholm Creek Road 327, and continue down to the Middle Fork of the Boise River. Turn left (east) onto Middle Fork Boise Road 268 and follow it along the river. Near the Queens River Campground (several miles before reaching the tiny village of Atlanta), turn left (north) onto FR 206 and follow it about two miles to its end at a primitive campground and the Queens River Trailhead.
Map Earthwalk Press "Sawtooth Wilderness," $9.95, (800) 742-2677, omnimap.com.
Contact Sawtooth National Forest Stanley Ranger District, (208) 774-3000, fs.usda.gov/sawtooth.
Lake 8522, Sawtooth National Recreation Area, ID
We backpacked the Alpine Creek Trail less than three miles up a sunbaked valley flanked by cliffs to where it ends abruptly in ponderosa pine forest. A steep headwall loomed above us, 500 vertical feet or taller, capped by rocky ledges—a daunting obstacle that would logically turn away most hikers. But I had been told that the basin of unnamed lakes just beyond the pass at the top of this earthen wall was worth the effort of reaching it. So my son, Nate, almost 11 at the time, and I, joined by his buddy, another Nate, and that kid's dad, Doug Shinneman, clawed and high-stepped our way up a faint, very steep user trail, grabbing branches and slipping in mud, and scrambling up exposed ledges.
At the top, we saw that I'd gotten good advice. A cool forest embraces one side of the blue-green waters of Lake 8522; a granite cliff juts straight out of the water on the other side. We found a spot in the woods for our tents and spent the next couple of days fishing, exploring the higher lakes in the basin, and taking in some sunrises and sunsets that kept my camera busy.
Getting There From ID 75, about 20 miles south of Stanley and 40 miles north of Ketchum, turn west onto Alturas Lake Road and follow it about seven miles to its end at the Alpine Creek Trailhead. Hike the Alpine Creek Trail roughly 2.5 miles to where the maintained trail terminates. Follow a faint, very steep and rough user trail that climbs almost straight uphill several hundred feet, with some scrambling, to a pass that leads into a lakes basin. Lake 8522 is a short walk beyond the pass. This area has some user trails and established campsites, but is not managed like official trails; minimize your impact.
Map Earthwalk Press "Sawtooth Wilderness," $9.95, (800) 742-2677, omnimap.com.
Contact Sawtooth National Forest Stanley Ranger District, (208) 774-3000, fs.usda.gov/sawtooth.
Lake Ellen Wilson, Glacier National Park, MT
Our weeklong backpacking trip had featured too many wildlife sightings to count—including bighorn sheep and numerous mountain goats, not to mention that we had an impending date with a sow grizzly bear and her two cubs. The scenery blew us away every day. I would have forgiven Lake Ellen Wilson, our final night's campsite, for being anticlimactic.
But upon arriving there, we soaked tired feet in the lake's cold, emerald-colored waters, a 20-second walk from our campsite, gazing around at a basin ringed by thousand-foot cliffs with several waterfalls pouring off of them. Then we laid down on the sun-warmed pebbles on the beach, which felt like a heated bed with built-in massage. For my friend Jerry Hapgood and me, dropping off into an afternoon nap on them was the default setting. It turned out to be our best campsite of the trip.
See my story about backpacking my modified and expanded version of Glacier National Park's Northern Loop, with more photos, for information on how to pull off this trip.
Tiger Key, Everglades National Park, FL
Songbirds chattered and flitted among the trees along the shore. Cormorants and brown pelicans skimmed the water's surface. Egrets glided overhead. In one secluded cove in Tiger Key, an outermost island of the Ten Thousand Islands in the Everglades, we sat in our canoes and watched 10 brilliantly pink roseate spoonbills perched in a tree, watching us. In a small bay, we sat rapt while a dolphin swam wide circles around our canoe for about 20 minutes. Every evening, we stood in the warm beach sand watching the blazing red orb of the sun slowly sink into the Gulf of Mexico.
Another of the trips I took my family on for my book, paddling the Everglades was one of the most magical for all of us—for the scenery, the exotic birds, and the unique experience of having a wilderness beach all to ourselves.
See my story about kayaking the East River and canoeing and wilderness camping in the Ten Thousand Islands of Everglades National Park, with more photos and a video, for information on how to pull off this trip.
Spring Canyon, Capitol Reef National Park, UT
Southern Utah's Capitol Reef has scenery to match its siblings in the National Park System—but when it comes to crowds, this place ain't no Zion or Yosemite. In the visitor center at the outset of a three-day, family backpacking trip, a ranger told me that we were the only party getting a permit to backpack into Spring Canyon that day.
We hiked below towering, burgundy cliffs with patches of white and orange and black water-stain streaks, passing enormous boulders piled up below the cliffs. More than four hours after setting out from the Chimney Rock Trailhead, we pitched the tent on a grassy bench in Spring Canyon, beneath cliffs topped by domes and spires soaring hundreds of feet overhead. Staying there for two nights, with a day of exploring in between, we saw no other people. If that kind of solitude is rare in the backcountry of many national parks, it's especially unusual in a spot reached with relatively little effort.
See my story about dayhiking, slot canyoneering, and backpacking in Capitol Reef National Park, with more photos and a video, for information on how to pull off this trip.
Unnamed Canyon, Beehive Traverse, Capitol Reef National Park, UT
An hour into a three-day, cross-country traverse of the Waterpocket Fold formation in Capitol Reef, my friend David Gordon and I ran into a bighorn sheep. We had also already taken our first wrong turn. Both were omens for the days to follow, navigating our way through a maze of canyons, cliffs, domes, and towers, where it was not unusual to spend 20 minutes or more hemmed in by seemingly impassable cliffs before finding the narrow ledge or the break in the wall of rock that indicated the direction of our route.
My friend, local guide Steve Howe, spent many seasons working out this cross-country hike, which begins at Grand Wash and zigzags south a very circuitous 17 miles to Capitol Gorge. He calls it the Beehive Traverse, for the type of sandstone towers encountered along the way. He shared a map and GPS data with David and me to let us attempt it ourselves; very few people have hiked the route before us, and most of them were guided by Steve. On our second night, we camped in this unnamed canyon below flying buttresses of golden sandstone.
Getting There I'll post a story about this trip later at The Big Outside. Meanwhile, if you're interested in attempting it—there's nothing technical along the route, but there is some steep scrambling and exposure (and forget about trying to figure out the route yourself unless you have several years to spare)—I suggest contacting Steve at Redrock Adventure Guides in Torrey, Utah.
Dog Lake, Seven Devils Mountains, ID
A fresh September snowfall had just blanketed the Seven Devils, which rise to over 9,000 feet and form the east rim of Hells Canyon in west-central Idaho. My friend Geoff Sears and I started our three-day hike in thick fog, at first catching only glimpses of the craggy peaks.
But the weather slowly cleared through the afternoon, as we leapfrogged surviving segments of a long-abandoned, faint trail leading to Dog Lake, where we put our tent up in a small basin that rarely sees human visitors. That evening and the next morning, under blue skies with no wind, the lake offered up a sharp reflection of the snow-plastered cliffs of black rock.
See my story about another backpacking trip in Hells Canyon.
Getting There From US 95, a mile south of Riggins, Idaho, turn west onto Squaw Creek Road (CR 517). Drive 16.5 miles to Windy Saddle Trailhead, a half-mile before Seven Devils Campground. Hike south on Boise Trail 101 for 7.4 miles. Just after crossing Dog Creek, turn west and look for traces of the faint trail leading about 1.3 miles to Dog Lake; you'll be mostly bushwhacking through semi-open forest with some blowdowns obstructing the way.
Map The Hells Canyon National Recreation Area map, $6, Hells Canyon NRA website (below).
Contact Hells Canyon National Recreation Area, Riggins ranger district, (208) 628-3916, fs.usda.gov/detail/wallowa-whitman/recreation/?cid=stelprdb5238987.
Lagunas Chevallay, Dientes Circuit, Chilean Patagonia
The 35-mile Dientes Circuit through the Dientes de Navarino ("Teeth of Navarino") on Isla Navarino, at the southern tip of South America, is chock full of ends-of-the-Earth moments and beautiful campsites. With my friend Jeff Wilhelm and 22-year-old Puerto Williams-based trekking guide Maurice van de Maele, I hiked for four days through a wild, wind-battered landscape of incisor-like rock towers and alpine lakes that gets visited by just a handful of people every year.
About halfway through the trip, the Antarctic wind blew us through Paso Ventarron (Ventarron Pass) as the late-day light pierced clouds above the Lagunas Chevallay. We descended the rocky trail to camp beside the large, unnamed lake shown at the head of the valley in the photo above.
See my story about trekking the Dientes Circuit, with more photos, for information on how to pull off this trip.
East Fork Owyhee River, ID
Guiding our kayaks between tight canyon walls on Deep Creek, we didn't see the confluence until we practically fell into it, the swift waters spitting us out into a deeper, wider channel: southwest Idaho's East Fork Owyhee River. The four of us immediately landed and dragged our boats up onto a spacious beach on river right, tired and wet. I felt chilled in my wetsuit from a day that had seen us spend eight hours or more paddling through rain, snow, hail, and wind.
Perhaps a football field's distance downriver, the East Fork made a sharp left turn and plunged into unseen quarters between sheer rhyolite walls. As evening descended, those cliffs became a study in contrasting light—some in dark shadow, some edged with sunlight, and the white rock of the farthest one glowing as if lit by some internal power source. Though just one of many scenes of staggering natural beauty from an eight-day, 82-mile adventure on the upper Owyhee River system, from Deep Creek to Three Forks, that one has stuck with me.
See my story about kayaking the upper Owyhee River, with more photos, for information on how to pull off this trip.
Little Frazier Lake, Eagle Cap Wilderness, OR
Sometimes the destinations closest to home are the ones you neglect for too long. That was the case for my family with the Eagle Cap, just a half-day's drive for us, but a place we had not yet backpacked in (with the exception of one disastrous attempt, when our son was a toddler, that was aborted due to a nasty stomach virus. But I have skied the backcountry of Norway Basin in the Eagle Cap with friends.) So last summer, we finally took a five-day, 41-mile loop in the southeastern corner of this 350,000-acre wilderness.
We hiked up broad, U-shaped valleys and camped by boisterous streams and lakes that offered mirror reflections of dawn light and alpenglow on rocky, 9,000-foot peaks. I made the side hike up 9,572-foot Eagle Cap for its 360-degree panorama overlooking much of the range; the kids played in streams and had the treat of one of the most spectacular thunderstorms of their lives on our second afternoon. Our third campsite, at Little Frazier Lake, sat near the lake's outlet creek, where my son worked for hours rearranging rocks; my daughter and I scrambled high up some nearby ledges. And in the morning, the lake offered up a perfect reflection of the stone basin cradling it. I will eventually post a story, with more photos, about this trip.
Getting There From OR 203 just south of Medical Springs, turn east onto FR 70. Continue 1.7 miles, turn left onto FR 67. After 13 miles, turn left onto FR 77. Drive six miles, turn left onto FR 7745, and continue 5.3 miles to its end at the East Eagle Trailhead, where a Northwest Forest Pass is required. Our 41-mile loop went up Trail 1910, over Horton Pass (with the optional side hike up Eagle Cap), down into the Lakes Basin, turned onto trails 1806 and 1820 to Glacier Pass and Hawkins Pass, then Trails 1816, 1885 (Cliff Creek), and 1945 back to the trailhead.
Map Wallowa Mountains—Eagle Cap Wilderness map, $7.25, (877) 874-6775; discovernw.org.
Contact Wallowa-Whitman National Forest, (541) 523-6391; fs.usda.gov/wallowa-whitman.
Indian Basin, Wind River Range, WY
Six friends, 500 pounds of gear and food for a week, one horsepacker to haul our stuff the 15 miles from the trailhead to Indian Basin—and plenty of alcohol, which figures prominently in this adventure tale. We had grand ambitions for several rock and snow climbs of peaks along the Continental Divide that week. We didn't plan on daily, cold morning showers or the violent afternoon thunderstorms that would dump a couple inches of hail in 30 minutes and threaten to blow our tents to Iowa.
Though we never tied into a rope all week, we did tag a few walk-and-scramble-up summits, including 13,745-foot Fremont Peak in cold wind and fog, and 13,517-foot Jackson Peak. Mostly, though, we huddled in all of our clothes under a tarp in camp, plowing through our alcohol supply and laughing uproariously over things I barely recall. I got the above shot during one of the rare moments of glorious sunshine that made us optimistic about climbing—until the next storm cell drove us back into our tents.
Getting There The Elkhart Park trailhead is 14.5 miles from Pinedale. From US 191 (Pine Street), in Pinedale, turn north onto Fremont Lake/Half Moon Lake Road. In three miles, bear right on Skyline Drive. A short distance beyond a viewpoint overlooking the high peaks, bear right at a fork to parking for the Pole Creek Trail. Follow the Pole Creek, Seneca Lake, Highline (for just a quarter-mile), and Indian Basin trails about 15 miles to Indian Basin.
Map Earthwalk Press "North Wind River Range," $9.95, (800) 742-2677, omnimap.com.
Contact Bridger National Forest Pinedale Ranger District, (307) 739-5500, fs.usda.gov/btnf.
Toleak Point, Olympic National Park, WA
On our second day of backpacking the southern Olympic coast, we had already marveled at a massive boulder in the intertidal zone on the beach that was wallpapered with hundreds of mussels, sea anemones, and vividly orange or purple starfish. We had also climbed down an 80-foot cliff on a rope ladder that was missing several rungs at its bottom.
Late that afternoon, we found a spot for our tents on the beach at Toleak Point, where dozens of the rock pinnacles called sea stacks rise out of the ocean just offshore. As the kids played in a tide pool, a sea otter emerged from the pool's other end and flopped across the beach to plunge into the ocean. A seal cavorted in the waves near us. When I went to explore the sea stacks exposed at low tide, a great blue heron lifted off of one and soared away over the beach like a winged dinosaur. Another of the trips my family took for my book, this three-day hike on the Olympic coast is still remembered by our kids, as well as my wife and me, as one of our all-time favorite trips.
See my story about backpacking the southern Olympic coast, with more photos and a video, for information on how to pull off this trip.
Mt. Baker, WA
It was a wretched campsite, actually. We'd had no intention of staying there, but weather left us without a better choice than to endure an interminable night on that cold ground of sharp stones. The wind-tortured, 9,000-foot saddle separating the Coleman and Deming glaciers on Mt. Baker was simply where we ended up when Plan A—camping on the summit—crashed in the sea of ambitious dreams. My wife, Penny, and I were climbing our first Pacific Northwest volcano years ago with our friend Larry Gies, through thick fog that reduced visibility to less than 100 feet at times. By late afternoon, we gave up on reaching the summit, pinned our tents to the ground, and dove inside.
But two hours later, a mountain fairy granted us one of those rare, magical events that occur when least expected: Sunshine lit our tents. We stepped outside to see the cloud ceiling below us. We tagged the mountaintop as the setting sun strafed that sea of clouds with red and orange light. You can't distinguish our tents in the photo above, but they're in the saddle below us—that miserable, serendipitous spot.
Getting There From I-5 north of Bellingham, follow WA 542 for 33.8 miles. One mile past Glacier, turn right onto Glacier Creek FS Road 39, and continue eight miles to parking for Mt. Baker (Heliotrope Ridge) Trail 677. The trail ends after two miles, at 4,800 feet; continue on the climbers' trail up the Hogsback to a tenting area at 6,000 feet on the edge of the Coleman Glacier.
Map Green Trails Mt. Baker no. 13, $7, greentrailsmaps.com.
Contact Mt. Baker-Snoqualmie National Forest outdoor recreation information, (206) 470-4060, fs.usda.gov/mbs.